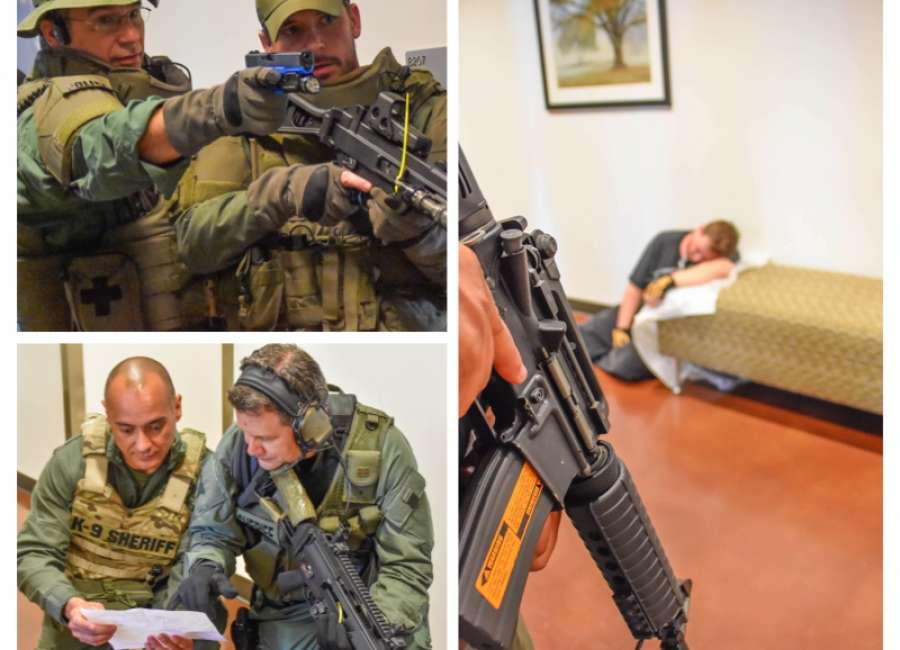 At schools in Coweta County and most schools around the country, the only armed protection students have is the school's student resource officer.
The Coweta County Sheriff's deputies and Newnan Police officers who work as SROs at Coweta schools are trained to take out threats to students in an active shooter situation.
"They go to the threat. They know what to do," said Chief Deputy James Yarbrough with the Coweta County Sheriff's Office.
In an active shooter situation, for SROs or any member of the Newnan Police Department, the first on the scene is the first to go in. "We don't wait – that is from me down," said Chief Douglas "Buster" Meadows. "We are to seek out the hostile environment and try to cease it immediately."
Thursday, it was revealed that the SRO at Marjory Stoneman Douglas High School in Parkland, Fla., apparently didn't take any action to protect those inside the school as a former student went on a rampage and killed 17 people.
Instead, the officer, Scott Peterson, was seen standing outside the building where the shooting was taking place for more than four minutes.
"What I saw was a deputy arrive… take up a position and he never went in," Broward County Sheriff Scott Israel said in a press conference. The sheriff said that Peterson should have "went in. Addressed the killer. Killed the killer."
Peterson was apparently arriving from somewhere else on the 45-acre school campus. For comparison, the main portion of Northgate High School, not including the fields across Fischer Road, is 60 acres, according to Coweta tax records.  
"Two coaches went in and were shielding kids and throwing themselves in front of bullets and he (Peterson) did nothing," student Brandon Huff told The (Florida) Sun Sentinel. Huff said he saw Peterson standing outside the building and talking on his radio during the shooting.
Peterson had been an SRO at the school since 2009, according to The Sun Sentinel. He was suspended without pay, and later resigned.
Before the shooting at Columbine High School in 1999, typical procedure in a shooting scenario was for first responding law enforcement to wait for the SWAT team, Yarbrough said.
"After Columbine, they saw that that cannot happen," he said. "We make entry as soon as we get there… to take out the threat."
All local SROs are armed with their service weapons and additional ammunition. Some officers are also certified on rifles or shotguns, and keep those guns secured in their law enforcement vehicles.
The SROs, as well as NPD and CCSO personnel, go through active shooter training each year.
Active shooter training is part of the annual Mantracker event the CCSO hosts each April, and in the summer, CCSO deputies train in Coweta County schools.
School teachers have teacher work days. SROs have work days to do training, Yarbrough said. In addition to local training, SROs have various classes they go to throughout the year.
When the NPD does active shooter training, "we try to simulate the situation as much as we can – with smoke, loud noise, fire alarms" and role playing, Meadows said. "We train in schools, we train in businesses, we train in vacant buildings."
All law enforcement officers in Georgia, including SROs, must be certified on each firearm they use, and must re-certify every year. Additionally, Meadows said each of his officers must go practice at the range at least three times a year.
To re-certify, each officer has to go through a standard firearms course and meet a minimum score. The shooting course includes various shooting lines, as well as shooting behind barricades, shooting behind moving barricades, and shooting while running, Meadows said.
"It's not static – it's active. You don't slack off on the training," Meadows said.