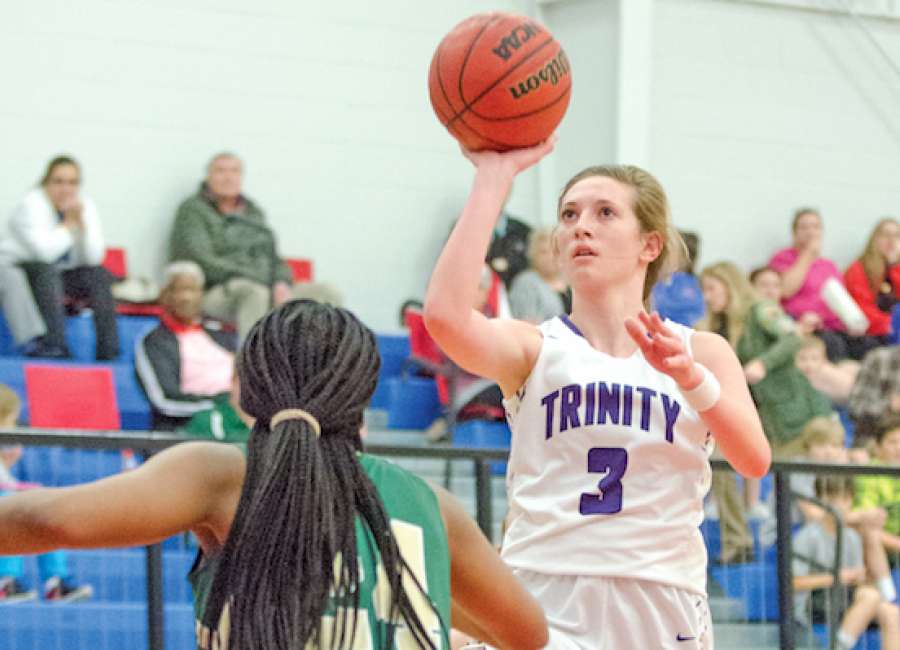 By CHRIS GOLTERMANN, CowetaScore.com
It could be suffice that the county's four GISA Region 1-AAA basketball programs weren't completely satisfied with their efforts during this year's  postseason tournament.
Trinity Christian's girls were among them after falling to Holy Spirit 56-39 in Friday's championship game at The Heritage Center.
While the Lady Lions may have seen a few chinks in the armor that may need to be corrected by the time next week's state playoffs begin, there is still a great deal of confidence from No. 2 seed Trinity and third-seeded Heritage School to again make noise in the GISA Tournament.
Both local lineups face tough first-round opponents starting Tuesday including a matchup of two of last year's state girls semifinalists — Trinity Christian and Gatewood.
The Lady Gators were upset in the 4-AAA semifinals before defeating Augusta Prep 38-22 in Friday's consolation game for state seeding.
A first-round game will be played at 5:30 p.m., at Pinewood Academy, the Region 2-AAA champion.
Defending state champion Heritage, which managed to hold off Bethlehem Christian 36-30 in Friday's consolation game for the No. 3 seed, travels to TiftArea for Tuesday's 5:30 p.m., first round game against John Milledge, having faced the Lady Trojans on Dec. 9, in a 55-40 loss.
"We had one bad quarter against them," Lady Hawks head coach Derrick Clay said.
Trinity looks to right itself after stumbling in Friday's rubber match with Holy Spirit. The two teams, who split the regular season series with identical 11-1 records prior to a seeding-tiebreaker, got off to a cold start while combining for 13 points in the opening eight minutes.
The Lady Lions' struggles, though, quickly became two-fold between hitting just four of its first 24 field-goal attempts and struggling to contain Lady Cougars standout Jonnise Poole while falling behind 8-5 after the first quarter.
Poole was 2 of 5 from the field early, but didn't miss on her four attempts in the second period while scoring eight of her team-high 20 points to help Holy Spirit build a comfortable 24-11 halftime lead.
Defensively, the Lady Cougars clamped down on Trinity All-Region sharpshooters Abby Bragg and Catherine Skebo, each of whom found open looks at the basket as rarities. Bragg finished with 12 points and was limited to a pair of three pointers in the first half on eight field-goal attempts.
Skebo hit her first to open the third quarter with a bang in hopes of igniting Trinity's offense.
But by the time the senior hit her second and third shots from behind the arc in the final period, Holy Spirit's lead remained 42-25, as five Lady Cougars contributed baskets in the third.
Bragg finished with 11 points while senior Anna Montgomery finished with eight.
No. 3 HERITAGE SCHOOL 36, No. 4 BETHLEHEM CHRISTIAN 30
The Lady Hawks needed two key baskets at the finish in a game that came down to the wire for the No. 3 seed in 1-AAA in hopes of avoiding a first-round state playoff game against Westminster-Augusta.
Bethlehem remained at a single-digit reach from the final minutes of the first quarter, tying the game at 24 late in the third before taking a short-lived 26-24 lead on Callie Birt's opening basket of the fourth quarter.
In an offensive struggle for points, a pair of Kendall Stephens free throws knotted the game with 5:37 remaining before Heritage added eight of the final 12 points of the game.
Olivia Ayers connected on a basket and then hit a pair of free throws after grabbing her own offensive rebound on a play that stayed alive on Stephens' hustle in the backcourt.
The Lady Hawks teammates then helped set up Cate Yancey for a layup for a 34-28 cushion with 1:28 to play before Frances Powell put the game away in the closing seconds by following up her own rebound for the final period of the game.
"Two girls came off the great bench and gave us a spark, with Emily Walker," Clay said of Stephens and Powell. "We had a lot of turnovers, but the end we made it count when we needed it."
A year after relying heavily on All-State siblings Kara and Karlee Groover among a talented senior class, the Lady Hawks prepare for a return trip to the postseason knowing it needs this year's standouts to step up.
"The girls feel confident about that," Clay said. "We can defend, but we've just got to score."