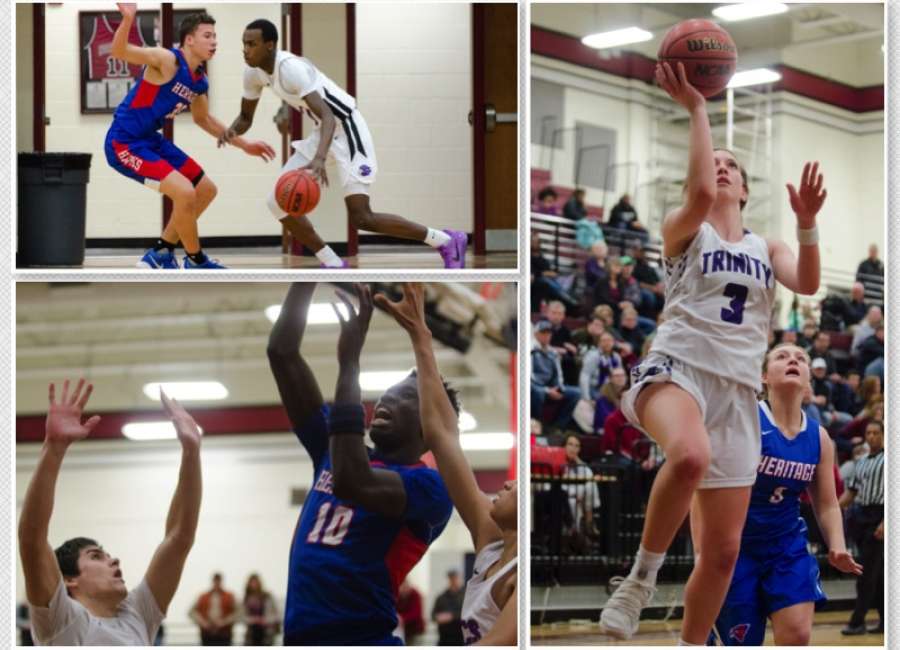 By Chris Goltermann / Coweta Score

The second and final meeting of the regular season between Coweta County's two GISA basketball rivals produced similar results as the first in front of a packed audience at Northgate High's Johnny Brown Gym.
But efforts by Trinity Christian's girls and Heritage's School's boys couldn't have been more contrasting in its methods of victory. 
The Lady Lions withstood a strong first-quarter effort with help from senior Abby Bragg, who set the tone by scoring 11 of her team-high 31 points en route to a 71-33 win to maintain at least a share of first place in GISA Region 1-AAA.
Catherine Skebo added nine of her 17 points in the third quarter on three 3-pointers and Trinity's girls clamped down even further defensively while limiting the Lady Hawks to nine points and two field-goals after taking a 13-point lead to halftime.
Heritage's boys also found itself in a similar scenario in the nightcap between boys lineups battling for the No. 2 seed behind Holy Spirit heading into the upcoming region tournament at THS. 
With his team down by five, Lance Terry erupted for all 17 of his points in the second half as the Hawks rallied back for a 64-60 victory over Trinity.
The Lions led by as many as seven points in the third quarter before Heritage began chipping away, starting with consecutive three-pointers from Jake Canter and Kasen Jennings.
EB Dowouna's buzzer-beating spin from inside the paint tied the game at 46 heading into the final period.
Terry took a feed from Jennings off a steal and drained a three-pointer from the corner for a 51-47 lead and the Lions could get no closer despite a 22 point effort from Jamal Williams in the loss. 
In the girls contest, Bragg helped Trinity build a 37-24 advantage at the break before Skebo equally got hot in the third for three consecutive treys that pushed a 24 points lead. 
The Lady Hawks were held to five points in the third as Bragg, Skebo and senior Chandler Hendrix combined for 22 of Trinity's 25 points to take a commanding 62-29 lead into the final period. 
Trinity Christian and Holy Spirit's girls entered Friday tied for the No. 1 seed in the region tournament after splitting games during the regular season. Heritage and Atlanta Girls were tied for third. 
The Hawks' win clinches the No. 2 seed while returning to their home floor to host the 1-AAA tournament. Heritage and Trinity are on a collision course to meet again in the region semifinals, with the Lions finishing third in the regular season.