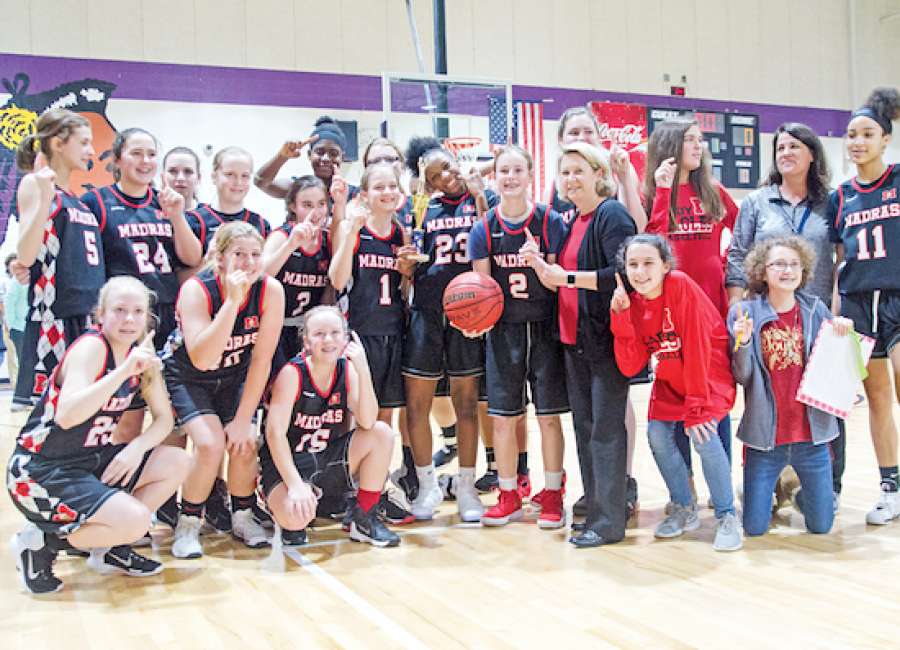 By CHRIS GOLTERMANN CowetaScore.com
The term 'total-team effort' tends to get overused in sports. But it might have been the only way to describe why Madras was successful in upending top-seeded East Coweta Middle on its home floor to capture this year's Coweta County Middle School Athletic League girls basketball championship with a convincing 44-26 victory.
Joy Butts certainly was a major factor for the Lady Eagles, scoring 12 of her team's 14 points in the third quarter as Madras more than doubled a six-point advantage at halftime.
Yet in addition to Butts' game-high 21-point effort, eight more Lady Eagles contributed at least one field goal in a title game that seemed destined to be a classic through the opening 10 minutes of play.
Madras had to settle for a No. 3 seed behind both ECMS and Lee, only to top both teams over the course of 48 hours.
Led by head coach Kristen Johnstone, the Lady Eagles carried the momentum of Tuesday's semifinal win over second-seeded Lee into the championship game.
Kip Heggood's hot hand kept Madras on top early, scoring six of her eight points in the first quarter while taking a slim 8-7 lead as Butts missed three of her initial four field-goal attempts before beginning to heat up in the second period.
Madras began to take over in a 12-12 game starting with Aaliyah Ferrell's three pointer.
It pushed an 8-point run for the Lady Eagles as frustrations began to mount for their opponents. They continued into the third as Butts quickly racked up three quick baskets to keep the Madras lead at 26-16 before forcing an East Coweta timeout.
But a 13-4 run by the Lady Eagles contin- ued and East Coweta's chances took another blow when returning starter Amya Walker fouled out with 2:05 left in the third to close out a four-point effort.
Five Madras players including Butts hit baskets in the fourth after taking a comfortable 34-19 advantage into the final six-minute quarter. Despite a final surge from East Coweta's Alasia Burroughs, who scored six of her team's last seven points, the Lady Eagles closed out the win.