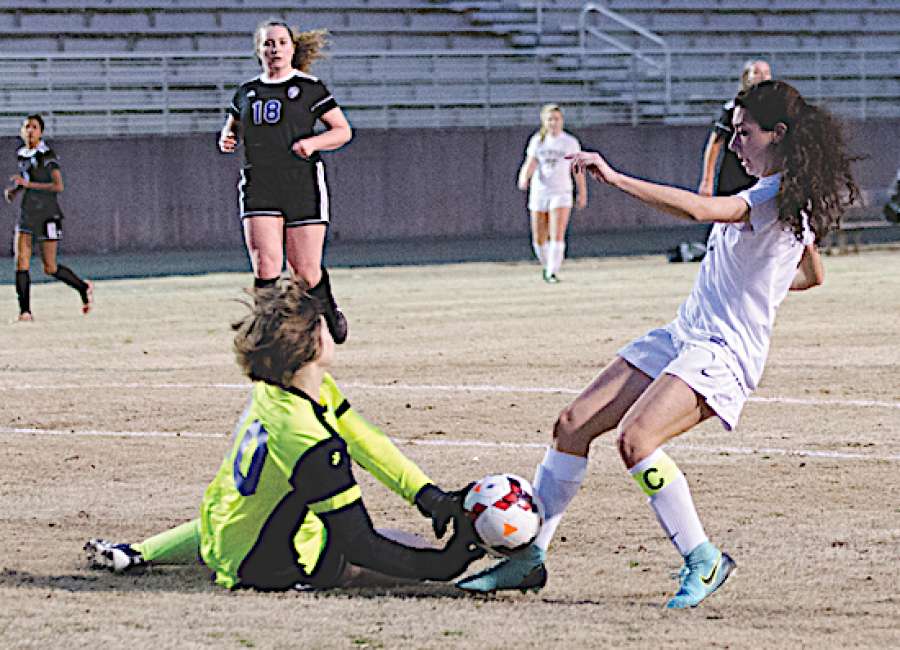 – By CHRIS GOLTERMANN, CowetaScore.com
It would certainly be expected for Newnan's girls soccer team to feel the absence of leading scorer Ashleigh Smitherman heading into the 2018 season.
But the Lady Cougars certainly seemed ready to start the year without their top striker and leading scorer as she winds down the extended recovery process from a torn ACL suffered playing at the club level in the fall.
With Smitherman acting as a vocal assistant coach, clipboard in hand, during in last week's scrimmage against Locust Grove at Drake Stadium, Newnan received points from nine players in a 10-0 win that ended by mercy rule in the 54th minute of play.
The season started officially with Tuesday's trip to Douglas County in a non-region varsity doubleheader.
While losing his star striker for at least the early part of the season as Smitherman is forced to wait out the healing process, Lady Cougars head coach Frankey Henderson should have reasons to feel confident among a lineup that returns at least eight other starters from last year's Region 2-7A runner-up that went 14-4-1 in 2017.
"Overall we should be a very competitive and solid side this year. We have good team speed and talent," he said. "As with every year this season will revolve on leadership. We have a solid set of seniors and I think this year will be very successful."
Henderson has tried to keep Smitherman, who is running without problems and even participated in a recent 5K after both ACL and meniscus reconstruction, as busy as possible while awaiting doctor's clearance. The injury kept the star forward from accepting an invitation from the Olympic Development Program's Region III to participate overseas in London with a group from five Southeastern states this April.
The Lady Cougars may wind up using the temporary loss of their junior striker — who scored a school record 38 goals last year while earning Co-MVP honors on multiple All-County squads — as a way to expand its scoring depth throughout the lineup.
Such was the case in last week's scrimmage win, which featured a hat trick from senior co-captain Mackenzie Robeson on three headers off corner kicks from junior midfielder Ryanne Hart.
Adriana Sanchez, another senior co-captain and All-County selection from a year ago with Robeson and Hart, added two goals and an assist while returning up top. By her side in Smitherman's place was sophomore Alice Marsh Willems, who netted two second-half goals after a pep talk from the Lady Cougars' new temporary assistant coach.
In all, Newnan racked up 16 shots to go with nine corner kicks in the scrimmage effort.
Returners are prominent throughout the lineup including in goal, where sophomore Maddie Miller is coming off a strong varsity debut. Senior Rachel Allen earned the shutout in the scrimmage with Miller resting an injured back and is capable of stepping in after leading Newnan's JV girls last spring.
The return of Robeson and Hart on the back line equally provides a comfort zone for the Lady Cougars defensively.
Among the new faces on defense is freshman Emma Cramer, who joins older sister Maddie on the varsity. Sophomore Reese Lay also has the potential to starter on the back line while joined by junior Courtney Minix.
The elder Cramer missed much of last season with an injury, but boosts an already deep group of starting midfielders. They include senior co-captain Hannah Marriaga and junior duo Ansley Cost and Alyssa Brauchler, both of whom were All-County selections following the 2017 season, which ended following a tough first-round Class 7A playoff loss at home to Lassiter.
Two more younger siblings, sophomore Sydney Marriaga and freshman Natalie Brauchler, will help add depth to the midfield along with sophomore Kaella Daly and freshman Maggie Flanagan.
Another newcomer, freshman Ansley Decenzo, will add depth up front while Newnan and Smitherman wait patiently for her to be cleared.
"Hopefully we can put it all together, compete for a region title and make a deep run in the state tournament," said Henderson.