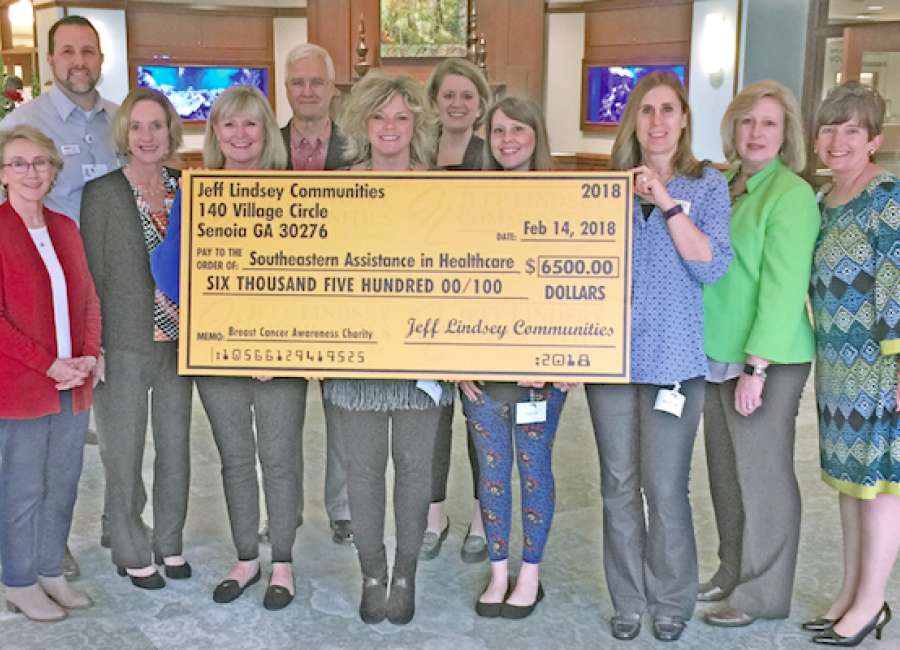 Jeff Lindsey Communities donated $6,500 to the Southeastern Assistance in Healthcare, making it the third year in a row the builder has donated to the organization. 

Located in Senoia, JLC builds new homes in various parts of Alabama and in Georgia. The donation was presented at The Cancer Treatment Centers of America on Thursday morning.
Southeastern Assistance is a 501(c)3 organization that provides assistance to cancer patients currently being treated at hospitals in the local area by providing grants to help with non-medical expenses.
The company's $6,500 gift came from donating $500 for every contract written in the month of October, which was National Breast Cancer Awareness month. JLC wrote a total of 13 contracts that month.
Donna Malon with JLC said the donation signifies how much Jeff Lindsey cares about the community.
"He believes in what SAIH is doing to help patients battling cancer," Malon said.
Cindy Luckie with SAIH said each month SAIH helps approximately 150 patients granting $30,500, but last month the organization helped 165 families.  All money is raised through donations, and 98 percent  goes directly to patients.  
"The need is really growing," Luckie said. "I know JLC has a special interest with cancer patients. I appreciate their genuine concern for local cancer patients who need assistance with everyday living expenses, such as food, utilities and housing."
In addition to the donation from  JLC, SAIH also received a $1,000 donation from Dr. Haritha Pabbathi and her team at Cancer Treatment Centers of America. In October for Breast Cancer Awareness Month, 22 of Pabbathi's breast cancer patients were treated to a  "Day of Pampering," complete with makeovers, a photoshoot, door prizes and raffle items.
"The patients left with a memento saying, 'You are braver than you believe, stronger than you seem, smarter than you think and twice as beautiful as you ever imagined,'" Michelle Hamilton, care manager for Pabbathi's office, said.
SAIH was incorporated in 2012 and is located inside of Cancer Treatment Centers of America in Newnan. Any donations made to SAIH are tax-deductible and contributions can be made on behalf of a family member or loved one battling cancer.