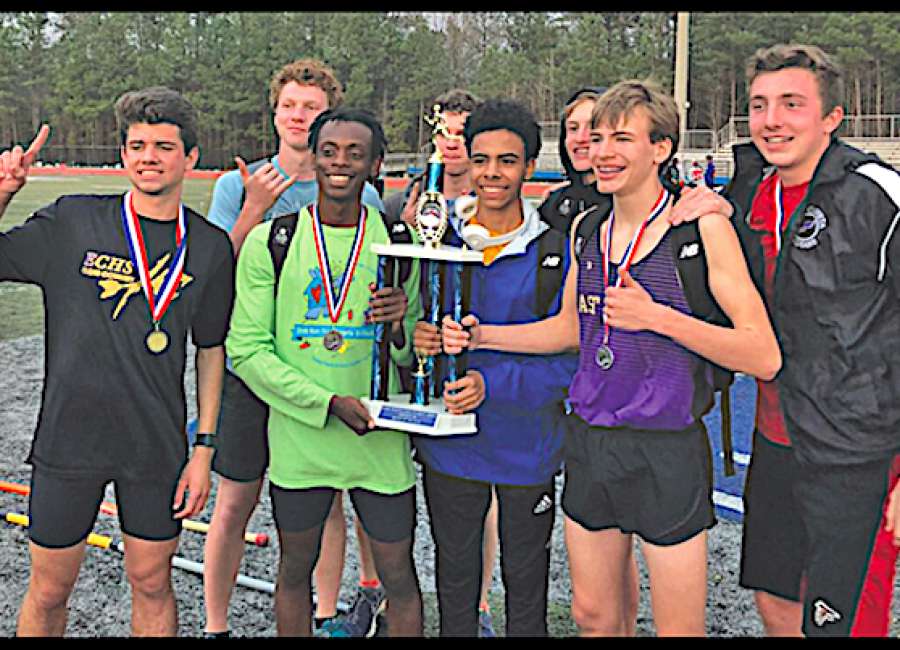 By CHRIS GOLTERMANN, CowetaScore.com
East Coweta's boys track team got its hands on an immediate first-place trophy to open its 2018 season at Westlake's Early Bird Sweet 16 Classic.
An impressive start had the Indians scoring in all but two events and earning victories in five, balanced between three on the track and two in the field.
Depth was equally a factor in the championship effort, with multiple scorers in seven events led by a onetwo finish in the high jump from standouts Amari Strickland and Brayden Carey with efforts of 6 foot 2 and 6-0, respectively Carey, who is also playing varsity baseball this spring for East Coweta, posted a win in the 400 of 50.31 in Saturday's meet.
Carey scored in a third event, placing fifth in the 200 in 23.21 to contribute 22 points individually.
The Indians were strong in long distance events as well as both throws, led by Joshua Render's victory in the shot put. Eyeing a trip to the state meet in May, Render opened his senior year with a throw of 50-11 ½, which would have placed third at the 2017 Class 7A championships.
He has a personal best of 52-5 from last year and placed just out of the scoring at the state meet by finishing ninth. The Indians also placed third and fourth in the shot following respective efforts from Christopher Moore (38-3) and Nelson Ramirez (38-1 1/4), giving the team 19 points in the event.
East Coweta also had three scorers in the discus led by Ethan Brown's third-place finish of 133-11. Moore was fifth (121-4) and Jalen Hill sixth (112-5) to add 13 more points to its team total.
Along with Carey, the Indians also earned victories on the track in the 800 and 3,200 meters. Sophomore Kyle Harkabus, coming off last year's Class 7A title in the mile, led 29 runners in the 800 in 1:59.08.
Braden Ray added a victory of his own in the 3,200, crossing in 10:53 among three Indians that scored. Ray also finished as runner-up in the mile with a time of 4:59.30, just ahead of teammate Jacob Smith (5:00.27), who was third.
Smith also placed fifth behind Ray in the 3,200 in 11:18. Colby Butts also scored with a seventhplace effort in 11:23, giving East Coweta 50 points between the 400, 800, 1,600 and 3,200 runs.
The Lady Indians were equally strong in long-distance events, led by Holly Hind's sweep of the 1,600 (5:48.84) and 3,200 (12:43.81).
Like the boys, East Coweta's girls also captured a win in the shot put from Paeton Robinson at 30-3 ½. Robinson also was sixth in the high jump (4-4) among two scorers with Rushunda Maddox (8th, 4-4).
Top scorers from the Indians also included Dantarious 'Snook' Chunn, who finished second in the 100 at 11.17. Junior Gerald Green was seventh in 11.36.
Teammates Ramal Holston and Ahumad Williams scored in both hurdles events. Williams led the 110 high hurdles, placing third in 16.57, with Holston taking fifth (17.32). Holston, however, led the 300 intermediates, with a runner-up effort in 41.35, followed by Williams in fourth in 44.27.
The Indians were equally strong in relays, placing second in the 3,200 behind New Manchester. A lineup of Xavier Church, Logan Ray, Alex Taylor and Ray finished in 8:58.17.
East Coweta was also third in the 400 relay behind host Westlake (42.54) and Woodward Academy (42.97). A lineup of Holston, Chunn, Rakiyan Moss and Green crossed in 43.26.
Scorers in the field for the Indians also included Christopher Pitt in the long jump (4th, 21-1 1/4) and Konner Johnson in the pole vault (5th).
Girls scorers for the Lady Indians also included Ashlyn Gray (6th, long jump; 7th, 100), Aaliyah Phillips (7th, 100 hurdles), Elaina Divido (6th, discus) and Khaiah Arrington (8th, discus).
In relay events, East Coweta's girls finished eighth in the 400. A team of Desiree Chunn, Gray, Phillips and Paishence Collier crossed in 52.09.
The Lady Indians also were sixth in the 3,200 relay among a team comprised of Lindsey Eggen, Kyndal Hough, Abigail Madden and Alexis Callaway.
East Coweta's varsity lineups next head to the Panther Relays at Starr's Mill on March 3. Northgate travels to Westlake on March 3 for the Lions Showcase.