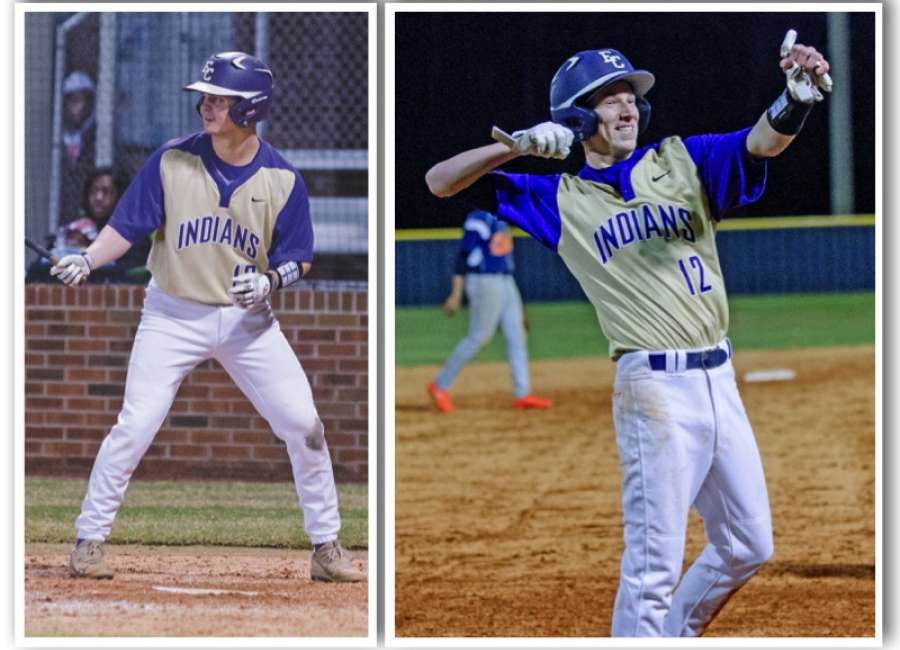 By Chris Goltermann - CowetaScore.com
Those arriving late to East Coweta's baseball scrimmage at home Thursday against Mundy's Mill might have done a double-take at the scoreboard, which had the Indians staring down an early 5-0 deficit that opened a scoreless game in the second inning.
But both the start and the finish of a 10-6 victory over the Tigers may follow direct path to the road East Coweta's program takes this spring.
With All-County junior catcher Ryan Dyal the lone returning starter back from last year's Region 2-7A champions either in the field or on the mound among the Indians' top-six hurlers from a year ago, patience is going to have to be high on East Coweta's priorities heading into Monday's season opener, also at home, against Fayette County.
"We're green, you know like a fruit that's not ready to get picked yet. And we're having to pick them early. It's like trying to put a guy in the big leagues when they could use some time at double or triple-A," Indians head coach Franklin DeLoach said. "The good thing is that after this season, we're going to be a year ahead of the process. And I expect us to be a pretty good team by the end of the this season. They're going to be just fine."
It's a direct opposite to where DeLoach and longtime assistants Brandon Blair and Mark Bowles were this fall on the softball field with a veteran group that went undefeated en route to a GHSA Class 7A state championship.
This spring, the lone player in that category is Dyal, a third-year starting catcher committed to Auburn and earning invitations to national showcase events.
"I'm assuming what's going to happen is the word on the street is going to be don't let No. 19 beat you," DeLoach said of Dyal, who batted .317 with eight doubles, four homers and 40 RBIs batting primarily out of the three hole last spring. "We might have to move him to the two hole some and say if you're going to pitch around him, we're going to have a base runner at first with one out instead of two."
Catcher is arguably the deepest position on the roster, causing another dilemma. The good news is that Dyal has a chance to be rested if needed as a DH, with Dooley Bunn able to step in. The Indians staff used the senior as a late sub at third base while drawing a walk at the plate in the scrimmage.
There are other positives heading into the season, including a roster that's been willing to step up to fill the loss of nine All-County players to graduation.
Bunn, who acted as DH in the scrimmage win, is one of five seniors to go with 11 juniors that expect to become a core group for both 2018 and 2019.
"They're good, hard working kids. Some of that is that every position, with the exception of catcher, is wide open," DeLoach said.
The timing couldn't be better for newcomers, including Dunn's younger brother Austin, a sophomore pitcher, who will get a chance to compete for a starting job. As the first of at least six pitchers used against Mundy's Mill, he struck out two and walked a pair for the Indians, who as a staff combined for 16 strikeouts, but with six walks and five hit batsmen.
Along with Dooley Bunn, a group of five seniors lead the way. They include pitcher Liam West, who is the only returner who threw at least one varsity inning last year off the mound.
Senior outfielders Bailey Psathas and Ryan Griffin started in left and center, respectively, in the scrimmage win and will be battling for playing time among a group that includes juniors William Kelley and Brayden Carey, each of whom has hits against Mundy's Mill.  
The Indians staff feels Kelley could become the team's cleanup hitter with enough pop to help protect Dyal in the order. He went 1-for-2 with a flyout to center in the scrimmage.
Last week's starting infield had juniors Jeff Sangster and Trevor Crowdis getting starts at first and second, respectively. Sangster started Game 3 of last year's Class 7A first-round state playoff series to eventual state champion Etowah with regular starter Coleman Wood taking the mound.
"He's gonna be fine there. He's one of those blue-collar workers who gives you 100-percent day in, day out," DeLoach said of Sangster.
West and Crowdis also got some work in on the mound along with sophomore J.J. Freed, who had a pair of strikeouts. Jacob Howell and Peyton Ramey also pitched in the scrimmage with Lanier Right and Ethan Walker among the Indians' pitching staff this spring.
The grass on the left side of the infield will be a bit greener, especially after graduating four-year starter and N.C. State signee Devonte Brown at shortstop. Sophomore Caleb Cashion came through with a bases-clearing triple to deep center off a misplayed ball in an eight-run rally that gave The Indians a lead for good.
Sophomore Daniel Smith could be an answer at third base after starting the scrimmage while drawing one of five walks surrendered by Mundy's Mill along with three hit batsman.