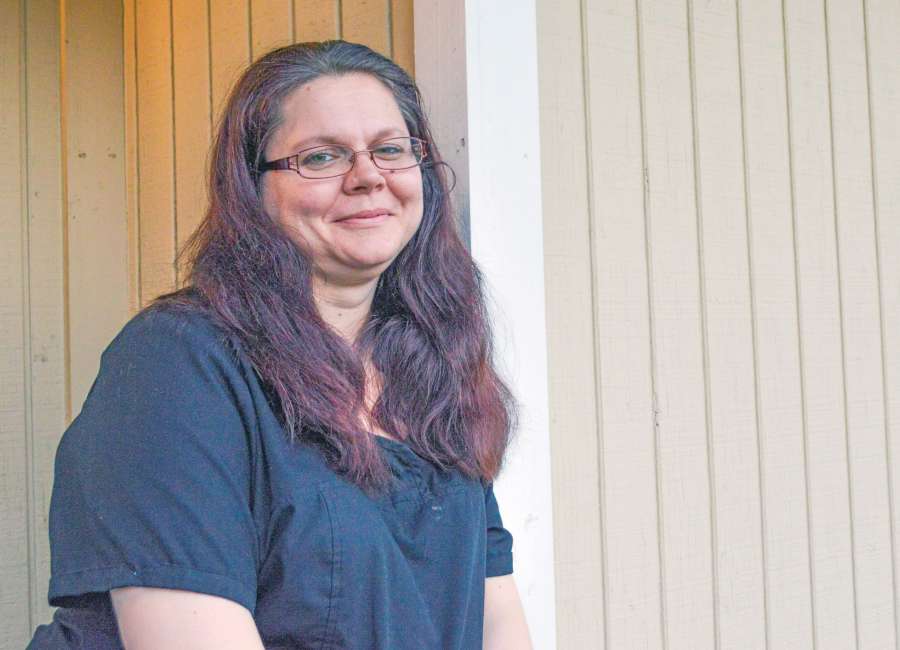 The spring before the youngest of her three children started pre-kindergarten, Katy's husband left. She was getting no financial support from him, and there were few job opportunities in their tiny Louisiana town.
In April, she got a letter. The taxes hadn't been paid on the house they lived in, and they had to be out in four days. It was a shock.
Katy and her children moved in with her grandmother, but it was only a month before she was told to leave.
Katy reached out to her pastor, who let the family live in one of the church's Sunday school rooms. They shared a futon and bathed in a metal wash tub in the church kitchen. When warm weather arrived, the family went to a local swimming lake to use the outdoor showers.
"I remember feeling very humble about it because we would take our soap and shampoo up there," Katy said.
A friend, whom Katy calls "Maw Maw," often invited the family over for dinner and let them do laundry and take showers.
When her youngest started school, Katy began working as a substitute teacher. She printed business cards offering house cleaning services and put them in the teacher's lounge. She started taking online college classes.
By late fall, some of Katy's fellow church members were pressuring the pastor to tell the family to move on.
A friend told Katy about income-based apartments in the town. She applied for them, but was told it typically took several months to get approved.
Katy said she decided to move her family to a homeless shelter in Cincinnati.
But on her self-imposed deadline of Dec. 15, Katy was studying at the library and praying when she got a call that she'd been approved for an apartment.
She had to tell her children that she was Santa Claus and there wouldn't be many gifts that Christmas. But instead, there was an outpouring of generosity from the community.
She told them that "Santa" was anyone who cared about kids, that "there are a lot of Santas in the world," Katy said. "It was the best Christmas we ever had."
A few years later, she remarried. She and her new husband moved to Atlanta to work with a homeless ministry. Katy said her husband and the pastor at the ministry didn't get along, so they moved back to Louisiana to live with her husband's family.
But not for long.
"(My husband) kicked us out. We literally had nothing," Katy said.
She was three hours from her hometown and desperate, so Katy posted on Facebook asking for help.
A woman who bought some of her furniture when she moved to Atlanta drove them back to Katy's hometown and gave the family a van. A friend wrote a check for $1,000 to get them into a new house. And the next day, Katy got a job.
Eventually, Katy said she felt a call to return to Atlanta to work with the homeless ministry, so she and her children moved again. She began dating – and eventually married – a man who lives in Newnan, so she moved her family to Coweta County.
Along the way, she finished her bachelor's degree and got a master's in counseling. She now works as a substance abuse counselor. Her mother was an addict, and that's what inspired her to work to help addicts. Since earning her master's, she's gained additional certifications, including one in trauma counseling.
Her third marriage recently dissolved, and Katy and her children moved into a rental home. Housing in Coweta is expensive  – and even with a master's degree and a full-time job, it can be a struggle.
"My whole mindset around homelessness is you never know what can happen," Katy said. "And anybody can lose everything at any time. But it's your faith in God that sustains you. I look back over the past 10 or 12 years and it just blows my mind the many times He has stepped in and made a way for us."