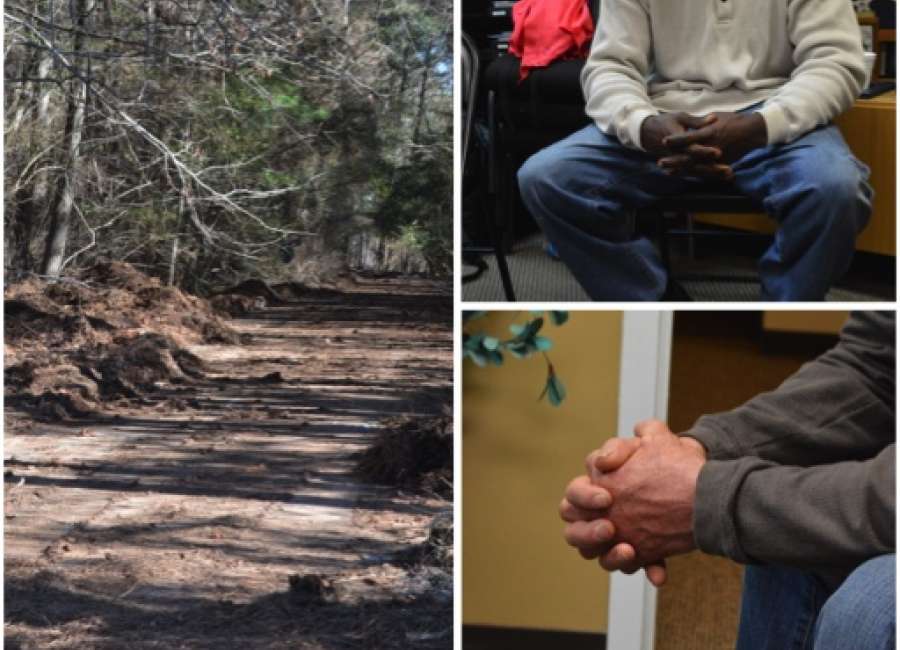 Mike moved back to Newnan a little over a year ago after being gone for a few years. He moved in with family members, sleeping on the floor.
The home was full of arguing and fighting. It was loud and stressful.
"Finally to keep from getting in the middle of it, I had to leave. It was not working for me," Mike said.
So he left on foot, and slept in the woods that night.
When he awoke the next morning, he saw what a lovely place he had found. There was a trail leading to the road, it looked like no one had been there in years. And it was quiet. He decided to stay. He bought a tent.
It was February 2017. With a few more camping supplies, he had everything but the ability to take a shower. And he didn't have to listen to people argue and fight.
Over the next few months, he would make money doing handyman work and sweeping parking lots, and he bought bigger tents and more supplies.
His camp was in an ideal location – along Hwy. 34 in a patch of woods. He was close to Wendy's and several gas stations, Aldi and Walmart for food and Academy Sports for camping supplies.
Over time, a few other people joined him. He kept the camp small. The most they ever had were five people there. And Mike had rules to enforce – keep the place clean, and no drugs.
"We were very particular about who came in. They had to have a certain mentality," Mike said.
Deputies from the Coweta County Sheriff's Office came by and "they said it was a nice, neat camp. They didn't have any problem with it," Mike said.
Their camp on Hwy. 34, in front of Yamaha, was one of three that Coweta County Code Enforcement shut down. The other two were along U.S. Hwy. 29 near Exit 41.
At one time, Mike had contemplated relocating to one of those camps. He had applied for a job in that area. So he checked the camp out. It was not his kind of place. They were completely different neighborhoods. There is a dividing line in Coweta – the interstate. And homeless people tend to stay on their side of the line, he said.
* * *
Mike said he had a good rapport with the owners of the nearby gas stations.
One day he was sitting on the side of the road when a man in a restaurant uniform came up to him. His name was TJ.
"I said – are you thirsty, man? Do you want some water?" said TJ.
He and Mike sat and talked for a bit at RaceTrac.
"He told me he was homeless," TJ said. "I said, 'By looking at me, you wouldn't know I was homeless too, would you?'"
TJ became homeless when the home in Shenandoah he and his wife and daughter shared with her relatives caught fire.  
His wife, who is white, moved in with her relatives. TJ said her family doesn't like him because he is black. "They call me a c--n, a n----r," he said. He decided he'd rather be homeless than live with that.
He was sleeping near Mike's camp at a mechanic's shop, and Mike invited him to come live in the camp, instead. At the time, TJ was working two jobs.
Mike's tent was big enough now, and he had an extra cot for TJ to sleep on. TJ had never been camping before. So it took him some getting used to – especially the bugs.
The camp wasn't a house, but it was a home. And they were pretty comfortable. Mike had built up a nice selection of quality sleeping bags, and had a propane heater that kept the tent toasty in all but the coldest weather.
"I didn't have to worry about the hustle and bustle. There was no arguing, fussing and fighting. I had peace of mind," Mike said.
"Every night we sat around the campfire, having fun, grilling, laughing, eating, listening to music. We made it a home," TJ said.
A couple also lived there for a time, and a man trying to get home to South Carolina. He stayed for a while, and finally made it back home.
They said he toughest part about living in a camp is washing.
"What we were having to do was go spend what little money we had on gallons of water," Mike said. Once the jugs were empty, they'd find a place that would let them refill them. Then they'd have to carry them back to camp. People look at you suspiciously when you're walking down the side of the road with four gallons of water, he said. And the water is cold. But staying clean is important.
* * *
One day in late summer, Brittany Eade was driving along Bullsboro. She passed two men walking.
"I just heard the Lord tell me to turn around," she said.
So she did, and caught up with the two men at QuikTrip. She rarely carries cash, but she had a $20 bill in her pocket. She gave it to Mike. His friend, who is blind, was trying to get to a bus station so he could get back home.
The blind man "looked up and he said 'Lord, you heard me.' And I'm trying to keep it together," Eade said.
She's been through a lot in life, she said, going in and out of foster care.
"I've been to the point, even after foster care, I know what it's like to not have a home," she said. She drove them so the man could get on the bus, and went home to gather up some towels and supplies for Mike.
When the weather got cold, she invited TJ and Mike to come stay at her church.
That meant they weren't at the camp when local authorities came to tell residents that they'd have to leave the camp, and that it would be cleared out.
"We got no notice. I was in and out over there," Mike said.
Maybe the people who were there when the authorities came by were told, but he wasn't, he said. He said he doesn't understand why someone couldn't have at least tacked a note to a tree.
They went to gather the rest of their things last week and found they were too late.
The things Mike had worked a year to attain were gone.
"That was part of the heartbreak," he said.
When TJ saw everything bulldozed, he said it felt like his heart was ripped out.
"It was home," he said. "We weren't bothering anyone. It just tore me up. Here we go – build something up and now I have to start over, yet again."