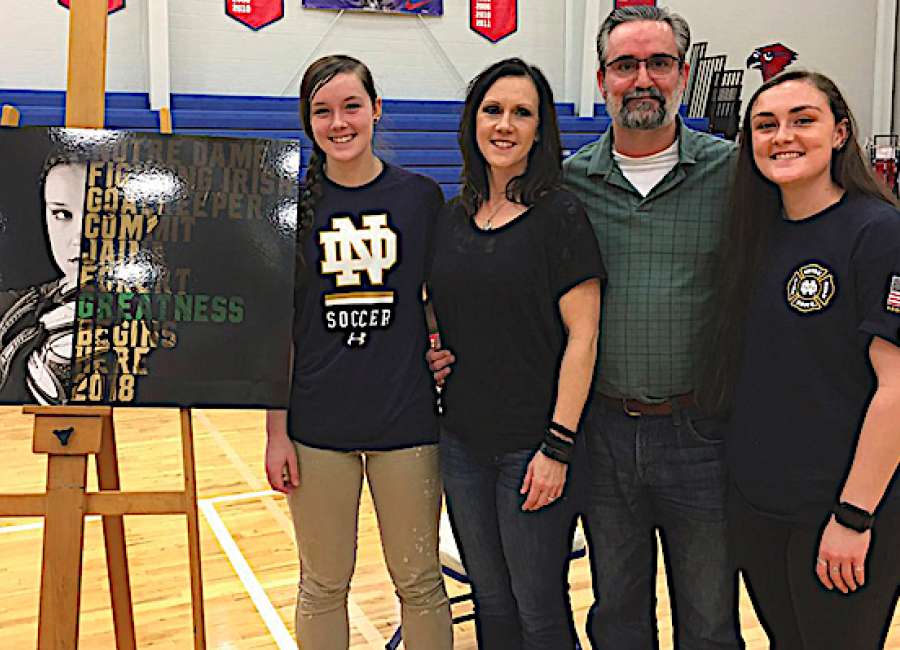 – By Chris Goltermann, CowetaScore.com
There might have been a bit of good fortune with Heritage School senior Jaina Eckert's path to signing a soccer scholarship at Notre Dame, even though skill was at the heart of the Irish's pursuit of the standout goalkeeper, who plays out of Birmingham USA's ECNL program.
"Jaina brings great size, athleticism and a never-give-up mentality to our goalkeeper core," said Notre Dame assistant Dawn Diergiej in a release from South Bend on national signing day Wednesday. "She adds to the strong tradition of competitive and hard working goalkeepers at Notre Dame and we're excited to see her bring her game to the next level."
Like any recruitment process, when Notre Dame was making the rounds of premier high-school club level programs, they told Eckert's head coach they were looking for a goalkeeper for its 2017 signing class.
Eckert's name was immediately brought to their attention.
"I was very shell shocked," said Eckert, who played with her older sister, Callista, at Heritage during her eighth grade and freshman years.
Callista is currently a sophomore defender/midfielder at Gardner Webb after playing in all 19 matches in the fall, including 16 starts.
Jaina, however, wasn't always so sure that schools might show interest.
"Before Notre Dame, I didn't really think I was good enough to play anywhere," she said. "I never thought of myself as a really good player."  
She should be a bigger believer now, though.
Eckert instantly impressed the Irish coaching staff after attending one of its ID camps, who were quick with a scholarship offer.
"The head coach talked to me after the camp, said I'm impressed with you, I want you here, how can I get you here," said Eckert, also a Georgia Merit Scholar. "So we talked it out and about a week later I made the decision that I wanted to go to Notre Dame. I wanted to go to a good educational school.  I would have been interested in going there even if it wasn't for a scholarship."
Eckert, who grew up in Savannah before moving to Atlanta, didn't start as a goalie, playing "everywhere" and most often at striker before nearly burning out on the sport at age 9.
"I gave it up and played travel volleyball for a year," said Eckert, who may have equally been a natural with sure hands and perfect height to play the sport.
When she decided to return, that height equally made her a natural decision for her coach to begin playing net. With it, came a love for the position and a renewed excitement for soccer.
"It was mainly the sense that I'm the director on the field and I can see everything," she said. "It's also that feeling you get when you make a really good save and everyone is cheering, that feeling that I can make a difference."
Eckert was one of just five freshmen to earn All-Region honors at Heritage following the 2015 season before much of her time became centered around Birmingham USA. She currently drives to Alabama twice a week for one-on-one training with goalkeeper coach Jeremy Hanson, who she admitted has made a major impact with her technique of the past year.
"He completely changed the way I play goalkeeper," she said. "He pretty much told me everything you're doing is wrong. The good thing is the Notre Dame goalkeeping coach has the same philosophy as him."
Eckert was among local seniors who signed letters of intent on National Signing Day. They included Chandler Hendrix (soccer, Wingate) and Alex Seymour (football, Carnegie Mellon) at Trinity Christian and East Coweta football senior Devante Ford (Lenoir Rhyne).
Ford joined December signees Evan Fields (Memphis) and Christian Reid (Charleston Southern) in a celebration Wednesday at East Coweta.