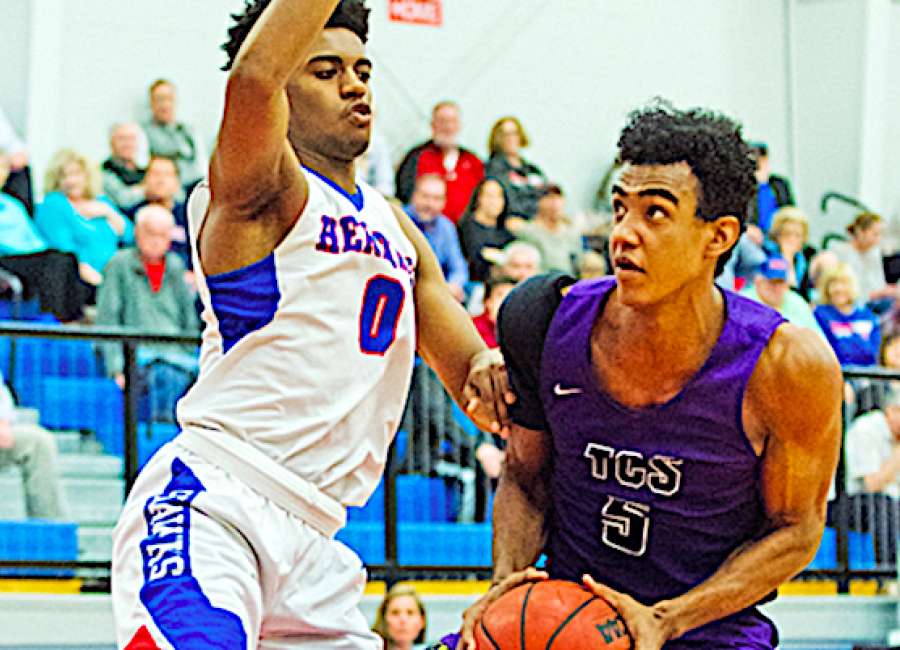 By CHRIS GOLTERMANN, CowetaScore.com
Region 1-AAA boys basketball lineups bulldozed their way into the GISA Elite 8 during Wednesday's first round among four victories by an average margin of just under 36 points.
They included blowouts by both Heritage School and Trinity Christian, which are back in the state quarterfinals for the second straight year. Both will play Saturday at 5:30 p.m., at John Milledge Academy or Georgia Southwestern State in Americus.
The Hawks and Lions were among three Region 1 seeds that rolled over oppo- nents from Region 4-AAA without problem.
Last year's Class AAA runner-up, Heritage School, jump-started this year's state tournament run with a one-sided 65-24 victory over 4-AAA's No. 3 seed, Westfield School, in a game played at Bulloch Academy.
The Hawks quickly jumped out to a commanding 20-3 lead after one quarter and then put the game away by outscoring Westfield 26-0 en route to halftime. Heritage forced 23 first-half turnovers in the rout, getting four steals from senior Jake Canter and junior Lance Terry in limited action.
The win saw key reserves showcase their talents. Henry Arnall led the Hawks off the bench with 14 points and a whopping 17 rebounds.
Canter and Terry posted 10 and 7 point performances, with Terry add- ing five rebounds and four assists before resting up for Saturday's 5:30 p.m., quarterfinal game against Region 2 champion Bulloch Academy. The game will be held at John Milledge Academy in Milledgeville.
Dylan McLean also turned in a solid effort, finishing with eight points and seven rebounds.
Trinity Christian equally had little problem marching back into the GISA Elite 8 for the second straight year despite entering the postseason as a No. 3 seed from Region 1.
The Lions crushed Region 4 runner-up Gate- wood — a state quar- terfinalist last year — 59-30 in a game played at Region 3 champion Deerfield-Windsor.
Trinity advances to face Deerfield, an 80-35 first-round winner over Edmund Burke, on Saturday. The game will be played at 5:30 p.m., at Georgia Southwestern in Americus.
Daevon Platt helped Trinity dominate Wednes- day's first-round effort, posting 14 points and 8 rebounds, while senior Jamir Williams also added 14 points and six rebounds.
The Lions were equally led by Erick Valdez's 10 rebounds and three blocks while clogging up things inside for Gatewood, to go with four points. Tyler Whitfield also had nine points and five rebounds, while Pierce Davis and Shamari Reed shared a combined 12 points and six rebounds in the victory.
Quarterfinal wins on Saturday by both Heritage School and Trinity Christian would set up a Final Four matchup between county rivals on Thursday, March 1, at Mercer at 5:30 p.m.
The Class AAA championship game will be held March 3, also in Macon, at 7 p.m.
Three-time defending champion Holy Spirit and Region 1's No. 4 seed Loganville Christian equally advanced to the quarterfinal round in contrasting efforts. Holy Spirit crushed Augusta Prep 88-20, while Loganville fought off Region 4 champion John Milledge to pull off an upset in a 61-55 decision.
Holy Spirit next faces Southland, the No. 3 seed from Region 3, while Loganville advances to play Region 3 runner-up Valwood.