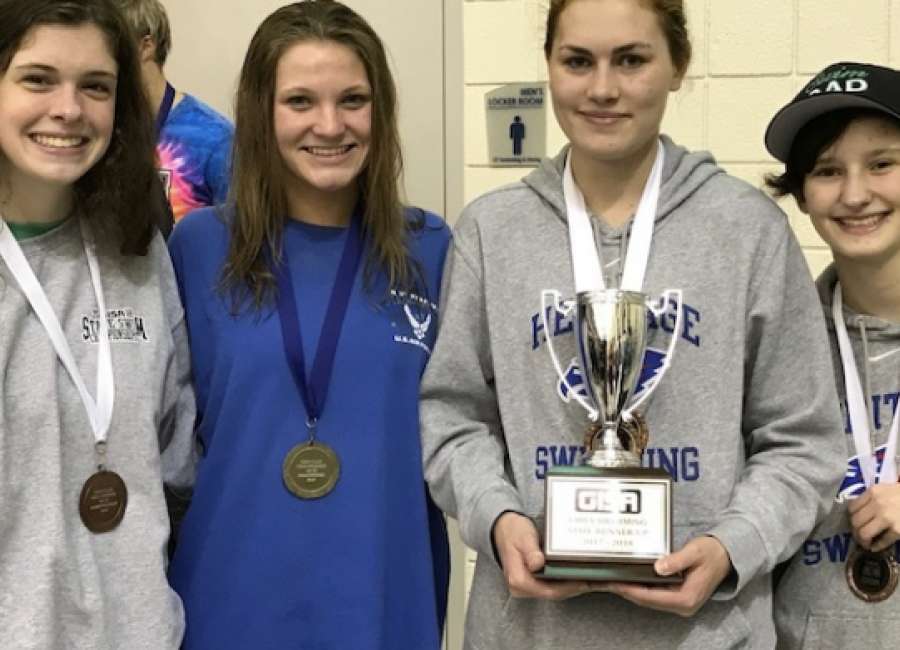 By Chris Goltermann / CowetaScore
Another record-setting swim season for The Heritage School produced a state runner-up finish for the Lady Hawks in last weekend's GISA State Championships and a third-place effort by its boys lineups at Georgia Tech.
In all, swimmers set nine new school records in championship swims that included individual victories from three athletes led by senior Jewell

Burson among girls and junior Riley Scruggs among boys.
Heritage's girls scored 61 points to finish behind only state champion Deerfield-Windsor (142), while outlasting Augusta Prep for state runner-up by two points.
Depth helped pace the Lady Hawks, who turned in a pair of third-place relay efforts including a new school record in the 200 freestyle event. A team of senior Allie Browning, Burson, Sealy Dreyer and junior Lydia Polley set a mark of 1:55.94, while also placing third in the medley relay in 2:14.50.
Individually, Burson added three new school records while winning the 50 freestyle (25.10), 100 butterfly (1:03.82) and the 100 breaststroke (1:07.58).
Browning was a state runner-up in the 200 freestyle (2:18.94), while also finishing eighth in the 100 freestyle (1:02.20) and ninth in the 50 freestyle (28.12).
Polley scored individually by placing eighth in the 500 freestyle.
Among boys, Scruggs also set three new school records in title-winning swims, helping lead the Hawks to a third-place effort with 64 points to

finish behind Holy Spirit (84) and Augusta Prep (81).
Scruggs captured victories in the 200 individual medley (IM) in 2:00.74 in addition to wins in the 50 freestyle (21.60) and 100 freestyle (47.45).
Sophomore Cameron Tvyrdik also earned a first-place medal with a new school record in the 100 breaststroke in 1:01.00. He also placed behind Scruggs in the 200 IM (third) and 50 freestyle (fourth).
Fellow sophomore Daniel Wellons also scored for the Hawks in three events including the 50 freestyle, placing third. He was also third in the 100 butterfly and fourth in the 100 freestyle.
Trinity Christian finished sixth among boys with 35 points for a program that also posted top-three finishes in both middle school divisions.
The varsity Lions finished third in the 200 medley relay and fifth in the 200 freestyle among a team of Maxwell Pope, Nathan Moore, Chase Roosen and Jason Marx.
Individually, Moore was a state runner-up in the 100 breaststroke while also placing fifth in the 200 freestyle. Roosen and Marx also scored in the 200 freestyle with fifth and sixth-place finishes, respectively.
Trinity's varsity girls were seventh in the medley relay among a team of Maddie Donnelly, Katie Marinello, Maggie Hellgeth and April Holt.
Trinity middle school lineups placed third in both girls and boys divisions. The Lady Lions were led by Kaitlyn Seymour's victories in the 100 IM (1:08.07), 50 freestyle (26.95) and 50 butterfly (29.47).
In middle school relays, Trinity's girls were fifth in the 200 medley and sixth in the 200 freestyle (2:03.94) while joined by Riley earn, Gracyn Duncan and Adeline McCleery.
Lions middle school relays took third in the 200 medley and second in the 200 freestyle among a team of Will Witherington, Jackson Rice, Shaun Morris and Ryan Earl.
Individually, Earl was second in the 50 freestyle and fourth in the 100 freestyle. Rice placed fifth in the 50 backstroke.
Heritage's middle school girls were led by Mary Clare Warren's victory in the 50 breaststroke while adding two fifth-place finishes in the 50 backstroke and 100 IM.
The Hawks were led by Andrew Tvrdik's new school record in the 50 breaststroke, where he finished third. He also joined younger Andrew, Max Pendergrast and Micah Alba to place sixth in the medley relay and fifth in the freestyle event.