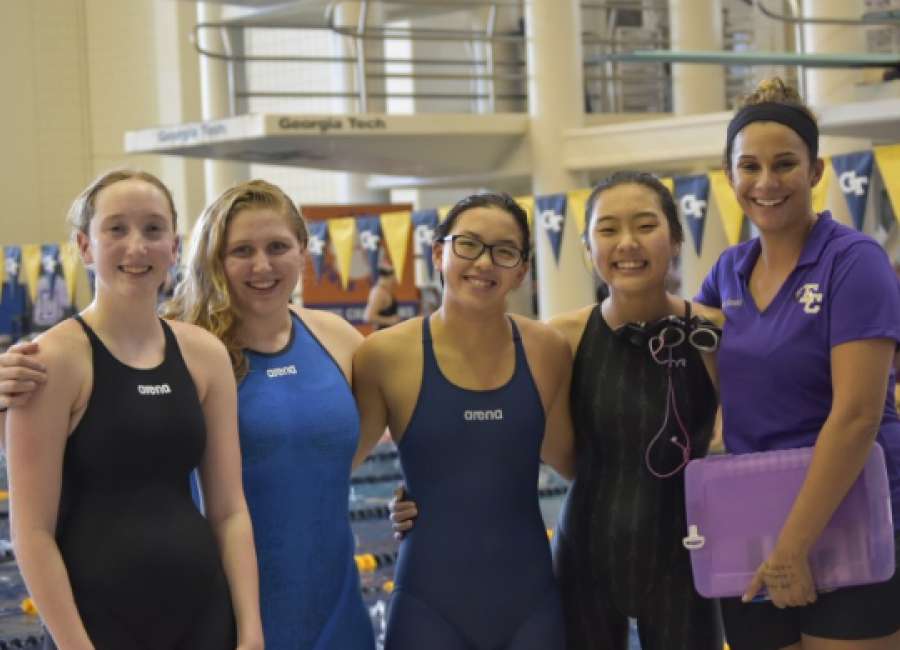 By Chris Goltermann
County swimmers were able to extend their seasons past the preliminaries of this year's GHSA championship meet, with at least a pair and one relay lineup advancing to this year's finals. 
All of this year's qualifiers were able to leave Georgia Tech's McAuley Aquatic Center with strong efforts that had athletes turning in season-best performances, finishing at least in the top-half of the field, or in some cases — both.
Leading the way among girls Lady Indians sophomore Katie Revoir, who reached Saturday's finals by shattering her season-best time in the 100 backstroke to place 29th overall in 1:00.91 while more than three seconds faster than during the regular season.
In the finals, Revoir finished 21st out of the 30 swimmers that advanced.
In Friday's preliminaries, Revoir also set a season-best of 2:19.91 in the 200 IM by three-plus seconds to place 47th.
Revoir also joined three East Coweta teammates in reaching the finals of the 200 freestyle medley. How and Revoir joining senior Sydney Shelton and freshman Erica Lee to qualify with a 27th-place effort in 1:46.34 while just under three seconds faster than their seed time.

While Shelton was unable to attend the final due to a prescheduled interview for Barton College in North Carolina, where she will continue her swimming career next year, senior Sydney Murr stepped in and helped the Lady Indians finish 21st. The effort included Revoir's fastest split time of the season, completing her 50-yard leg in 23.82. 
Along with Revoir, Northgate senior Reed Ramthun's 22nd-place finish in the 100-yard freestyle in Class 6A-7A to qualify for the finals. Despite coming just shy of a season-best effort with a finish of 48.94, the effort  enabled him to advance among the top 30 in the state's largest classification.
Ramthun was able to produce a season best as part of the Vikings' 200 freestyle relay while joined by freshman TJ Pittenger, and juniors Sam Wessels and Alex Wathen. The lineup placed 36th in 1:36.91, trimming more than two seconds off their seed time.
Pittenger also had two strong individual swims while representing Northgate's program. He just missed the finals by placing 31st among 63 qualifiers in the 100 freestyle in 49.59 while just over a quarter-second slower than his season best.
The ninth-grader, however, closed his first trip to the GHSA championship meet by breaking a previous best in the 200 individual medley (IM). A mark of 2:05.91 placed 54th while nearly six seconds faster from the 2017-18 season schedule.
The Vikings also placed 45th in the 400 freestyle relay in 3:41.80.
All three county programs equally received season-best performances from girls qualifiers, including a pair that finished together in the top-half of the 100 freestyle
Northgate senior Lauren Riles and East Coweta freshman Summer How placed 33rd and 34th, respectively while just eight-hundredths of a second apart led by Riles' time of 55.16 while wrapping up her high-school swimming career. She also finished 64th in the 100 backstroke in 1:06.22.
How's mark in the 100 freestyle of 55.28 was a season-best by just under two seconds in her first trip to the GHSA state meet, while also placing 41st in the 100 butterfly in 1:01.92.
The group also set a new best of 2:01.64 in the 200 medley, placing 43rd.  
Newnan senior Bethany Schenck also set a personal best in her final swim of her high school career. The Lady Cougars' standout was more than a second faster than a previous time in the 100 breaststroke, placing 38th among 63 swimmers in 1:12.63.