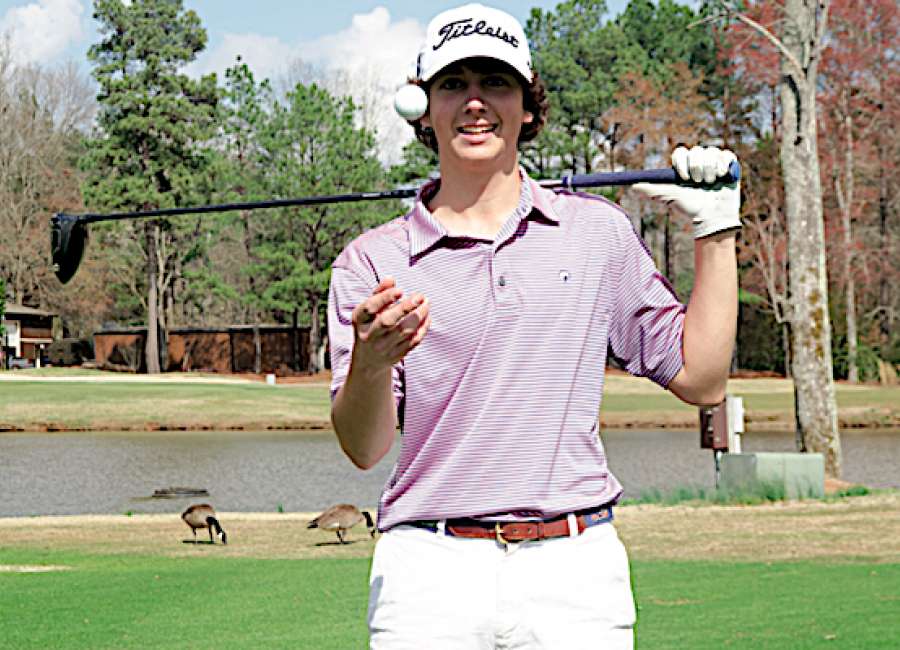 By CHRIS GOLTERMANN, CowetaScore.com 
Last week's record-breaking temperatures were a welcome sight, especially during a season that's included bitter cold, a dash of snow and one of the worst flu seasons in recent memory.
But every winter seems equally brutal for a golfer. Count Carson Whitton among them.
"The winter is depressing. I hope [the weather] stays," he said. "I remember one time trying to sign up for a tournament before March and it was miserable."
The East Coweta High senior, who signed a national letter of intent to join swing coach Dave Schreyer in November, is set to begin his final varsity season next week as the 2018 season gets underway.
Newnan got a jump start, playing at Sunset Hills in Carrollton on Monday, while East Coweta still has a week before opening the year Tuesday at home against LaGrange.
Northgate begins its season on March 12 at the annual Granger Invitational.
Whitton is coming off an 18th-place finish at last year's GHSA Class 7A State Championship, where weather also played a factor, dousing the course at Chateau Elan with rain on day two during the first year of a 36-hole format.
It began with a great opening round that had the Indians standout tied for third. But on day two, it seemed a dark cloud followed Whitton from start to finish.
"Second hole, I'm going to putt and I dropped the putter and it hit the ball, so that's a stroke. It just started being a bad day because I had already hit a bad shot that hole," he said. "I shut down and it was stupid [of me]. That's the thing. You've got to use your brain a lot."
It hasn't stopped Whitton's love of the sport, however. 
Outside of a brief period when he let his clubs sit for several weeks at age 14 and "I just got bored not playing," golf has pro- vided an outlet for success. He's had a top-10 finish at the Future Masters in Dothan the past two years and heads into the spring as both the defending low medalist of both the annual Coweta Cup and Area 2-7A tournaments, firing 73 and 69 at last year's respective events.
"When I was younger, I just wanted to break 90 and do OK. Now everytime I want to play my best," Whitton said. "My short game really has improved a lot. Just from practicing. I used to think it really wasn't a big deal and saw it as something that was smaller."
The county's GHSA programs are coming off a successful 2017 season, with East Coweta and Newnan's boys and girls each advancing to last year's state tournaments. Northgate's girls also advanced to the state level after finishing runner-up to Dalton at the Area 4-6A tournament. Whitton could have equally gone bigger when it came to college choices, having looked at several other potential schools. But a reunion with Schreyer, who returned to coach at his alma mater after a professional playing career and more recently as a club pro for Canongate, felt a natural fit.
"That's a big part of it. My swing coach is the coach. That helped me a lot," Whitton said of Schreyer. "He can better me."
The decision may have also seemed like fate after he was paired with another Huntington signee at a recent tournament. By the time it was over, Whitton's dad Darrell got a call with some news.
"Carson calls me and says, 'We just called Dave and it's official, we're going to room together next year," Darrell said.
Outside of a last chance at snowboarding last week, Whitton was back around his home course at Canon- gate on White Oak getting in some practice time.
"I'm Probably [out here] a little bit more because I didn't have to worry about school as much. I've been trying to get out here more," he said. "Usually I try to play like three times a week. If I don't play, then the next week I don't play very well."
While looking forward to starting his college career in the fall, where Whitton may find himself immediately challeng- ing for playing time much like recent Newnan High graduate Trevor Smith did during a standout career at Coastal Georgia, he's equally looking forward to finishing out his final amateur season on a high note.
"Every time, I've been going 'this is the last tournament,'" he said." I'd like to win a couple more tournaments before college. That'd be nice."