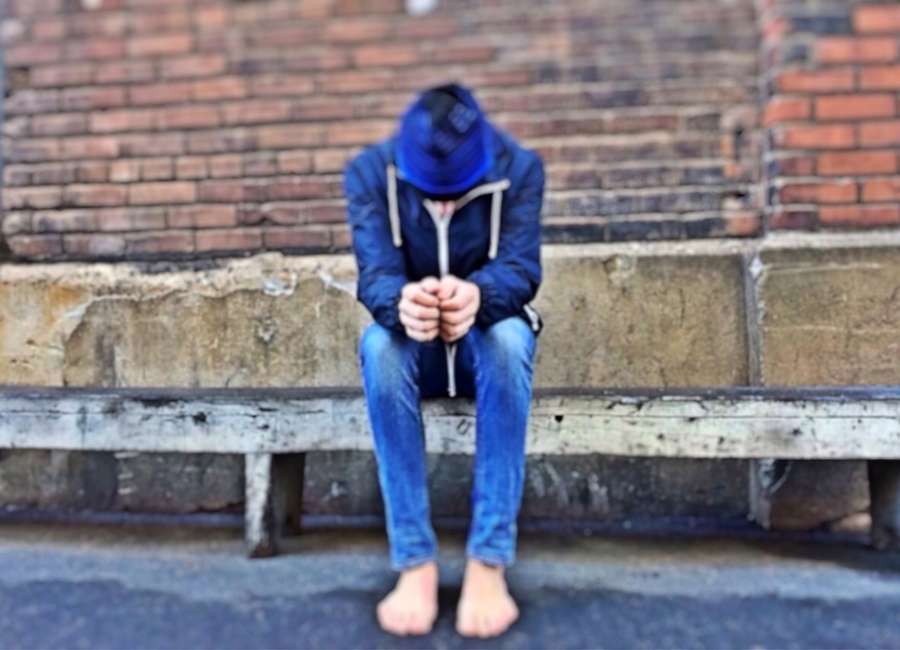 When you see a homeless person and would like to help them, what is the most important thing you can do?

It's likely not what you expect.
"The best thing you can do is acknowledge that person as a human being – treat that person as a human being," said TJ, who until recently lived in a homeless camp on Hwy. 34. 
"If you can't give anything, don't just walk past them, tell them good morning. It hurts when people fail to realize we are people too – everyone is."
"If you have no money to give, don't feel bad about it," said Mike, who set up his tent in the woods a year ago after leaving a home filled with bickering.
But don't turn your head away because you can't do anything.
"Still look at them and acknowledge they are human," Mike said.
Mike talked to one woman who said she won't look at homeless people she passes because she doesn't have any money to give them.
"When you look away, it gives them the idea that you don't even want to look at them," he said.
Just be honest, TJ said. "If you don't have it say 'I'm sorry, I don't have it.' Don't just lie to them," he said.
But please don't try to demoralize people, he said.
"That really hurts the self-esteem – you're doing all you can," he said.
TJ said one of his main goals in sharing his story is to get folks to understand – "We're people too, we're just like everybody else. We want to survive, just like everyone else. Once you fall, it's hard to get back up once no one gives you a chance to do so."
But people do get back on their feet.
"There are a lot of people in this county and in Peachtree City who are very financially stable that, at one point in time, were either homeless or on the brink of homelessness," Mike said.
Many of the people he's run across who have really been helpful or kind have had experiences with homelessness or near-homelessness themselves.
TJ and Mike were asked what they think most people get wrong or misunderstand the most about people who are homeless.
"When they look at us, they see people that are in worn-out clothes or asking for a handout. But what they fail to see is that we didn't ask to be here," TJ said.
Anything can happen to cause someone to be homeless. In TJ's case, it was a house fire.
"They say 'Oh, he's not trying anything, he's just standing around asking for help,'" TJ said. "They don't understand that every day you try. Or, that with no help or no resources you just say 'forget it.'"
There are some people who just give up, he said. Some who get cleaned up and get back in society are still looked down upon because they were homeless.
Mike has had people throw bottles at him from moving cars as he's walking down the street, or yell cruel things to him.
"Not all of us are out there stealing, not all of us are out there robbing folks," he said. "There are bad people out there, don't get me wrong. But there are bad people out here in living in quarter-million dollar homes, too."
Not everyone who might seem to be homeless actually is.
"Not everybody out there that is trying to get a dollar is homeless," Mike said.
He had to have a talk with one man who was asking people for money and remind him that, unlike him, they didn't have a warm home to go to when the snow came.
Instead of money, people often like to give homeless people food.
"A decent homeless person will be thankful for anything," Mike said. "If you buy me a biscuit, I'm going to be happy."
But he might not eat it right then – he might put it in his bag for later.
He's seen some "homeless" people leave behind food that a well-meaning person gave them.
"They don't need it. They're after a dollar and that makes the actual homeless people look bad," Mike said.
Sometimes people don't want to give money because they're afraid a person will spend it on alcohol or drugs.
"If you had to sleep out in the woods for a couple of days with no sleeping bag, no tent, in the cold, you'd probably want to drink a little bit yourself," Mike said. "You're going to want to get numb when you wake up and you're shivering and there is frost on the ground. It's kind of miserable."
Newnan has become a hub for people traveling, especially in the summer. Folks may stop in Newnan for a few days or a few weeks, or even a few months as they work their way to Florida, or up north, or somewhere else.
"Some of them get stuck here," Mike said.
When there are people passing through, "that is when you start having problems," he said. "People panhandling, people walking up to gas pumps asking for money. They don't really care how they're getting it because they know they're about to leave. Then all of a sudden it becomes a major problem."
Mike said he remembers having to give one transient man – who bragged about stealing – a talking-to, to make sure he understood the effect his actions were having on local homeless people. He's also talked to people who are hustling for money at gas stations.
"We're the ones who are actually trying to make a new start in the community. We're not looking to be passing through," Mike said. "It's like one or two bad apples running around and they mess the whole bunch up."
No two people are the same, and that applies to those who are homeless as much as it does to anyone else.
"If people would take the time to actually find out some of these peoples' stories, they would be shocked," Mike said. "I've met culinary chefs. I've met people who were multimillionaires and for some reasons they lost it. A lot of people don't understand it is so easy for you to lose everything, and it's so hard to just get a little bit of it back."
Sometimes people have tried so long and so hard that they just give up. And some decide to remain homeless.
"When you're so low and people have so much hate – you think you've got nothing else, then why keep going?" TJ asked.
Mike and TJ's camp was one of three that Coweta County Code Enforcement cleared out, and property owners and the county removed everything out from the camps.
"These people are not bothering anyone. They're just trying to find shelter and a place to lay their head," TJ said. "You're cleaning one out, where are you going to put these people? No one can walk all day. We have to sit down and rest. We have to sleep."
When the weather got cold, a friend invited Mike and TJ to stay at her church. At the church, they got fresh clothes, haircuts and access to regular showers. In the camp, they'd use bottles of cold water to get clean, but it's certainly not the same as a hot shower.
"When you're not taking a shower, haven't had a haircut in a while and have to wear the same clothes for three or four days, you don't really feel much like… a human," Mike said. "But once you get a shower, a haircut, put on some clean clothes – you can walk out and actually hold your head up."
As a child, TJ had a dream to open his own homeless shelter and orphanage. He never imagined he would be homeless himself. He said he wonders what would be the best solution for Coweta.
Some homeless people in the community have already gone to shelters elsewhere and had bad experiences, Mike said. They are leery of going back into a shelter.
TJ said he thinks perhaps the "shelter" for Coweta could be an organized camp. People would have individual tents, with centralized shower and bathroom facilities.
"There would be people to monitor it so things won't get out of hand," he said.
There could be programs to help people get into rehab or help them get back into society, TJ said.
"It's so much that can be done," he said.
Even if he gets his family back together and has his own home one day, TJ's experiences as a homeless person have forever changed him.
"I don't think I'll ever live the same in my own home again, knowing there are people out there without homes," he said.