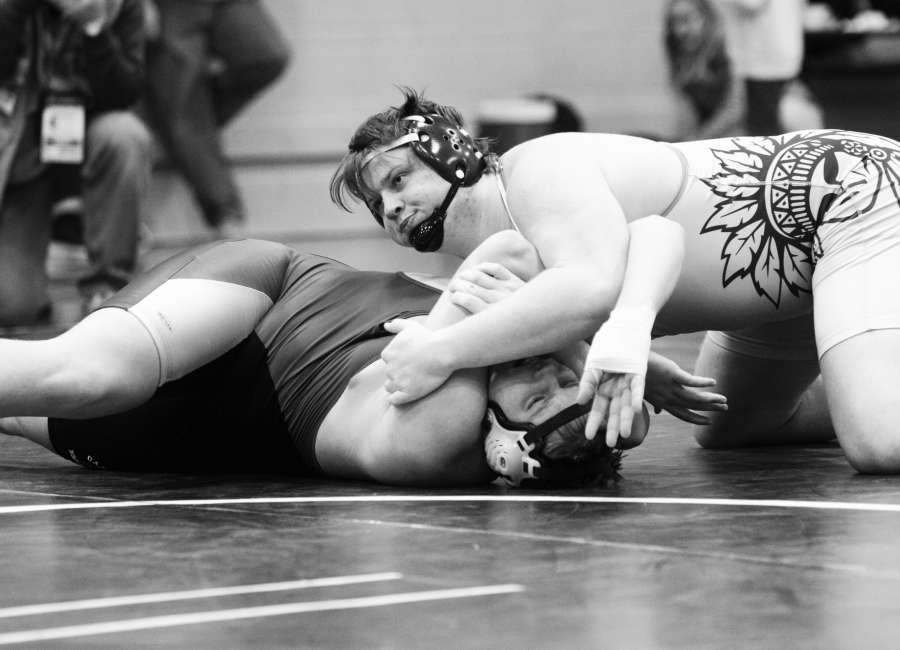 When East Coweta senior Evan Fields woke up Wednesday morning, he knew it was going to be a hectic day.

Not only did he have to juggle classes, he was also recognized for his his football scholarship to the University of Memphis which he signed in December during the NCAA's first early signing period for football.
From there, it was off to wrestling practice as he gets ready to close out his high school career starting today at the traditional state meet at the Centreplex in Macon.
Fields qualified last week at the state sectionals in Class 7A-A sectionals in the 280-pound weight class after finishing third.
The two-sport athlete is equally passionate about both wrestling and football.
"I have been doing wrestling since I was four, and I have been playing football since fourth grade" Fields said. "I was doing basketball, but I didn't like it. It wasn't physical."
Fields has excelled in both sports for the Indians since stepping on campus.
"Football ends at a perfect time because basically I am already conditioned from football," he said. "I can go straight into wrestling from football and the transition is easy. It's good because I like to stay moving and active."
Fields won the  285-pound class at Coweta County Championship in December and added a Area 2-7A title to his wrestling achievements.
Last week, he beat Rockdale's Edward Pollard in a 4-2 decision to secure a third-place finish at sectionals.
He's strong showing has given him plenty of confidence as he heads into his last ever high school wrestling event.
"I go at every practice even harder than the last," Fields said. "Today will be my last wrestling practice ever, so I am going to go at it with the same mentality as always."
He also uses that same mindset when he steps on the mats for a match.
"I go in there to win, not just to survive," he said.
Fields has put together a solid record on the wrestling mats this season, compiling a 25-4 record.
He begins his last high school wrestling tournament against North Forsyth's Will Chavarria (25-15) in the first round of the state tournament.
Chavarria finished sixth at his sectional tournament.
After wrestling, Fields will turn his focus to getting ready for the life of a college football player.
He has already received a workout program from the University of Memphis, and he is ready to hit the ground running.
He won't have too much downtime after graduation as he will settle into college life in June.
Fields knows he's  joining a football program on the  rise.
Last season, Memphis finished with a 10-3 overall record and a 7-1 mark in the American Athletic Conference.
The Tigers advanced to the league championship game where they dropped a 21-20 decision to Central Florida in double overtime.
Memphis lost to Iowa State in the Liberty Bowl.
Fields can't wait to get started.
"I received an offer from them, and when I went up to visit you could tell the whole city was behind the football team," he said. "With the coaches pushing everybody to get better, it reminded me of the coaches here at East Coweta.  I just loved everything about my visit.
By signing with the Tigers, he joins former East Coweta punter Spencer Smith, who just completed his sophomore season at Memphis.
"He and I have talked about playing there," Fields said. "We I went to my visit he came and found me after a game."