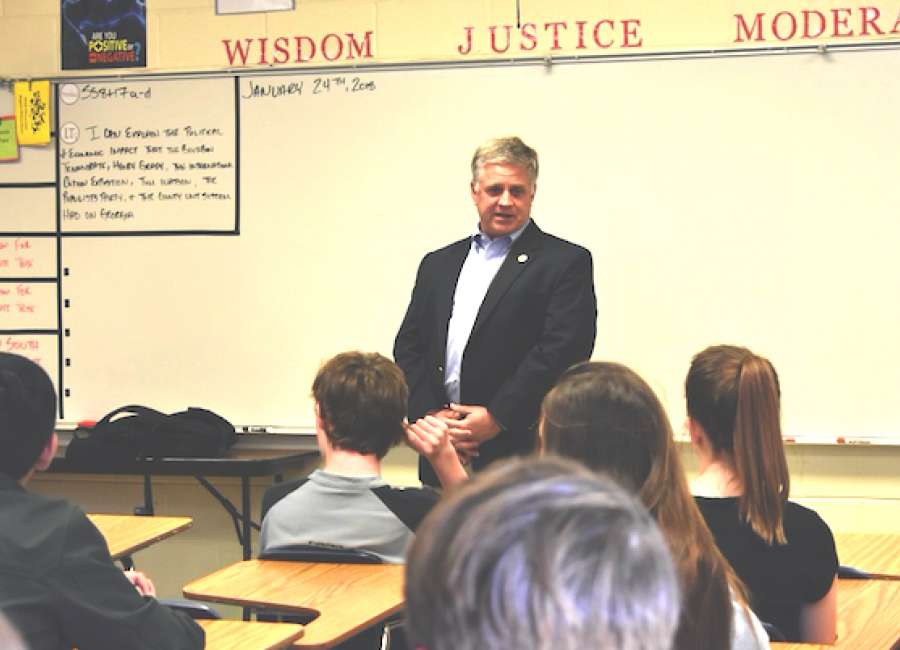 U.S. Rep. Drew Ferguson wants students to know how things really work in Washington, so he went back to middle school.

Speaking to students in Scott Zachry's civics class, which gives eighth grade students the opportunity to earn high school credit while they're still at Madras Middle School, Ferguson said news from Congress may not always tell the whole story.
"One of the things that's very frustrating for me is the realization that the people back home don't always get the full picture of what's going on in Washington," Ferguson said.
For instance, Republicans and Democrats get along a lot better than students might think.
"If you look at the news and social media, you would think that Republicans and Democrats can't get in the same room with each other without a fight breaking out," Ferguson said. "That's just really not how it is at all."
In fact, of the more than 400 bills passed out of the U.S. House of Representatives last year, Ferguson estimated that about two-thirds of them were bipartisan with "strong support" from both parties. 
"There are a lot of things the parties don't agree on, but there are a lot of things we do agree on," Ferguson said.
In reality, it's not much different from a group of students, Ferguson said.
"Look at this class," Ferguson said. "The commonality is that you all live in Coweta County. But if I start breaking it down, if I imagine you each as a congressional district, you are all going to be very different. Some of you are going to be a little more alike, some of you are going to be really far in the other direction.
"Some of you are Georgia fans, Georgia Tech fans, Auburn fans, Alabama fans… think about those issues right there," he added. "Y'all don't agree on those particular points, but I'd be willing to bet there are a lot of other things you do agree on. Congress isn't a whole lot different."
Ferguson – who told the students he sleeps on a sofa bed in his office because housing is too expensive in D.C. – talked about the lawmaking process and another common misconception, that the nation's lawmakers don't get a lot accomplished. He said lawmaking is a "fairly long and complicated process."
"My office staff and I start out by talking about what we're hearing from the people," he said. "We talk about how we can move that idea forward."
Part of that is researching any previous attempts.
"Many times, it's something that another member of congress has worked on before, so we go through that information," Ferguson said.
The legislative process of writing a bill comes next, and then convincing other members of congress to co-sponsor the bill by explaining what it means for the country, for their states and for their districts. 
"You take that idea, bring experts in from around the nation to testify in committee about that particular issue, what the needs are, and what things we want to try to do," he said. "Then you take that bill and have Republicans and Democrats debating it in committee. Some things get added and some things get stripped out."
If it passes committee, representatives get a chance to vote on it in the house.
"That process can move fairly quickly or it can be painstakingly slow," he said.
Often, larger bills such as the comprehensive tax reform bill are made up of many smaller measures. One component of tax reform was requiring Social Security numbers for the children of taxpayers who receive earned income child tax credit.
"There was a lot of abuse in that system," Ferguson said. "(Reform) was an idea we got from the district and we felt like it was important. That was one that came out of our office that actually got included."
Ferguson, a dentist by trade who began his political career as mayor of West Point, encouraged the students to develop a "servant's heart."
"Serving your community is really, really important. I got involved to make a difference in my community," he said.