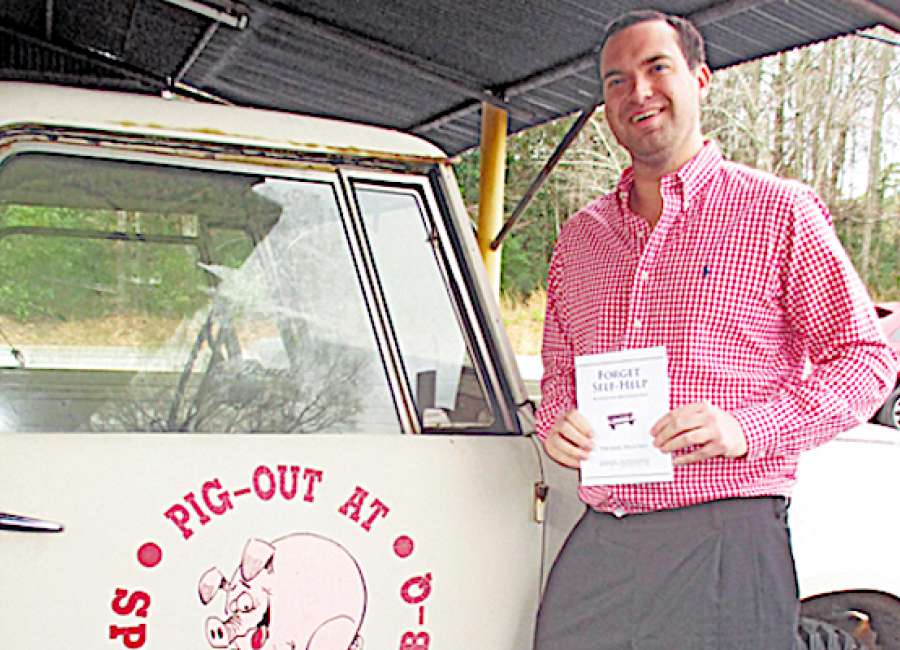 Thomas Fellows is a great admirer of the Golden Rule – and of Sprayberry's Barbecue.

Fellows, 28, first got acquainted with Newnan's culinary delicacy when he went to Camp Laney at Mentone, Ala. "All of our family have gone to camp in Mentone," he said.
One of his fellow campers was Stephen Sprayberry, whose family runs the local barbecue emporium.
Sprayberry's barbecue was brought to the camp, and Fellows and Stephen Sprayberry became friends. "I knew a few other people from Newnan," Fellows said.
Fellows recently drove from Atlanta to Newnan to have some barbecue and talk about his book, "Forget Self-Help."
"It's gotten great reception," Fellows said. An independent publisher in Tuscaloosa released the book, but Fellows is now getting nibbles from a major publisher.
"The book really encompasses the South — 'To Kill A Mockingbird,' 'Uncle Tom's Cabin,' Robert E. Lee and Martin Luther King. It's all about the Golden Rule of Matthew 7," the author said.
"I'm in software sales. Sales is very similar to writing. You have to communicate," Fellows reflected. 
In life and business, Fellows made some observations, seeing people daily – living their lives with Christ-like actions. "The best way to help yourself is to help others," he said.
Fellows recalled a biography about Bill McDermott, the chief executive officer of SAP, Inc.  "He's taught more more about life than about sales," Fellows said.
Fellows said picking the right people to emulate is a key to life. Two of his own role models are King and Lee.
"Those were Godly men. I'm probably the only Atlantan who has framed pictures of both in my condo," he said.
Fellows said it is important to look at the totality of a person's life and also to examine their words and actions against the backdrop of their times.
"Robert E. Lee was racist at times, as was Abraham Lincoln, which most people don't know," Fellows said. "God uses flawed human beings."
A successful person "picks out certain traits in others, even if they are flawed" and seeks to develop those same qualities.
"If you don't like Donald Trump or Barack Obama, you can still pick out traits that make them successful, and I think successful people do that," he said.
While the book reflects Fellows' faith, "non-Christians have seemed to like the book, as well," he said. "I didn't write it just for Christians."
Fellows suggested that novels like "To Kill a Mockingbird" and "Uncle Tom's Cabin" showed flaws in the practice of Christianity in a way that was better received than a direct attack on wrong ways of thinking and living. "I want this book to be – in some ways – a critique of Christians," he said.
"Christians have a bad reputation in the United States. I think oftentimes, Christians check off boxes, like praying and going to church, and don't realize that it's in everyday actions that they'll change people's lives. When they show the love of Christ to others, people will start asking, 'What's in them? I want that.'"
Fellows, who grew up Presbyterian, started writing "Forget Self-Help" at Camp Laney in his early 20s. "I took some years off," he said. Several people encouraged him to plow ahead, finish the book and publish it.
He expects his second book, "The Criminal on the Cross," to be published in 2019.