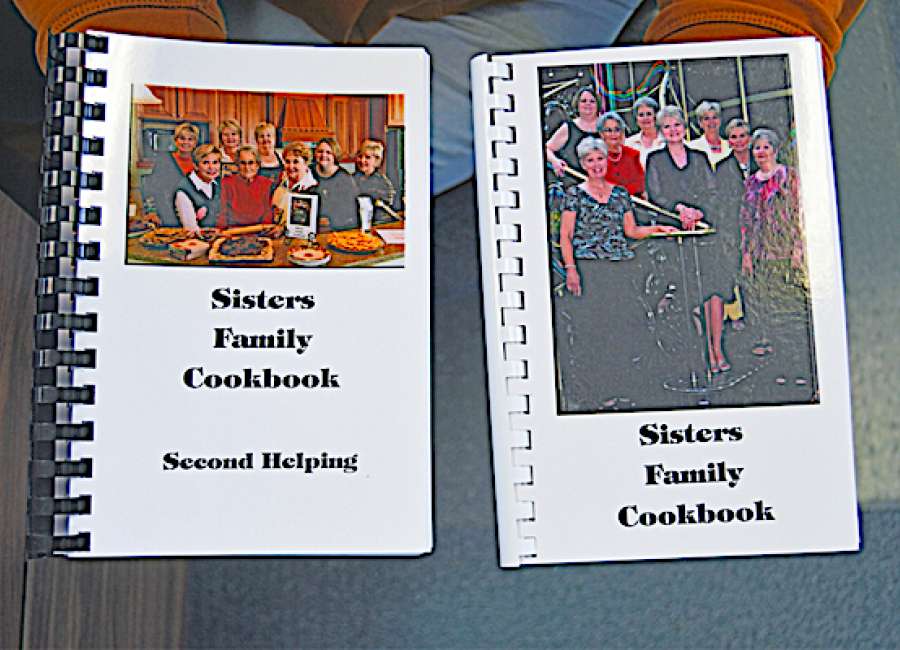 The Williamson sisters love a good adventure, which includes running from a bear in the middle of the Blue Ridge Mountains.

"Everyone ran past Willie and left her behind," said Shirley Williamson with a laugh.
Shirley and her sisters – Martha Hale, Joyce Harlin, Ellen Hubbard, Becky Ott-Carden, Willie Todd, Bobbie Williams – grew up in Hogansville.
After college, some of the women stayed close to home, others moved away. Shirley moved to Newnan, Joyce ended up in Chattanooga, Tenn., Willie lived in Lexington, Ky. and Bobbie moved to Statesboro, Ga.
The distance never kept the seven sisters apart for long.
The women and their mom, Annie Williamson, went on quite a few journeys together. Whether they were vacationing around the country on their annual summer girls trip, or maneuvering the peaks and valleys of life, the women have stood side by side, through thick and thin.
The close family bond also includes cooking. One stipulation to their infamous trips, also known as "The Sister's Convention" is each woman must bring their favorite dish or treat to share with the others.
So it should come as no surprise that while on a summer cruise in 2005, the sisters formulated a plan to leave behind a lasting legacy for future generations.
The women, now married with children and grandchildren, decided to compile a cookbook and give them as Christmas gifts.
"These were to be strictly for our families. We were not going to publish them for the public," said Becky.
That plan quickly changed once the sisters returned home and began
pulling old family recipes.
"That's when Shirley said, 'My sisters, I'm going on a new journey. I need a kidney transplant,'" Becky remembered.
Shocked, the women learned Shirley not only needed a donor, but was required to pay $16,000 ahead of time before the life-saving surgery would be performed.
The transplant operation cost $10,000. Shirley would also need at least $6,000 for medication that included anti-rejection pills she would take the rest of her life.
The sisters banded together and quickly decided to use their family cookbook as a fundraiser for Shirley. The book was aptly titled, "Sisters Family Cookbook."
The women added more recipes, some borrowed from friends. Stories were sprinkled among the recipes: fond family memories, parables of encouragement and advice, plus humorous anecdotes.
The cookbook even included a recipe for "Hippopotamus Stew," (which serves 3,800) and a "Letter from Heaven."
Not wanting to be too ambitious, the sisters only published 300 copies of the Sisters Family Cookbook to sell to the public.
But word of the cookbook and Shirley's plight spread quickly through the community, and then the country. Soon the women were overrun with orders.
"... I think God paved the way," said Becky. "When we started this project, God already knew what Shirley's needs were going to be. He couldn't have laid out our path any clearer. It met the financial needs and we also made a lot of new friends."
The sisters sold more than 8,300 copies of the Sisters Family Cookbook, and, more importantly, met Shirley's financial needs.
The Newnan woman received her kidney transplant in March of 2008.
That same year, the women published their second cookbook, the "Sisters Family Cookbook: Second Helping."
The book was similar to the first one, but it also featured a section on each sister. "Second Helping" focused the ties that bind the women together and the importance of family.
"Many times, people told us, 'I read your cookbook. You don't know how much I needed to read this today,'" said Becky. "These books and people we've met through them have really been a blessing to us too."
"The cookbooks are more than just recipes. It's about families being together," Shirley added. "... I could not have made it without these girls. They went to doctors appointments with me and took notes. They stayed with me in the hospital or at my house. I stayed with them. I don't know what I would do without them."
Sadly, some of the women have had to cope with the loss of family members, including two sisters.
The women lost their mother and their brother, Amos, in 2011. Two years later, Joyce and Willie, passed away within five days of each other in February of 2013.
"That was one of the hardest things we've been through together," said Shirley. "I guess we thought we would all go together … You realize life is short. Even now, we have days when we miss them so much."
The cookbooks are now more meaningful for the remaining sisters.
"Time is short and it goes by so fast," added Becky. "Love your family, love your children, love your grandchildren … spend time with them and draw strength from one another."
While always close, the bond between Becky, Shirley, Ellen, Martha and Bobbie has grown tighter - especially on their annual girls trip or while cooking in the kitchen.
It's a warm sentiment the women hope is continually passed on to others through their family cookbooks.
The women said they have entertained the idea of creating a third cookbook, but admitted, "It's a lot of work."
"Now that we're all retired, we don't have any time," joked Becky. "But it's been a journey and opened a lot of doors. The books have been a blessing."
The women haven't decided where they'll go this summer for their annual "Sister's Convention," though the words "Blue Ridge Mountains" and "bear drills" were thrown out as possible options.
But it doesn't matter where they go, said Becky.
"We just want to be together," she said.   
Anyone interested in purchasing the cookbooks or for more information, contact Shirley Williamson at 770-683-1957, Becky Ott-Carden at 706-637-4143, or Ellen Hubbard at 706-637-6305.