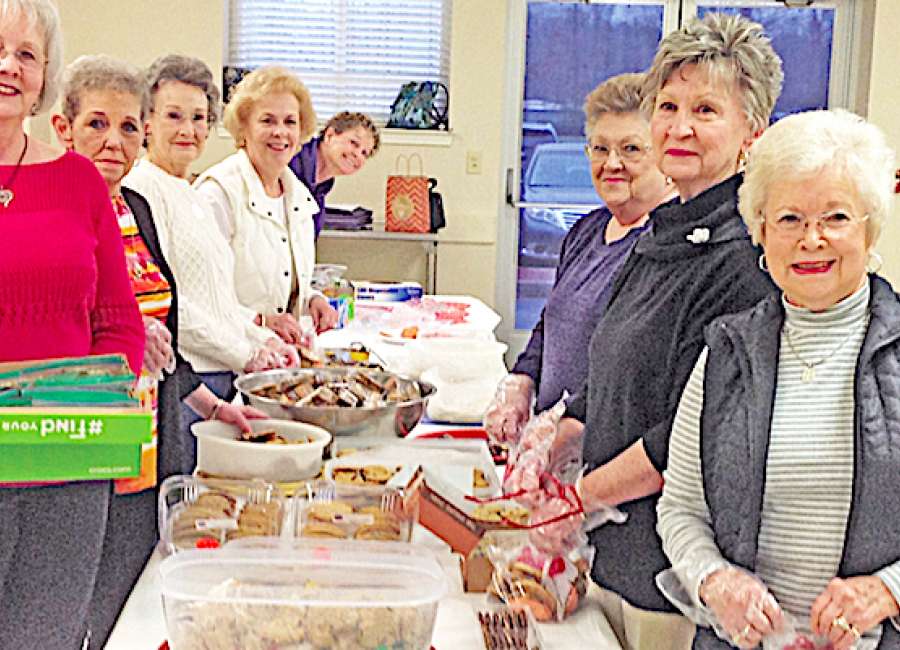 A group of women at East Newnan Baptist Church reached out to local public safety employees – offering them home-baked cookies.

The church's Women on Mission group created Valentine baskets of cookies that were taken to local fire stations and police departments, according to member June Harris. "We just want them to know that they are appreciated for all they do, facing danger on a daily basis."
The Women On Mission at East Newnan have been delivering Valentine baskets since 2013.
"Quite a variety of homemade cookies are packaged in baskets lined with Valentine tissue paper, and you may get a basket with homemade peanut brittle tucked in it," Harris noted. "Some of the ladies who could not be there to prepare the baskets were mission-minded enough to drop their cookies off at the church fellowship hall the day before."
Harris said there were "smiles galore" among the police and fire officials when the baskets were delivered. "They were, as always, very thankful, happy – in some cases overjoyed to see those baskets filled to the brim with cookies made with love and prayers," she said.
"God bless these men," she said.
If you want to bake some cookies that are firefighter and deputy approved, here are two recipes. Harris noted they both have cake mixes – something that is easy to keep on hand – as an ingredient.
•••
Easy Chocolate Chip Cookies
1  box Betty Crocker SuperMoist yellow cake mix
½ cup butter/margarine, softened
1-2 tablespoons milk
1 teaspoon vanilla
1 egg
½ cup chopped nuts
1 cup semi-sweet chocolate chips
Heat oven to 350 degrees F – 325 for dark or non-stick pans. In a large bowl, beat cake mix, butter, 1 tablespoon milk, vanilla and egg with electric mixer on medium speed until smooth, or mix with spoon. Mix in additional 1 tablespoon milk if dough is too dry. Stir in nuts and chocolate chips.
Drop slightly less than a tablespoon of dough 2 inches apart on ungreased cookie sheets. Bake cookies 10-12 minutes or until edges are set. Centers will be soft, and cookies will be very light in color. Cool 1 minute. Remove from cookie sheets to cooling rack. Store covered.
•••
Kittie Fennell's Orange Slice Cookies
1 Jiffy cake mix
1 egg
3 tablespoons oil
1 cup chopped nuts
10 orange slices – cut up very fine
Mix the ingredients and spoon onto a baking tray that has been sprayed. Bake in preheated oven, 350 degrees, for approximately 10 minutes. Watch cookies and – as they turn brown around the edges – remove from oven. Makes delicious soft cookies.