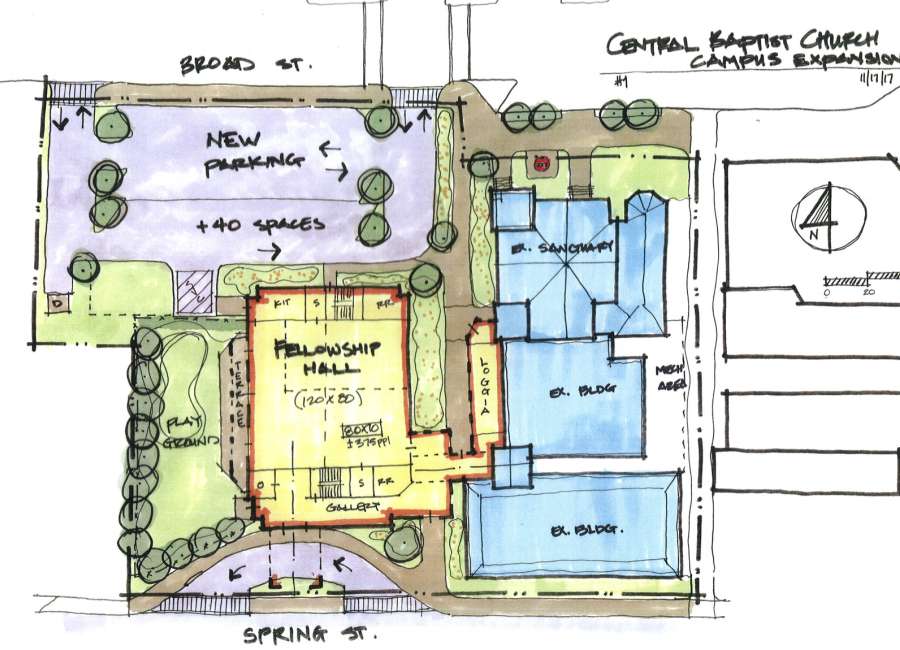 A possible deal between a downtown church and the city of Newnan could create more public parking, but it comes at the expense of one block of Brown Street.

Central Baptist Church recently submitted a request to the city detailing their vision for creating a new fellowship hall. In their request, members of the church's Long-Range Planning Committee suggested the permanent closure of Brown Street between West Broad and Spring Streets.
Central Baptist Church often closes the 250-foot stretch of Brown Street for church functions and currently owns all property between West Broad Street and Spring Street that fronts Brown Street.
Leah Sumner, a co-chair of Central's long-range planning committee, said the proposal would allow the church the opportunity to expand its campus and increase safety while providing a new public parking lot that is expected to host around 40 spaces.
To build the proposed parking lot, the church would tear down their existing youth building that sits on the corner of Brown Street and West Broad Street.
The new fellowship hall would be built in the middle of the block, according to a conceptual drawing submitted to the Newnan City Council.
Sumner said the idea seemed like a great way to solve the church's desire to build a new fellowship hall and give something back to downtown.
"It's a significant investment in downtown and keeping it viable," Sumner said. "People who work downtown try to park in that quadrant anyway, and it also makes things a little safer to close the road."
Along with a traffic study paid for by the church, city staff members are currently collecting data in several areas such as traffic, historic preservation, public safety and utility relations, according to City Manager Cleatus Phillips.
Once the information is compiled, Phillips said he will report back with his findings when city council meets again on Feb. 13.
Phillips said any issues regarding utility relocation would be settled between the church and the companies. Four companies currently have existing utilities in the proposed area – Newnan Utilities, AT&T, Atlanta Gas and Light and NuLink.
Because the project is not regarding transportation improvement, the companies would have the right to ask for reimbursement, according to Phillips.
A similar effort was conducted by Newnan Presbyterian Church twenty years ago.
In 1998, the church's "Bridge to Tomorrow" campaign was held to again remodel the structure on 38 Greenville St. and add a two-story building with more classrooms and a larger fellowship hall across the street.
A bridge over Salbide Avenue connected the new building to the main church structure.
Taylor Drake, chairman of Central's Board of Deacons, said the Presbyterian bridge and Central's proposal isn't exactly an apples-to-apples comparison.
"Ours is different since we're giving a substantial benefit to the city as part of the deal," he said. "The city is giving up a small portion of a minor city street in exchange for over 40 spaces off the square. It would be a win-win for both the church and downtown."
However, not all church members are thrilled about the prospect.
Longtime Central member Susan Green said the $6.5 million dollar proposal sets a slippery slope for more road closures for nearby churches like First Baptist, which sits next to a stretch of Brown Street.
"What if they work out a deal for adjacent property and do the same thing?" Green asked. "I love my church, but people are going to wonder what gives us the right to do this. It's a public street."
Green said the church has been lucky and never had anyone struck by a car crossing Brown Street, but to permanently close a stretch of road that is used for a few hours a week doesn't sit right with her.
"Our tradeoff is we give the city public parking, so we're doing their work," she said.  
"The city needs to step up and build a parking deck behind city hall and stop trying to do this other stuff. We can grow our church without closing a street."