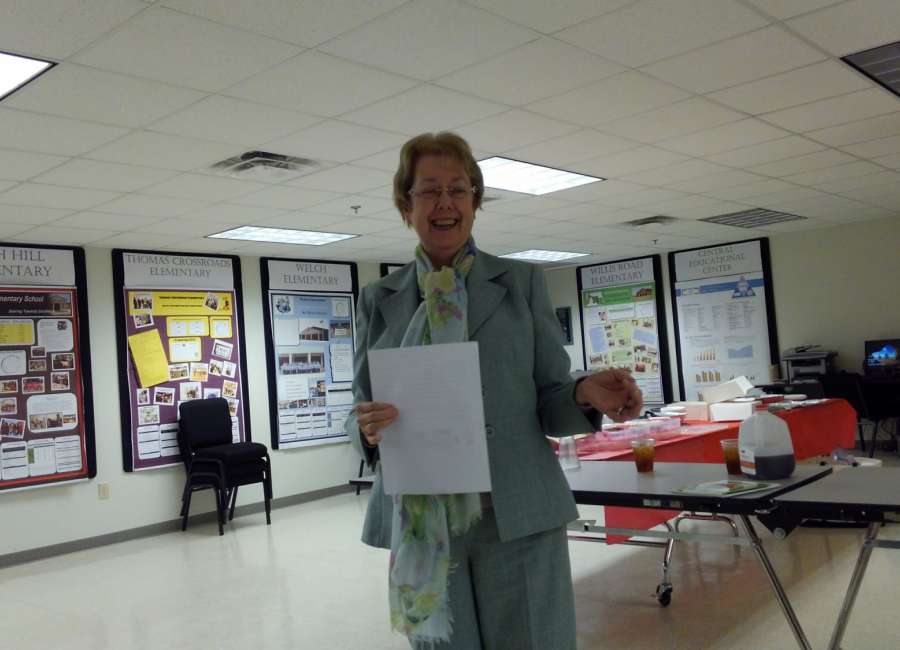 Literacy took center stage at the Feb. 15 meeting of Delta Kappa Gamma's  Mu Chapter.

DKG is a professional organization which promotes professional and personal growth of women educators and excellence in education.  Mu Chapter is composed of key women educators from Coweta and surrounding areas.
Books were focal point as table centerpieces, program topic and project support.  The organization collected children's books for the local Books for Babies program and accepted donations to the Coweta Ferst Foundation.
Children's book author and DKG member Menlia Trammell shared her experience and provided information – the five P's of publishing – for anyone contemplating writing a book.
"You have to passion for your topic, pick your audience or target age group, prepare for the process, price your product, and be involved with presentation of your work," Trammell said.  
The idea for her first book, "Rob and Rex Prevent a Poaching," was the result of an assignment she gave her students.
"We were studying endangered animals, and I had my students choose an animal and write a story about it.  I thought if they were going to have to write a story, then I should too," Trammell said.  In her tale, a boy and his dog save sea turtle eggs from being taken on Jekyll Island.  
Trammell has published five children's books.  "Some writers choose to write books on a theme or as a series," she said.  Trammell has written one other book set on Jekyll Island featuring turtles, "Team Up for Turtles."
  
In addition to these two books, Trammell as written one featuring butterflies, "Misty Monarch."  Another focused on getting along together, "Curiosity Not Animosity," and Trammell also has published a poem about the meaning of Christmas, "The Gift."
All of her books except "Misty Monarch" were illustrated by an artistically gifted Georgia prison inmate.
"All of the illustrations in 'Misty Monarch' were done by fifth graders at Unity Elementary School in Meriwether County," Trammell said.  Trammell volunteers at the school and reads to classes.  Every child whose illustrations are in the book received a copy of it.
"I thought it was important that each child who was a part of the book have their own copy to be able to say, 'This is mine,'" Trammell said.  The Meriwether Chamber of Commerce and Allen-Lee Memorial United Methodist Church in Lone Oak helped make that possible.
"Misty Monarch" was inspired by The Rosalynn Carter Butterfly Trail project and Trammell's work establishing a butterfly garden in her hometown of Luthersville.  
"Rosalynn Carter is thanked in the book, but I have not been able to contact her to share the book with her," Trammell said.
Pat Tidwell, DKG member and Coweta Ferst Foundation board member, shared information about the work of the foundation.  Robin Ferst, an honorary DKG member, started the foundation as an outgrowth of Dolly Parton's Imagination Library.  Profoundly deaf from childhood, Ferst found joy in reading, and she wanted to be able to share the gift of books and reading with young children.  The local organization sends books each month to children who live in Coweta County from birth to five years old. 
"Books are selected by a state committee.  These are award-winning books by Georgia authors and they are printed in Georgia.  The books have a lesson – a moral.  And the book is mailed with the child's name on it," Tidwell said.  A parent worksheet is included with every book.
"We know the statistics about the number of vocabulary words children need to know before kindergarten or they will be behind," Tidwell said.  "This program helps to level the playing field."
She said the organization needs monetary donations for the purchase of books and volunteers to help.  "Thirty-six dollars will fund purchasing and sending a book to a child every month for a year," she said.  Children can be registered for the program and donations for furthering the work of the organization can done at http://www.ferstfoundation.org