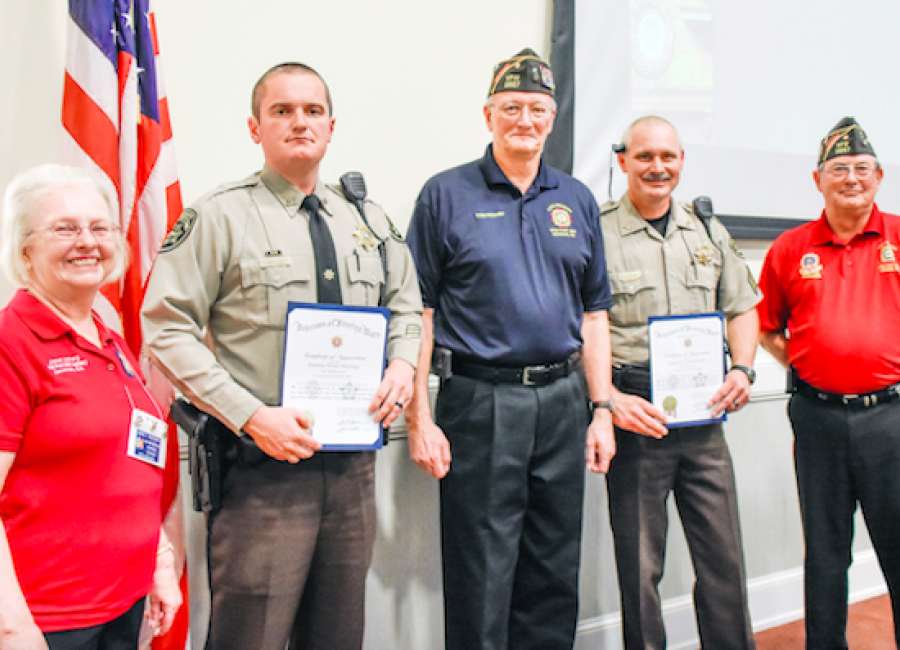 Every year, the Veterans of Foreign Wars recognizes members of the Police and Fire Departments with a Safety Recognition Award.

Thursday evening, Newnan's Tom Fetchet of VFW Post 2667 presented awards to members from the Coweta County Sheriff's Office during the Citizen's Academy held at the Coweta County Justice Center.
Award winners must have demonstrated recognition by their colleagues or those they serve, consistent excellence in the performance of their duties, and consistent dedication to their official responsibilities over a period of years and continuous growth in responsibilities and skills within their profession.
Deputy Trent Hastings and Sergeant Andy England were honored for their life-saving actions.
In November 2016, Hastings was working a burglary patrol in the south end of Coweta County when he heard the report of a house fire in Grantville. He immediately responded and upon arriving, discovered there was already one firefighter inside the house attempting to rescue a wheelchair-bound occupant.
When Hastings heard both men screaming for help, he rushed inside the burning building.
He was joined by Deputies England and Todd Brown who also entered the burning home, along with firefighter Darrell Neece.
The man was pulled to safety outside the building and was then flown by helicopter to Grady Memorial Hospital to be treated for second- and third-degree burns. Hastings and England were transported to Piedmont Newnan Hospital to be treated for smoke inhalation but were released later that day.