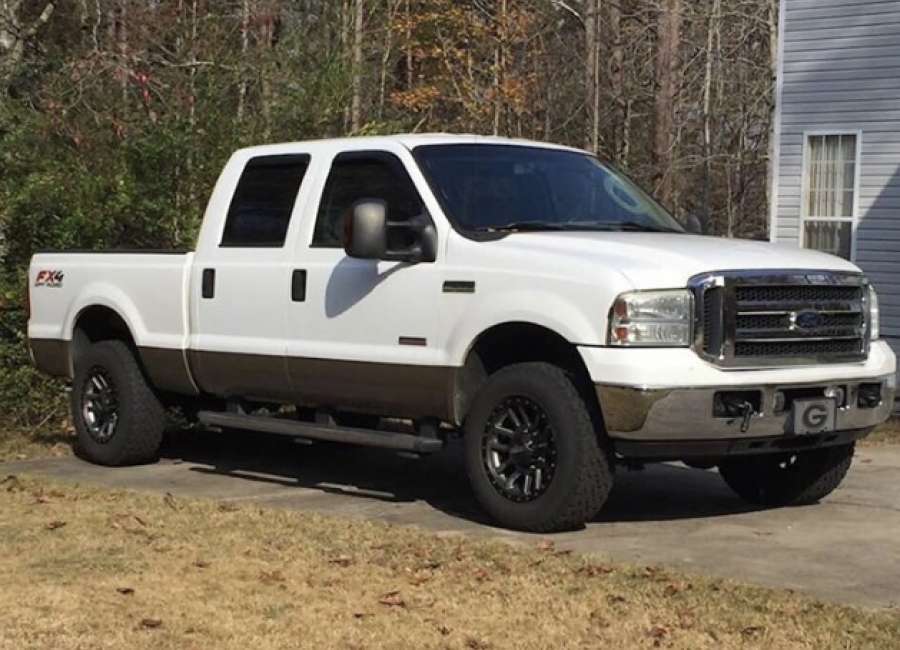 Investigators with the Coweta County Sheriff's Office continue to search for a truck belonging to Air Force Master Sgt. Michael Broady.
Investigator Bobby Crowdis said a BOLO (Be On The Look Out) was immediately issued for the white and tan, 2006 Ford F250 diesel truck.  
The vehicle was still missing as of press time Saturday afternoon.
According to Peggy Broady, Michael's mom, the truck was stolen just after 4 a.m. from her home in the Weatherstone neighborhood off Minix Road in Sharpsburg.
The crime was partially caught on the Broadys' outdoor surveillance camera.
"All you can see in the video is the front half of the truck leaving the driveway," said Peggy Broady. "My husband, Doug, got up that morning around 6 a.m., but didn't notice it until 8 a.m. I went into full panic mode and called 911. The Coweta County Sheriff's Office came right out and took a report … We feel so bad the truck was in our care and it was stolen."
In November, 2017, shortly before Master Sgt. Michael Broady and his family deployed to Japan for three years, he handed over the truck and only set of car keys to Doug and Peggy.
She said the vehicle was her son's pride and joy. Michael reportedly restored the F250 by cleaning up the leather interior and adding a modified muffler and decked-out rims.
Michael loved to take his three young children for rides in the souped-up truck, said Peggy.  
She broke the bad news to her son during one of their brief, weekly phone calls.
While the Broadys are upset about the theft, they are more troubled that someone would steal an item from a military service member stationed overseas.
"Here he is defending our country and all the freedoms we have, and someone abused that freedom and stole his truck," Peggy stated. "I can't tell you how bad I feel."
Peggy said while their surveillance cameras did not show the whole crime, it may provide a vital clue.
"It appears in the video that there's a second set of headlights shining towards our driveway. Almost like they had a getaway car … like the person had a 'helper,'" she said. 
The Broadys stated the thieves were also bold.
"There were two flood lights shining on truck in our driveway. We have the only set of keys, so they broke into the truck, hotwired it and took off," said Peggy.
"They didn't care. There were bright lights on the truck, and they did it anyway," she continued. "It's hard to believe. I feel terrible."
Investigator Crowdis said no one has been arrested for the crime.
Peggy said she and Doug remain hopeful their son's truck will be found intact and returned home.
But until then, the couple sits in frustration and waits.
"We can't go out there, go door to door and look for the truck," Peggy said. "We've never said, 'Why did this happen to us?' It's more like, 'Why did it happen to my son?' It heartbreaking."
Master Sgt. Michael Broady's missing vehicle is described as a white and tan, four-door, 2006 Ford F250 diesel truck with leather interior. The vehicle has unique rims, running boards, a modified muffler and a University of Georgia license plate attached to the front bumper.
The official tag number is a Georgia plate: PXI4908.
Anyone with information about the theft or if you spot the truck, call the Coweta County Sheriff's Office at 770-253-1502.