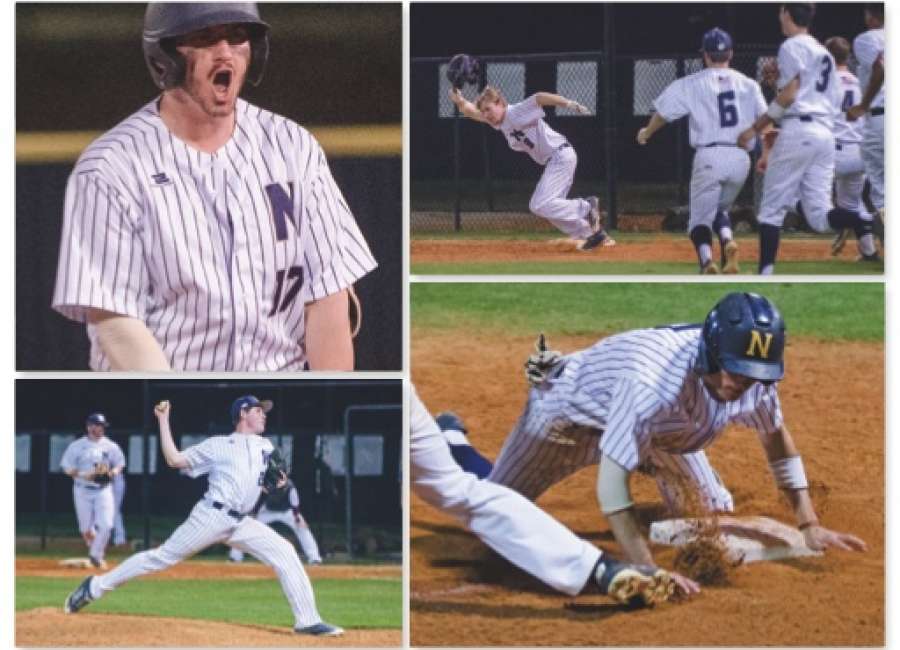 Newnan head baseball coach Marc Gilmore's message to his team has always been never quit.
Friday night against visiting Central-Carroll, the Cougars showed what can happen when they take his advice and play hard until the very end.
Trailing 6-3 heading into the bottom of the seventh inning, the Cougars pushed four runs across the plate and rallied for a heart-pounding 7-6 non region victory. 'I have enough gray hairs,' Gilmore joked. 'Our guys never gave up and did a great job fighting until the end. 'The fans on both sides really got their money's worth.'
Newnan's Trip Fallon capped the comeback when he walked with the bases loaded to score Lucas Mapp with the game-winner.
Fallon and Central pitcher Bradley Queen faced off in a dramatic at bat with the Lions' hurler running the count full before yielding the walk.
Newnan' started the seventh-inning comeback with one out on Will Wilbanks RBI single, scoring Austin White and Elliot Schubert.
After Central recorded the second out, Newnan's Jason Blair ripped a double to bring home Wilbanks with the tying run.
Central scored three runs in the top of the third and two in the second and were in control.
The Lions allowed just five Newnan base runners and didn't give up a hit until the bottom of the sixth when Blair broke through with the Cougars' first hit of the game.
Blair's base hit sparked a two-out rally and led to three-runs.
Newnan pinch hitter Josh Perry hit a two-run double to left, and one batter later, Everett Davis cut the lead to 5-3 with a single.
The Lions added their final run in the top of the seventh on Dylan High's fourth RBI of the game.
High batted in the third spot for the Lions and he proved to be a tough out, finishing with four RBIs.
His double in the first led to the Lions' first two runs. He also added a sacrifice fly in the fifth.
Wilbanks and Perry had the hot hand for the Cougars, finishing the game with two RBIs each.
Blair, Davis, and Fallon each had an RBI for the Cougars.
James Hawk got the win for the Cougars, pitching 2 ⅓ innings in relief, allowing two hits and striking out three.
Newnan starter Payton Cooper also struck out three Central batters in 4 ⅔ innings.
After giving up the three runs in the top of the first, Cooper settled down and retired eight Central batters in a row.
With the win, Newnan improves to 4-2 heading into Tuesday's Region 2 7-A opener on the road at Campbell. The home-and home series concludes next Friday at Joe Pope Field.
Gilmore said the come from- behind victory could be the confidence builder his team needs heading into the start of the region.
' [Former Newnan coach] Kenny Morris used to call those region games money games,' he said. 'You have to win those money games.'
Cougars 7, Lions 6 
Central 300 020 1-6 6 1 
Newnan 000 003 4-7 6 3 
WP -James Hawk LP-Bradley Queen