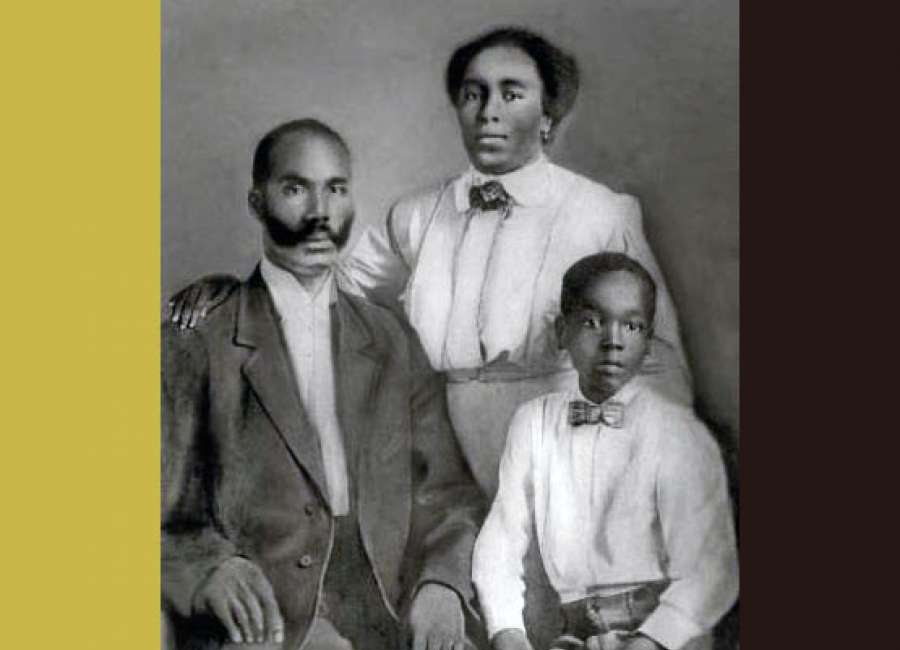 In commemoration of Black History Month, Pastor Tamarkus Cook, senior pastor of Saint Smyrna Baptist Church in Newnan, has highlighted black leaders in Coweta from the past and the present.
Using the hashtag #CowetaBlackHistory, Cook said he felt it was important to recognize black Cowetans who were or are currently influential in the community in a positive way.
Each day, sometimes multiple times per day, Cook would post a picture and facts about who he was recognizing, highlighting their impact to the Coweta community.
Some notable African-Americans Cook honored include Dr. John Henry Jordan, the first black doctor in Newnan, Ulas "U.B." Ware, who is credited with being the first black man to register to vote in Newnan's congressional district since Reconstruction, and George B. Wood, who opened the Pal Theater, a small 250-seat movie house in Newnan and operated it for 10 years.
Dianne Wood, local historian, said Jordan's hospital was located at 59 Pinson St. Jordan died in 1912 in a car accident at the age of 42 on the way to a house call in Newnan.
Wood said another black Cowetan and entrepreneur, Sallie Willie Adams, operated at least four black hospitals in Newnan. Wood said she believes in was the 1930s because of newspaper articles that she found that mentioned Adams and her hospitals. Adams also operated a restaurant behind her house, the Duck Inn. After Adams' hospitals closed, The Colored Hospital opened on Spring Street where Avalon Nursing Home is currently located.
Jordan's house still stands today on Pinson Street.
"When you don't discuss what has taken place, you forget that it has taken place and when you forget that it has taken place, you lose sight of why it took place in the first place, which is a dangerous and unfortunate reality," Cook said. "We have a rich history that exists in Newnan that has been lost and in many cases, that has been forgotten, but yet there are many who still remember and care."
Cook said the appreciation and remembrance of the sacrifices of those he recognized is evident in the comments on Facebook.
"Posts have been shared 40 and 50 times and had over 400 different reactions, even beyond Coweta," the pastor said. "I hope this motivates the ones who are here. We have a rich legacy of doers that have paved the way before us."
Cook said the present is a interesting season in his life and although he is proud of his accomplishments to the community, he said they "fail in comparison to the things that were done before.
"I would hear stories about Rev. Grady Vaughn, Rev. J.W. Russell Sr., Rev. Clinton Melson and Rev. R.W. Sutton raising funds out of their own pocket to address the needs of our community," Cook said. "They did not get praise or recognition and were from different denominations."
Russell's son, Rev. J.W. Russell Jr., preceded Cook as pastor of Saint Smyrna.
Saint Smyrna is awarding a $2,500 Legacy Scholarship in memory of the pastors. Two other scholarships for the amount of $2,500 each, The Talented Tenth Award and the Kirby Family award, will be awarded.
Cook said although he didn't live through the Jim Crow era, he has heard many stories of Sutton helping to calm racial tensions.
"Rev. Sutton utilized his relationship with Dr. Gene Tyre at First Baptist to make things better in our community," Cook said. "These gentlemen we just spoke of and Rev. Willie Johnson are pastors who come to mind who literally built their churches. They were feeding people and employing community, because most of them had their own businesses. Many of the worship centers they built, we are still utilizing today. I hope we are motivated to speak their names and their legacies."
Cook, who was the 2017 Citizen of the year, said he is grateful to have had such role models to look up to.
"I have repeatedly said this –  I am a product of our community, and that is the truth," he said. "From educators, preachers, business men and women, everyday people in our community, every corner of our community has had a hand in my life. I feel obligated to share their work and efforts, not just to inspire myself but to inspire others to persevere and really seek honorable achievement in every human endeavor."
The living tributes Cook posted on social media recognized living black Cowetans.
"I tried to be intentional by highlighting those I have personally and intimately interacted with," he said. "I have gotten information through other people in our community. Carole Newell and Pier Mehrvarz have been a wealth of knowledge. The reason I stuck with people I know is because I know their character first-hand. They blessed me tremendously. In not one post has there been negative feedback about that person, whether living or deceased. People have said amazing things."
Cook is excited about next year's Black History Month and is planning to take his initiative further.
"I'm going to spend the remainder of this year gathering facts and pieces," Cook said.
For more information on Coweta black history, visit The Coweta County African American Heritage Museum and Research Center on Farmer Street. The museum houses 19th and 20th century artifacts and records of African-American history in the Coweta area. Across from the museum is the Farmer Street Cemetery, a burial ground for African-Americans in Coweta County from before the Civil War to the mid-1900s.
Box for Emily:
A portion of the African-American Cowetans honored by Cook:
Coweta Black History
(deceased)
Henry Seldon - Coweta County School system coach
Howard Warner - Principal of Howard Warner School in Newnan
Dexter Parks - Multimedia personality
Nellie Parks - Black nail technician in Newnan
Rev. and Mrs. Jimmie Lee Hendricks (Margaret) - pastor of Elim Baptist Church and Oak Grove Baptist Church in Newnan
Charlie Martin - Coweta organist
Brenda Warner Marshall - Coweta County musician/singer
Michael Lee Smith - Owner/funeral director Sellers-Smith Funeral Home
Roscoe C. and Octavia Jenkins - Owners of Roscoe Jenkins Funeral Home
Coweta Black History
(living)
Pearl Ann Jones - Coweta musician/singer
Carole Newell - Coweta educator/entrepreneur
Louise Leavell - First African-American bus driver in Coweta
Rev. J.T. Coleman - Pastor of Summer Hill Baptist Church in Newnan
Dr. Rufus Smith - Oldest serving pastor in Coweta County
Dr. Hamilton Bohannon - Musician and educator
Harriet Bolton - Advocated for buses to pick up school children inside of the West Gate neighborhood