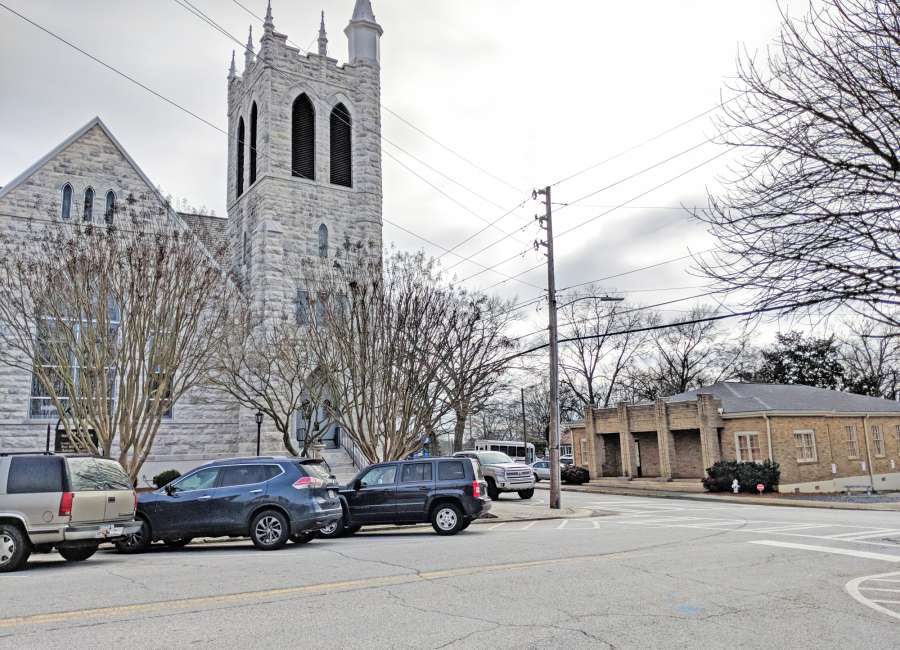 It was a battle for Brown Street during Tuesday's meeting of the Newnan City Council.

In front of a standing-room-only crowd, the city council voted 5 to 2 in favor of proceeding with the abandonment of 10,292 square feet that currently divides two properties owned by Central Baptist Church.
On Jan. 9, members from the church approached the city council regarding the permanent closure of Brown Street between West Broad and Spring Streets for the expansion of their campus for the construction of a new fellowship hall. In exchange, the church promises to create a 40-space public parking lot, only one block removed from the downtown square.
The resolution adopted by the council requires several factors and conditions to be met prior to any transfer of ownership including utility relocation – to be paid for by the church – along with paying for an appraisal to determine the fair market value of the property.
The quit claim deed would be placed in escrow until the conditions laid out in the resolution are met, according to City Manager Cleatus Phillips.
Members of the community expressed their support and concern for the $6.5 million dollar proposal.
Taylor Drake, chairman of Central's board of deacons, is a lifelong resident of Newnan whose law practice is adjacent to Brown Street. In his remarks, he compared the situation to a custody case.
"A judge determines what's in the best interest of a child before awarding custody," he said. "Your job is the same for the city. If you decided the abandonment is in the best interest of the city, you're authorized to grant the church's request."
Drake also addressed comparisons to other local churches who chose to expand their campuses without closing public roads in the process. Many opponents said they'd like to see Central construct a bridge in the same fashion as Newnan Presbyterian whose bridge connects their buildings while crossing Salbide Ave.
"This is a fair trade, as the city benefits from 30 or more spaces to be used by the public when the church isn't engaging. That's a significant benefit to everyone at no cost to the city," Drake said. "Perhaps another church wanted the same thing, but they can't provide the city with the benefit we can. The comparison isn't apples to apples."
Several other church members addressed the enhanced safety of an expanded campus and the financial benefit of a city receiving new parking options at no cost. In a seemingly never-ending battle for public parking options, the city would benefit greatly, according to longtime resident and Central Baptist Member Dr. Jimmy Thomasson.
"The city council has hired consultants to address parking downtown and after many months and dollars, Central Baptist is willing to help," he said. "Brown Street is an original street according to the grid, but nothing is cast in stone. If it makes better usage for the church to expand and help Christianity in the community, I'm in favor of the progress."
However, several members of the church also spoke in opposition of the proposal. While they supported the expansion of the church, many hated to see it come at the expense of a city street that was established nearly 200 years prior. Jenny Moore said she's involved with many of the church's outreach programs, but believes parking will be even harder, especially for the handicapped.
"We have three handicapped spaces right next to the church by an elevator," she said. "With this proposal, there's only a drop-off point, which means you have to leave them while you go find a space. I don't like that."
Other nearby residents voiced concerns about the increase of traffic on nearby streets.
John Anderson, a resident of West Washington Street, said he applauds the growth of the church but believes closing a thoroughfare will increase traffic woes.
"Our streets have been laid out since the 1800s and they've worked well," he said. "But with this precedent, if First Baptist decided to close Madison, we're blocked in. If you want parking, I challenge this group to build a parking deck with SPLOST money."
Wesley Street resident Brian Flynn drew audible boos from the crowd when he suggested the move on behalf of Central Baptist and the city council was "underhanded."
"No publication has been made about this, but you want to close a public street without telling anyone," he said. "There should be no vote on this until information is made public."
Flynn also suggested Mayor Keith Brady and Councilman Ray DuBose should recuse themselves from the matter, as both are members of Central Baptist Church.
"I don't think members can vote fairly without personal benefit," he said. "Your family, church and God are as personal as it gets."
Brady responded to the remarks and said he has no financial or personal gain in the venture.
"In fact, the opposite could be true since I plan to contribute to it," he said. "As far as a personal interest, you could say that about anything that comes before this council. When it's an issue that comes before the city involving improving the quality of life in our community, such as the LINC, I will always vote in favor of those things."
DuBose echoed Brady's sentiments.
"Yes, I am a member of Central and I have been elected to serve as a Deacon on the board, which I serve with pleasure, and there is no conflict of interest in my voting for this," DuBose said. "Furthermore, in my oath that I took as councilman, I promised to serve the community as a whole and certainly the church is a part of that whole as much as the other neighborhoods. I do my very best every time time I sit up here and find it an insult that people would call me unfair."
Along with other citizens who showed concern with the timing of the afternoon meeting to discuss a permanent road closure, Mayor Pro-Tem Cynthia Jenkins also suggested moving any action on the measure until the second meeting of the month, which is held at 6:30 p.m.
Brady, however, opposed the idea, saying he believed no new information on either side of the issue would arise from a two-week delay.
In a 5 to 2 vote, the city council voted in favor of the abandonment. Jenkins and Councilman Dustin Koritko voted against.