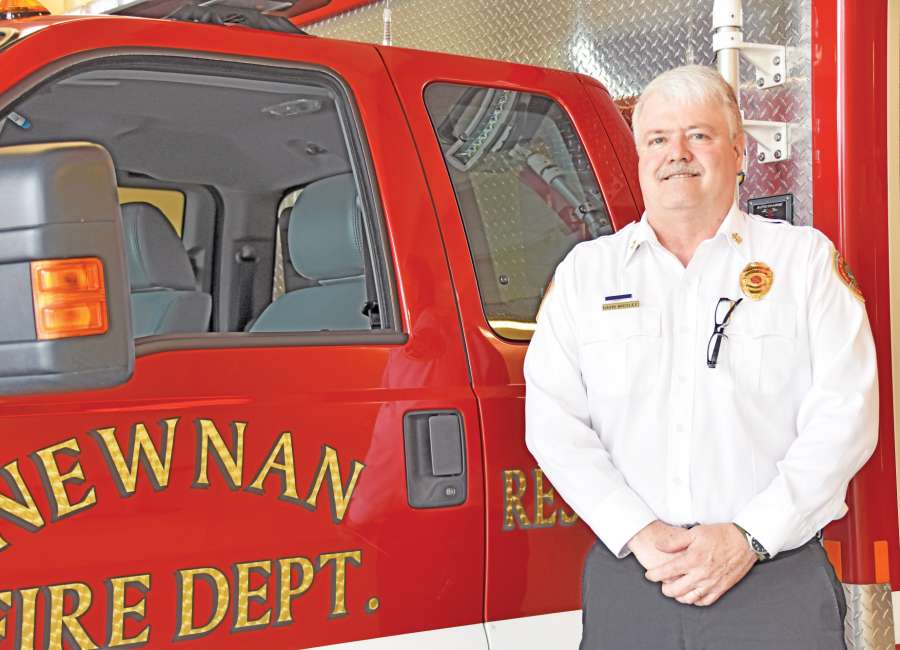 After 30 years in the pursuit of providing the best in public safety, Newnan Fire Chief David Whitley has officially called it a day.

His retirement marks the end of a long and storied career that helped usher in a modern fire department to service the citizens of the city of Newnan.
A native of Fairburn, Whitley graduated from Campbell High School in 1979 before joining the Army the following year. After ending his service, he came to Newnan as an employee at the new Eckerd Drugstore warehouse in Shenandoah. During that time, the idea of going to work for the fire department took root.
"I worked with a good friend of mine, Captain Alan Bowden, at Eckerd Drugs Corporation that told me about the fire department, and I thought it would be a good fit with my military experience," he recalled.
In 1987, Whitley signed up for two lifetime commitments – one to his wife Joan, and the other as a full-time as a firefighter for the Newnan Fire Department.
In those days, the fire department had one station and 26 staff members, and responded to about 400 calls a year.
"It was really basic public safety stuff back then," Whitley recalled. "Fires, fuel spill, fire alarms. We still relied on EMS for medical calls."
Thirty years later, the Newnan Fire Department employs over 60 personnel, responds to 5,000 calls a year, and is expected to open a fourth fire station by 2019.
It didn't happen overnight, but it sure seemed like it, Whitley said.
Prior to becoming Chief, Whitley was focused on integrating EMS services into the department. Firefighters were trained in basic first aid, but lacked the gear and training to take it to the next level. Whitley told himself if he was ever in charge of making decisions at the fire department, that would be the first thing he'd tackle.
In 2000, he finally got the chance.
"You could see it was the direction the fire service was going," he said. "Municipalities aren't going to pay you to simply fight fires and EMS is a natural fit."
The shift to incorporating EMS services wasn't going to be easy, but with the right backing, the transition began to take shape.
"Most places I've been, people really dislike change and the fire department was no exception," he recalled. "But I have worked under the two best city managers I could ask for who have supported and helped us make our modern fire department a reality. We've been able to save a lot of folks and accomplished our mission of minimizing loss as first responders."
For almost 30 years, Battalion Chief Jeffrey Patterson has worked alongside Whitley. The two former Army veterans enjoyed a long career of helping to better the fire department.
"His vision took the department to the next level, and he always had the best interest of the city in mind," Patterson said.
With a new culture evolving, Whitley also witnessed the ISO rating change of a 4 to an ISO rating of 2 in the span of just four years. With a new fire station expected to open on Millard Farmer Bypass by 2019, an ISO rating of 1 is nearly guaranteed. The new station is expected to alleviate 900 calls from the downtown station.
"David has guided the Newnan Fire Department through the fastest growth era of our city," said City Manager Cleatus Phillips. "He has overseen the opening of new stations, the purchase of new equipment, the hiring of many firemen, and the implementation of advancement technology. David's retirement is well-earned, as he is leaving the fire department in a great position and on a very solid foundation."
But the position of leadership is often filled with stress, Whitley said. Overseeing drastic changes and growth on a daily basis requires a solid safety net at home. With Joan and his two daughters, Rachel and Rebecca, Whitley has found a place of refuge and support.
Spending his weekends raising animals on the family farm outside Grantville, Whitley recharges from one of the most stressful occupations in America.
"People don't realize, longevity as a fire chief isn't very long," he said. "But you have to be able to laugh and rely on your staff."
Surrounding himself with good people has allowed a long and prosperous career, Whitley said. But in order for that to work, everyone has to be on the same page to get things accomplished. Many of his co-workers cite his "open door" policy that gives everyone a voice.
"There are two kinds of leaders – the 'my way or the highway' type, or those who want to listen and figure out a solution," he said. "I'm definitely the latter. Some of the best ideas come from those people who walk through my door to make a suggestion."
For over a decade, Renee Windom has worked as Whitley's administrative assistant. She said his open door policy has made him an excellent leader.
"If you have a problem, come to him and we can work it out," she said. "I can honestly say, I haven't had too many problems at all, which I give Chief Whitley most of the credit for. He kept things smooth around here."
Some of those same people are also currently in the running to take over the role of chief once Whitley leaves work for the final time on Wednesday. While he said he'll enjoy life on the farm, Whitley said he would like to remain involved in serving the community in some capacity.
"I'd like the chance to accomplish more things, but without the stress," he said. "But the future of the fire department is in good hands, no matter who is chief. They need fresh legs and ideas because there will always be a new challenge on the horizon."