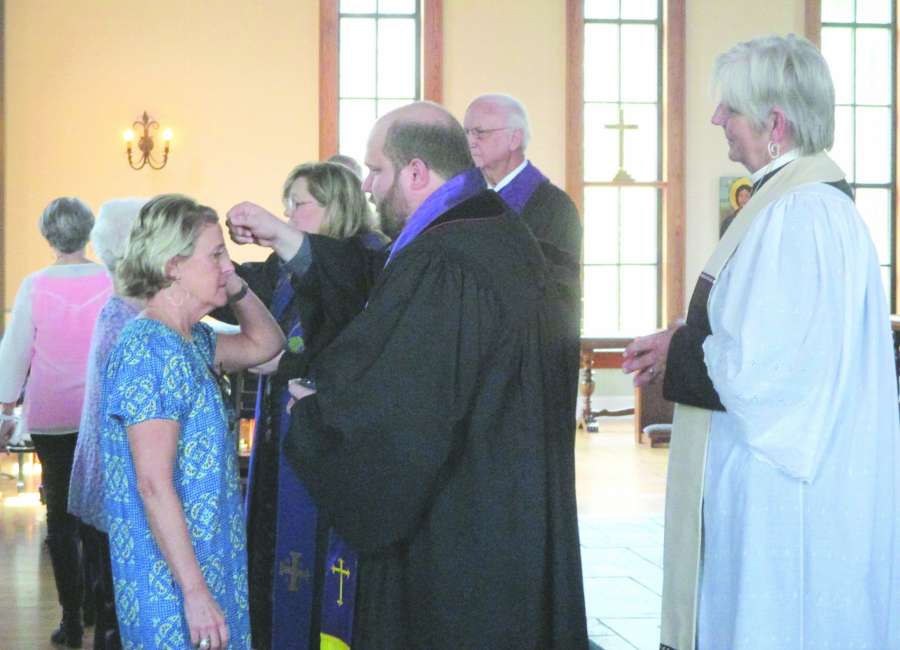 Ash Wednesday is this week and marks the beginning of Lent.
The observance, one of the oldest in Christendom, includes the imposition of ashes. People attending worship services get crosses on their foreheads, formed from ashes mixed with oil. The ashes often are from palms from the previous year's Palm Sunday celebration.
As the sign of the cross is made, the clergyperson usually says, "Repent, and believe in the Gospel" or "Remember that you are dust, and to dust you shall return."
"Christians have long undertaken a 40-day preparation for the Easter celebration," noted Jane Carter of All Saints Anglican Church near Peachtree City.
Ash Wednesday "occurs 46 days – 40 fasting days, if the six Sundays, which are not days of fast, are excluded – before Easter and can fall as early as Feb. 4 or as late as March 10," said Bishop David Epps of the Cathedral of Christ the King. "Ash Wednesday is observed by many Western Christians."
According to the gospels of Matthew, Mark and Luke, Jesus Christ spent 40 days fasting in the desert, where he endured temptation by Satan.
"Lent originated as a mirroring of this," Epps said.
"Every Sunday was seen as a commemoration of the Sunday of Christ's resurrection and so as a feast day on which fasting was inappropriate. Accordingly, Christians fasted from Monday to Saturday during six weeks and from Wednesday to Saturday in the preceding week, thus making up the number of 40 days," Epps added.  "Eastern Orthodox Christians do this 40 days in a row."
"In the Anglican tradition, Ash Wednesday is also set aside as a fast day in which Anglicans are urged to make certain sacrifices and perform extra acts of devotion," Carter said.
Community Lenten Services have been held for several years on the Wednesdays leading up to Easter. The first service for this year will be Wednesday at noon at St. Paul's Episcopal Church on Roscoe Road.
Matt Sapp, who became pastor of Central Baptist Church last year, will bring the Ash Wednesday message. Each of the Lenten services includes an offering, which goes to Coweta Samaritan Clinic.
The Lenten services last about a half hour and are followed by lunch for a $5 donation.
The remaining Lenten services and their preachers are, Feb. 21, Cornerstone United Methodist Church, Hazel Glover of St. Paul's; Feb. 28, First Baptist Church of Newnan, Henry Atem of St. George Catholic Church; March 7, St. George Catholic Church, David Jones of Newnan Presbyterian Church; March 14, First United Methodist Church of Newnan, John Tomlin of Cornerstone; March 21, Central Baptist, Jimmy Patterson of First Baptist; March 28, Newnan Presbyterian, Charles Robinson, of First Methodist.
Several area churches are holding their own Ash Wednesday services. All Saints Anglican, 149 Ebenezer Road, Peachtree City will hold services at noon and 7 p.m.
Resurrection Lutheran Church on Lora Smith Road will have a service at 7 p.m., preceded by a dinner at 6:15. Allen-Lee Memorial United Methodist Church in Lone Oak will have its Ash Wednesday service at 7 p.m., with a light meal served at 6.
Word of God Lutheran Church in Peachtree City will have its Ash Wednesday service at 7, incorporating music from the Holden Evening Prayer Service, the imposition of ashes and holy communion, according to church member Sandy Thomas. The Holden service originated at a historic Lutheran retreat in Washington state.
Other churches planning a service at 7 p.m. on Ash Wednesday including Emory Chapel United Methodist Church, 2677 Highway 34 West, and St. Paul's Episcopal Church.
Several churches are holding Shrove Tuesday pancake suppers Tuesday night. The spiritual origin of the practice springs from eating rich foods, such as butter and syrup, before the beginning of Lent. Lent is often a time of self-denial for Christians.