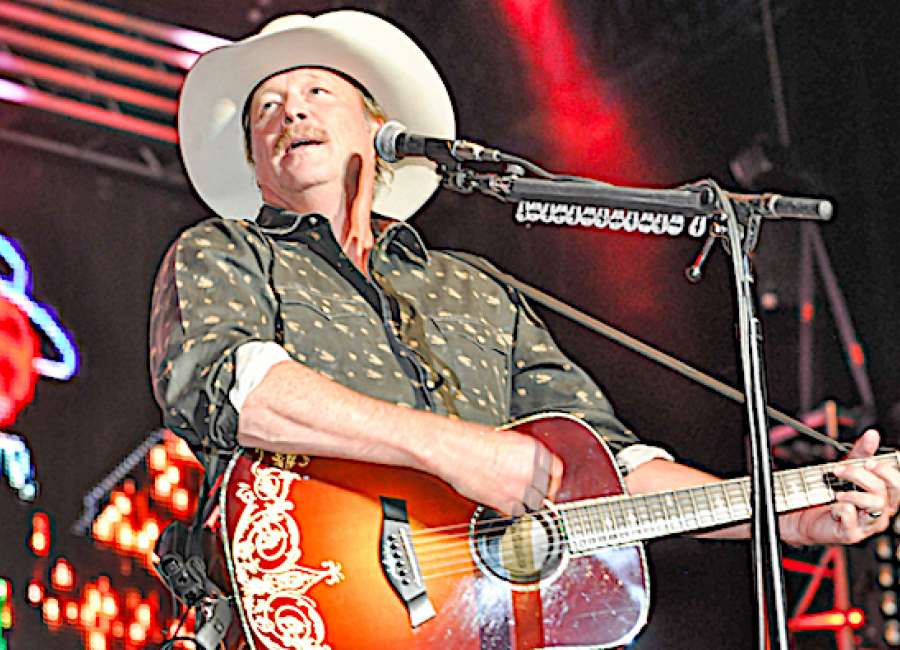 The honors just keep rolling in for Newnan native Alan Jackson.

Jackson takes his place among music's most-notable composers and lyricists with the Tuesday announcement that that he is among the 2018 inductees to the Songwriters Hall of Fame. He will formally become a member during this year's Induction & Awards Gala in New York City on June 14.
Jackson has won more than 150 awards during his country music career. Last year, he was named to the Country Music Hall of Fame – with Loretta Lynn speaking about his genius. A wax figure of Jackson was also placed in Madame Tussaud's in Nashville last year.
The Songwriters Hall of Fame is dedicated to recognizing the work and lives of composers and lyricists who create music. To qualify for induction, a songwriter must be a published writer for a minimum of 20 years with a notable catalog of hit songs. Jackson will become one of just over 400 songwriters so honored.
Jackson has won three Country Music Association Entertainer of the Year honors and has been a member of the Grand Ole Opry for more than 25 years. In 2016, Billboard ranked Jackson as one of the Top 10 Country Artists of All-Time.
He has won a pair of Grammys, and ASCAP's Founders and Golden Note Awards.
Jackson also won the Heritage Award as the most-performed country songwriter-artist of ASCAP's first 100 years.
"I started writing because somebody told me I needed some original material. I'd never even thought about writing or studied songwriting," Jackson recalled. "There are different aspects of your career, and they all bring different rewards and feelings… but the songwriting is very fulfilling. Songwriting is definitely the most creative part."
 
Jackson is one of the most successful and respected singer-songwriters in music. He is in the elite company of Paul McCartney and John Lennon among songwriters who've written more than 20 songs that they've recorded and taken to the top of the charts. Beginning with his first hit, "Here in the Real World," Jackson's pen has given us some of country music's most-memorable songs of the past 30 years – the immediately-recognized "Chattahoochee," the haunting "Midnight in Montgomery," the touching "Remember When," the autobiographical "Livin' On Love," "Drive," and "Chasin' That Neon Rainbow" and the inspired "Where Were You (When the World Stopped Turning)."
Jackson has sold nearly 60 million albums worldwide and ranks as one of the 10 best-selling male vocalists of all-time in all genres and one of the best-selling artists since the inception of SoundScan. He has released more than 60 singles – registering 50 Top Ten hits and 35 number ones, including 26 Billboard chart-toppers. 
 
Established in 1969, the Songwriters Hall of Fame honors those whose work represents a spectrum of the most beloved songs from the world's popular music songbook. Out of the tens of thousands of songwriters of our era, there are just over 400 inductees. The list includes Hal David, Burt Bacharach, Bob Dylan, Carole King, Merle Haggard, Paul Simon, Billy Joel, Elton John, Bernie Taupin, John Lennon, Paul McCartney, James Taylor, Bruce Springsteen, Dolly Parton, Stevie Wonder, Neil Diamond and Loretta Lynn.
Jackson's fellow 2018 inductees are John Mellencamp, Kool & the Gang members Robert "Kool" Bell, Ronald Bell, George Brown & James "JT" Taylor, Jermaine Dupri, Allee Willis, Steve Dorff and Jackson's fellow Opry member Bill Anderson.
Jackson recently released new music for his fans. "The Older I Get" – a taste of what's to come on Jackson's next album – is his first new studio recording since 2015.
Jackson and his wife, Denise, both grew up in Newnan and have many family members who still live in the area.