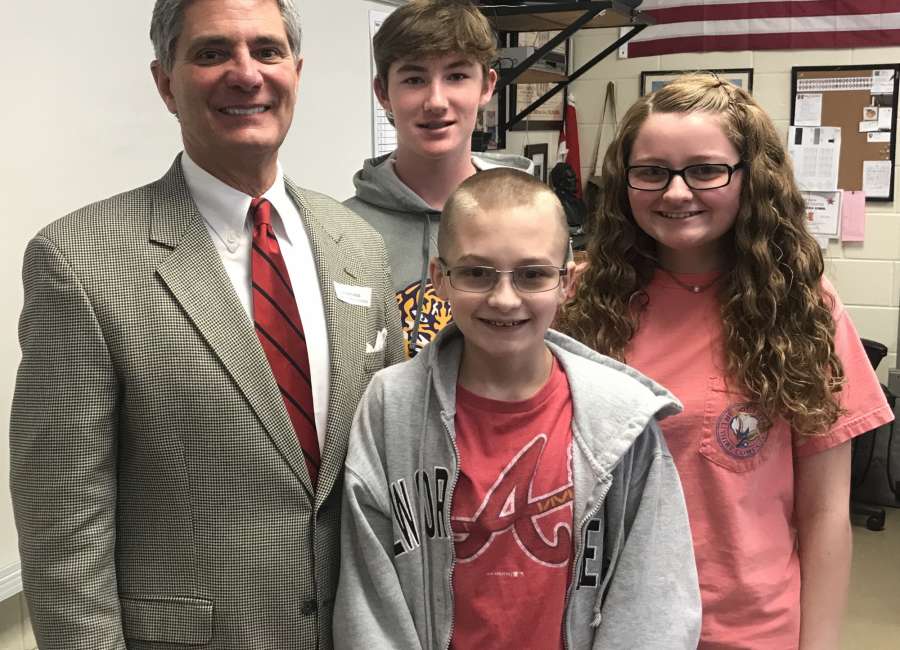 (Editor's Note: The Newnan Times-Herald will explore innovation and creative learning in our new feature "In the Classroom," which will appear regularly in our Sunday editions. See Page 1C for more on U.S. Rep. Drew Ferguson's recent visit to Scott Zachry's class at Madras Middle School.)
Opportunities abound for eighth-graders in the Coweta County School System to get a jump on career and academic endeavors.
All six middle schools offer a semester of high school-level civics and a year-long Spanish I classes. The classes are part of block scheduling, with the mandatory eighth-grade Georgia History taught first in the first semester and the high school-level civics class in the second.
Things work a little differently at Madras Middle School, where Scott Zachry travels from his regular gig at Northgate High School to offer 45-minute classes for the entire year.
Zachry makes a point of bringing in officials from many levels of different branches of government to talk to his students about their jobs and how they work together.
"I really like the format that Madras has because it allows for (bringing in speakers)," Zachry said. "(The) short class periods mean speakers do not have to be in school all day for all class periods."
That means flexibility for government officials like Drew Ferguson, who recently visited Zachry's class to talk about his work as a U.S. Congressman.
"No way we could have gotten Drew to come on any other type of schedule," Zachry said.
In fact, Madras students interacted with three legislative officials from three levels of government in the course of three days. Ferguson, who represents Georgia's 3rd Congressional District, was followed by State Senator Matt Brass and Newnan Mayor Keith Brady.
"I would think that is almost unheard-of," said Zachry.
Earlier opportunities for eighth-graders mean more educational choices for the students, Zachry said.
"Having the opportunity to take high school class in middle school opens up more classes and experience for students in high school," he said. "They can take more AP classes, get involved in more things at CEC, and general be allowed more freedom of choice in their classes at high school."