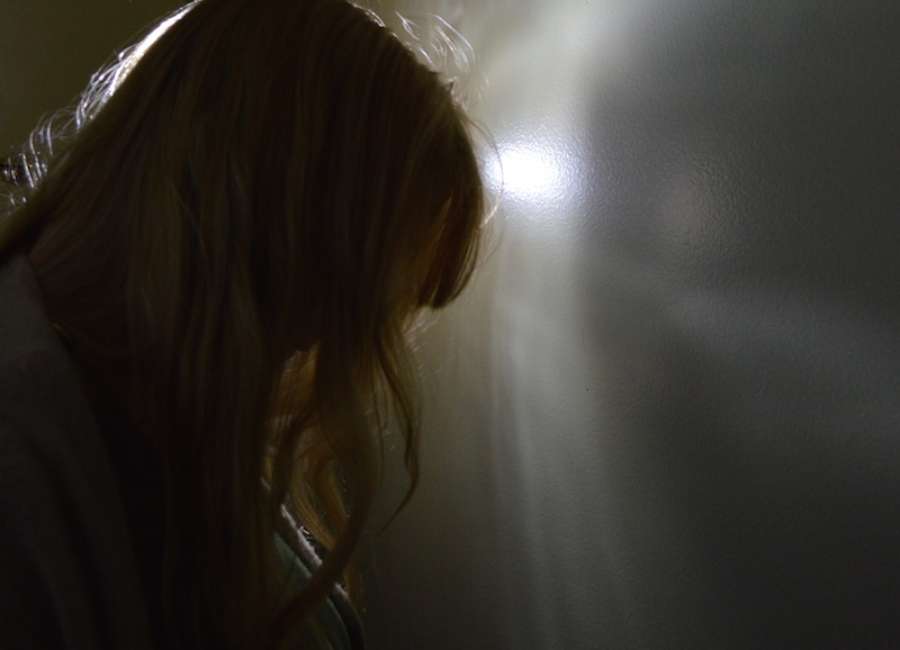 Between the ages of 17 and 37, off and on, "Sue" lived on the streets of Austin, Texas.
During her 20 years of homelessness, the only time Sue wasn't living on the streets was when she had a boyfriend with a house or apartment.
Addicted to meth and having been sexually assaulted more times than she could count, Sue said she had given up on just about everything.
"I told myself, 'I'll never be a mother, I'll never own a home, I'll never own a car,'" she said. "You look at those things as being something you'll never reach when you're on the streets."
Those things were particularly weighing on Sue in her 37th year. She'd broken up with a boyfriend and was back on the streets. She started to feel suicidal.
She said she thought, "I'm 37 years old. I've never made anything out of myself. I'm never going to be any different than I am right now. This is where I'm going to be the rest of my life."
The thought of never being a mother was particularly disheartening.  
Then, to her complete surprise, she found out she was pregnant. And her life changed in an instant.
"Up until that point I really never had a reason to try to better myself," Sue said. "My son saved my life. And I tell him that all the time.
"He has no idea about my past," she added. "I'll tell him someday when he is older and he can understand."
Sue was just 14 months old when her father shot and killed her mother and her mother's friend as they arrived at work. She went to live with her grandmother and her grandmother's husband, a known pedophile. It was a childhood of sexual abuse, physical abuse and mental abuse, Sue said.
She started rebelling in high school, smoking pot and hanging out with other kids who had problems at home. When an aunt and uncle decided to move from Georgia to Texas, she went with them.
But she didn't stay with them long.
"When I got free… I got wild," Sue said. "I kind of wandered away."
She took to the streets of Austin and started doing meth and "any other drug that I could do, except for heroin." Sue used drugs and alcohol to help bury her feelings.
"I didn't want to feel at all," she said.
Women living on the streets in big cities are often exposed to sexual abuse.
"You get taken advantage of – there are a lot of guys telling you 'I can help you with this, I can help you with that,'" said Sue. Or she'd be sleeping outside and wake up to a man sexually assaulting her.
"You're around all the wrong people," she said. "It's really dangerous. You wake up and somebody is touching you. You're so far in the addiction, and all that is keeping you out there. You never report something like that. It is just something that you live with because of the kind of life you're living."
Being abused became normal, Sue said. Many of the other girls she met on the streets had similar stories – leaving abusive homes or drug-addicted parents.
Usually, Sue said, she could find a place to sleep. Sometimes she would go to a bar just to find a man to take her home for that night, or she would try to find a car that was unlocked so she could climb in and sleep there, for a little protection from the elements – and other people.
Sometimes if she couldn't find a place to sleep, she'd go to a drug house and do drugs all night so she would have a place to hang out.
She said the boyfriend who fathered her son was a good guy.
"I liked him," she said. But more importantly, being with him gave her a stable environment.
But they broke up, and she found herself back on the streets. The day she found out she was pregnant, she had drugs in her pocket.
"From the moment I found out that I was pregnant, I didn't touch the drugs anymore. I was determined to do what was right," Sue said. But she was terrified the drugs she'd used for years before would harm her baby.
Sue had become close friends with the mother of a previous boyfriend, so she called the woman and told her about the pregnancy.
"She said, 'What are you going to do?'" Sue said. "I said, 'I'm going to keep it.' And she says, 'OK, we've got to get you to a doctor.'"
And she did.
Sue contacted the baby's father, and they got back together.
"For the first four months of my pregnancy, all I did was sleep and eat," Sue said. "My body was catching up."
She went from 115 pounds to 170. Her boyfriend helped her get her driver's license and bought her a car. Before she started showing, she got a job at a call center.
"It was just basic wages, but it gave me confidence," Sue said. She was able to have work done on her teeth, which had been badly damaged by years of meth use.
When her son was a year old, Sue reluctantly left her job to move with her boyfriend to North Carolina, where he had a friend and a potential job. Their relationship soon ended.
"We only lasted maybe six months once we came out here," Sue said.
She didn't know what to do, at first. "I had no understanding of how to be an adult," Sue said. "I had always relied on the guy I was with to tell me, 'This is how you do things.'"
She stayed with relatives in Georgia for a short while, then headed to the Atlanta area. She got a room at a motel in the eastern suburbs, and started searching newspapers for jobs and sending out her resume.
She'd only been in the hotel a few hours when she got a call about a job – at 10:30 p.m.  Because of the late night phone call, she was skeptical.
"I thought there was no way that was legitimate," Sue said.
He asked her to check out the company's website and said he would call her back. He did – and asked her to come in for an interview the next morning. So she found a drop-in daycare for her son and went to the interview.
"They hired me on the spot," Sue said – and she's been there ever since.
She spent the weekend looking for a place to live, and found a small rental house. They had no furniture, no household goods. But it was a home. And she had a job.
The job was a good one, and she was good at it. She got several promotions, and within a few years, she started thinking about buying a home of her own. Her credit wasn't good,  so she focused her efforts on paying off bills from years of emergency room visits.
When Sue finally called a mortgage broker, he said her credit was good enough and soon she was the owner of a home in Coweta County.
Sue said no one in her life knows her story – not her son, her friends here or her co-workers. She said she's not ashamed of her past, but she doesn't want people to see her differently.
"There are still times when I feel like an addict," Sue said. "I might be at work at a big meeting with all of these people in suits. And I'm sitting there, and the addict who used to live that life is inside of me just screaming, 'Oh my God, I don't fit in here,'" she said.
"It's kind of sad that I have to keep it quiet," she added. "I wish it was something that I could shout from the rooftops, because look at where I'm at. I would love to be able to tell people, 'You can do it, you can get out.'"