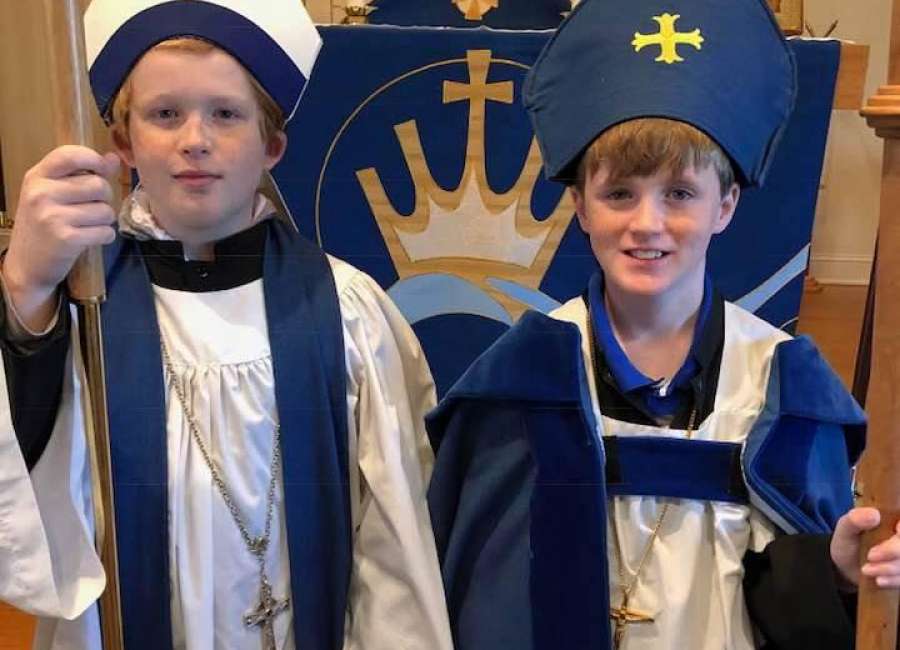 Two young men were selected to serve as St. Nicholas Bishops, also known as "boy bishops," for a service in December at the Cathedral of Christ the King near Sharpsburg.
"Selecting Nicholas Bishops, or Boy Bishops, was once a popular tradition throughout Europe, from the tip of Italy to the Hebrides in Scotland and from Ireland to Hungary," said Bishop David Epps. "The ceremony is a lesson in humility and recognition of the wisdom of youthful innocence."
Appointing children to serve as bishops is a way of symbolically representing the teaching of Christ: "[U]nless you are converted and become as little children, you will by no means enter the kingdom of heaven. Therefore whoever humbles himself as this little child is the greatest in the kingdom of heaven."  (Matthew 18:3-4, NKJV)
"The custom fits perfectly with the Advent themes of turning the tables and oversetting expectations," Epps said.
The appointment of Boy Bishops honors the feast of St. Nicholas of Myra, patron of children, who is traditionally remembered as having a special, personal concern for the safety and well-being of children. From St. Nicholas Day, Dec. 6, until Holy Innocents, Dec. 28th, topsy-turvy was the order of the day in centuries past.
The Boy Bishop took the bishop's throne and wore his regalia, presiding at all services in the cathedral. The altar servers sat in the places of dignity usually occupied by the clergy, and the reverend canons of the cathedral filled the roles of altar servers.
"The Boy Bishop was empowered to declare extra holidays, and to decree the distribution of sweets to the children of the diocese, paid for from the diocesan treasury," Epps said.
Though Queen Elizabeth I ended the custom in England, it survived on the Continent until 1799. In modern times, churches have begun to revive the custom, especially in English cathedrals and parishes. As far as can be determined, Christ the King was the first Charismatic Episcopal cathedral to observe the ancient  tradition. While older Boy Bishops may be invited to preach, the younger boys normally do not preach.
The St. Nicholas Bishops at Christ the King on Dec. 10 were Aidan Northrop and Steven Hodges. Aidan is the son of Chris and Angela Northrop of Senoia, and Steven  is the son of Hiram and Jane Hodges of Newnan.
"Both boys serve as acolytes at Christ the King," Epps said.