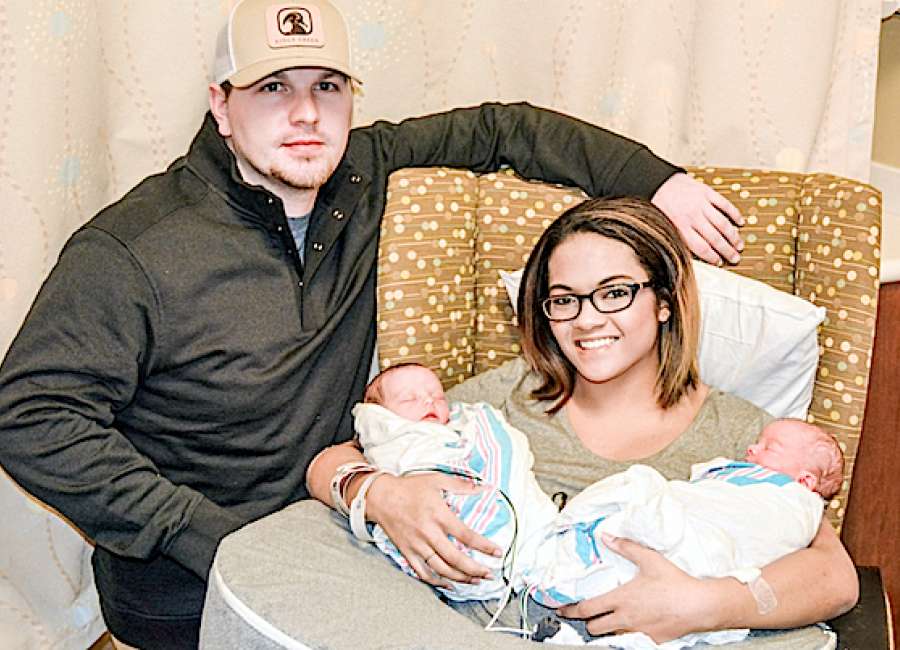 Neely Scruggs and Justin Mulliniks of Newnan have the distinct honor of being parents to newborn twins.

The births were made more special since the infants, a boy and a girl, were the first babies born in Coweta County in 2018. 
Emersyn Jayde and Aiden Micheal were born on Jan. 2 at Piedmont Newnan Hospital. 
Scruggs and Mulliniks welcomed Emersyn into the world first at 12:07 a.m. The baby girl weighed just over 6 pounds and was 18.5 inches long. 
Aiden was born at 12:08 a.m., weighed 5.5 pounds and was 19.5 inches long. 
The babies were born at 35 weeks – just four days before Mulliniks' birthday on Jan. 5. 
Emersyn and Aiden were immediately placed in the Neonatal Intensive Care Unit so doctors could monitor them. Despite being born early, both babies are thriving, the new parents said. 
"I'm relieved and happy," Scruggs said. 
The couple said they were shocked when their doctor announced they were having twins, although Mulliniks joked about it right before their appointment. 
"He jinxed us. He said, 'I bet we're having twins,'" Scruggs said. "I told him, 'Don't say that.' Then we went in there and she told us we were having twins. I couldn't breathe." 
Mulliniks said twins run in his family. 
While Mulliniks predicted the number of babies, it was Scruggs' mom who correctly anticipated when the twins would be born. 
"My mom called it," Scruggs said. "She said the babies would come on the first full moon of the new year – and they did."
Scruggs' water broke on New Year's Day. 
She said she was in labor for more than 14 hours before opting to have a C-section. 
It was a rough delivery, Scruggs stated. 
"I lost a lot of blood," she said. "I was given at least four blood transfusions. I also had a fever during the delivery … I was given fluids and feel much better. But I am still taking antibiotics and pain medications."  
The new mom was released to go home on Friday, but remained in the hospital along with her twins. 
She said she is eager for all three of them to finally join Mulliniks in their Coweta County home. The couple say they're looking forward to being able to spend time together and watch them grow and change.
 
Mulliniks already has future plans for his son. 
"When he's older, he's going to be playing ball," he said. "The doctors don't know it yet, but they delivered a billion dollar baby." 
The twins have already been busy during their short time in the world. 
The babies helped Mulliniks surprise Scruggs with a marriage proposal on Thursday inside the hospital. 
Mulliniks dressed the twins in custom-made onesies. Emersyn's shirt read, "Mommy, will you," while Aiden's outfit said, "Marry our Daddy?" 
The newborns were placed side by side when Scruggs visited them that day. 
After the shock wore off, Scruggs said yes. 
Mulliniks said he planned the endearing proposal six months ago and wanted the twins to be a part of it. 
It was not known as of press time Saturday when Emersyn and Aiden will be able to go home with their mom and dad.