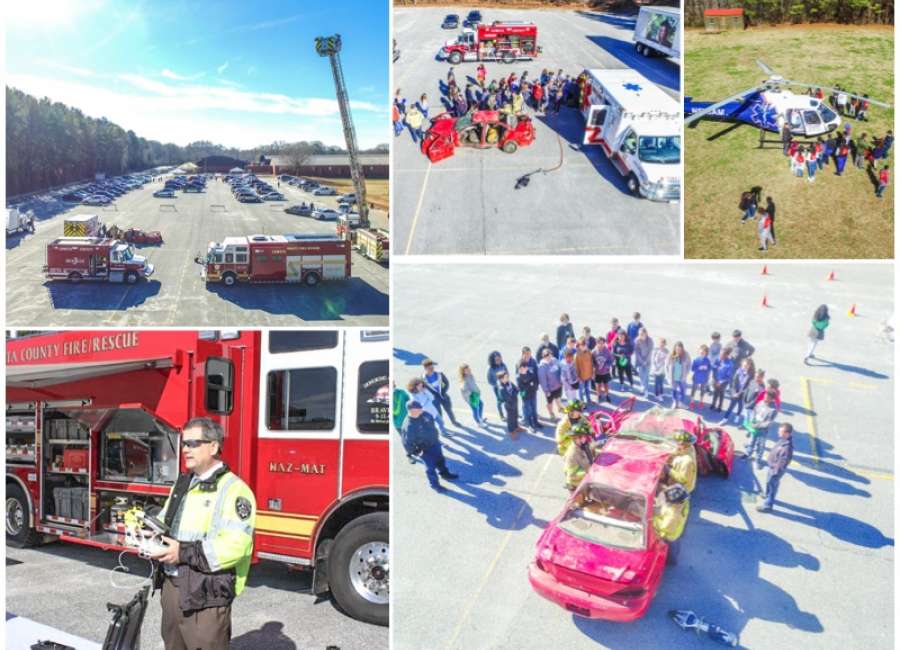 A recent career event at the Central Educational Center offered attendees a chance to check out a variety of opportunities available in their backyard, including public safety.
In the past, representatives from the Newnan Police Department have appeared at the event – it's a chance for law enforcement to form a connection with the youth, according to Chief Douglas "Buster" Meadows.
But for the first time, both the Coweta County Sheriff's Office, along with Coweta County Fire Rescue, participated in the event. At the sheriff's office, it was the initiative of a five-year deputy who saw the long-term potential of being involved.
Deputy First Class Adam Dubois approached his superiors with the idea last year in an effort to find new ways of connecting to the community, according to Major Mark Fenninger.
One of the first ideas was to alert the public about road closures on Facebook when Tropical Storm Irma blew the county last year.
"A younger officer brings certain things to the table that some of us might not be comfortable with, such as social media," Fenninger said. "But it's been a success, and we hope other officers see him bringing new ideas of their own and think more outside the box."
Dubois said the event at CEC was a great success, and allowed the sheriff's office the chance to connect with over 1,000 students that day.
"We have a lot of resources and wanted to harness that," he said. "The great thing about our sheriff's office is that it's family-oriented and leaders want to know what's going on so they can help."
Taking a look at recruitment in the sheriff's office was another goal for Dubois. In the past, recruitment was primarily directed at adults – primarily those with at least two years of experience.
However, Dubois set his eyes on a younger crowd in an effort to show the possibilities that a career in law enforcement has to offer.
Sgt. Warren Campbell said he was open to the idea, and was amazed how far Dubois ran with it. Last week, the sheriff's office gave a hands-on display of their versatility at the career event.
"In 10 years, it will be even more specialized than it is now, so if we don't recruit effectively, we will have empty seats," Campbell said. "By starting with eighth-graders, we show them it's not just a job, but a career and one where the sky's the limit."
During the event at the CEC, students were introduced to the world of drones in law enforcement, how a K-9 patrol works, and an array of stories told by officers about their daily duties in Coweta County.
The primary message they hope to convey is that everyone – no matter what their strengths may be – has a place at the sheriff's office.
"It's a profession and we're professionals who go through hundreds of hours of training, which we maintain," he said.
Fenninger began his career with the sheriff's office back in 1989 – when the department was about a quarter of the size it is today. He readily admits the various opportunities they offer today simply didn't exist back then.
"We have so many good careers people don't know about," Fenninger said. "Patrol and jail are our backbone, but they don't know about the criminal investigation division, SWAT, K-9, training units, warrant and court divisions. Everyone has a place here – this gives people an opportunity to see."
For Coweta County Fire Rescue, Division Chief Brian Minix said it was a great chance to let students see how public safety works together  – from using air life to get trauma and stroke victims to Atlanta hospitals, to using the jaws of life on a crumpled car.
"By talking to eighth-graders, you get the chance to plant the seeds about what they need to focus on in the next four years," Minix said.
At their command station in the CEC parking lot, CCFR was able to show a live video feed of the drone sent into the air by the sheriff's office.
During the event, Sgt. Mark Callahan gave a presentation on the role drones play at the sheriff's office. He said he felt the event was a great avenue to forge connections between students and law enforcement.
"They seemed really enthusiastic about our technology and its capabilities," he said. "It was great to show them the many new and different avenues in law enforcement and firefighting. It's not just arresting someone or putting out a fire anymore."
The event not only gave students an idea about career possibilities, but more importantly, helped build a human connection between law enforcement and the kids.
"In the field, people look at us like we're robots because when we're at work, it's what we do," Fenninger said. "They don't see how we are at home where we share some of the same interests like video games, drones and building things."