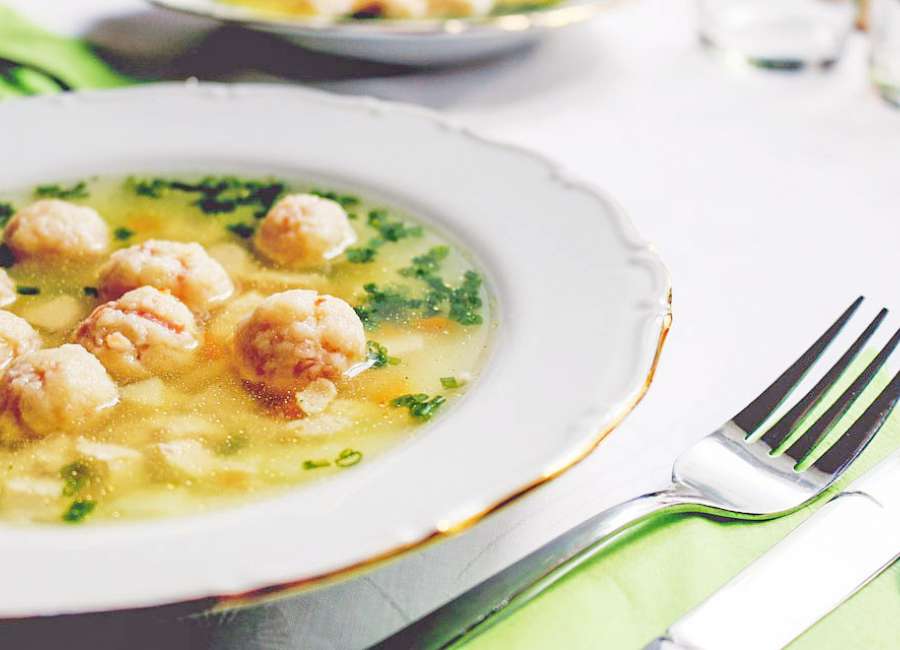 A savory and hearty bowl of soup is a great way to end a cold, wintery day. Whether eaten alone or paired with a sandwich, these recipes are sure to warm folks up and them full for the night.

Italian Wedding Soup
Almost all the major food groups combined into one bowl of soup. This recipe includes ground meat, broth and greens. You can stick to the recipe or use meats and greens of your choosing.
Ingredients:
* 12 ounces ground meat (chicken, turkey, pork, beef, veal, or a combination)
* 1/2 cup dry bread crumbs or panko
* 3 large eggs, divided
* 1/2 cup grated Pecorino Romano cheese, divided
* 1/2 cup grated Parmesan cheese, divided
* 1 tablespoon chopped fresh oregano leaves, or 1 teaspoon dried oregano
* 1 teaspoon kosher salt, plus more for seasoning
* 1/2 teaspoon freshly ground black pepper, plus more for seasoning
* 3 tablespoons olive oil, divided
* 1 medium yellow onion, diced
* 4 cloves garlic, minced
* 8 cups low-sodium chicken broth
* 1 bunch greens (such as escarole), trimmed and torn into bite-sized pieces (about 6 lightly packed cups)
* 3/4 cup cooked small pasta, such as orzo or acini di pepe (optional)
* Red pepper flakes (optional)
* Lemon wedges (optional)
Recipe:
* Place the ground meat, bread crumbs, 1 egg, 1/4 cup of the Pecorino, 1/4 cup of the Parmesan, oregano, salt, and pepper in a bowl. Mix thoroughly, but be careful not to overwork the meat. Form the mixture into 3/4-inch to 1 1/2-inch balls.
* Heat 2 tablespoons of the oil in a large skillet over medium-high heat until shimmering. Add the meatballs in batches so as not to crowd the pan and cook, turning occasionally, until browned all over, 3 to 5 minutes. Transfer to a paper towel-lined plate as each batch is ready.
* Heat the remaining 1 tablespoon oil in a 4-to-6 quart soup pot over medium-high heat.
* Add the onion and garlic and sauté until the onions are tender and the garlic is soft but not browned, about 5 minutes.
* Add the broth and bring to a boil.
* Add the greens, reduce the heat to low, cover, and simmer for 10 minutes.
* Add the meatballs and cook 5 minutes more.
* Meanwhile, combine the remaining 2 eggs, remaining 1/4 cup Pecorino and remaining 1/4 cup Parmesan in small bowl and beat with a fork to blend.
* Slowly pour the egg mixture into the simmering soup, stirring slowly in one direction. Cover and simmer just until egg bits are set, about 30 seconds.
* Stir in the cooked pasta, if using.
* Taste and season with salt, black pepper, red pepper flakes, and a squirt of lemon juice as desired. Serve immediately.
(Recipe Courtesy of thekitchn.com)
Baked Potato Soup with Bacon, Scallions and Cheddar
This soup may take a little time to prepare, cook and serve. One way to get ahead of the game is to cook the bacon and potatoes ahead of time, then throw them in the pot with the rest of the ingredients before you serve the meal.
Ingredients:
* 2 sticks (1 cup/16 tablespoons) unsalted butter
* 1 cup all-purpose flour
* 8 cups whole milk
* 5 large potatoes, baked and cubed (peeled, if desired)
* 2 pounds bacon, cooked and crumbled (about 2 cups)
* 3 cups shredded cheddar cheese
* 2 cups sour cream
* 1 bunch green onions, thinly sliced
* 1 tablespoon kosher salt
* 1 tablespoon ground black pepper
* 1 clove garlic, minced (optional)
* 1/4 cup grated Parmesan cheese (optional)
Recipe:
* Melt the butter in the bottom of a large pot over medium-high heat.
* Add flour and whisk to combine until thickened.
* Whisking continuously, slowly pour in the milk and whisk until mixture is smooth. Be sure to get the corners of the pan.
* Add all of the remaining ingredients and lower the heat to medium.
* Stir occasionally until the cheese is melted and the soup is warmed through. Be sure to scrape bottom of the pot as you stir so the soup doesn't burn.
* Serve when warm and enjoy
(Recipe Courtesy of  thekitchn.com)