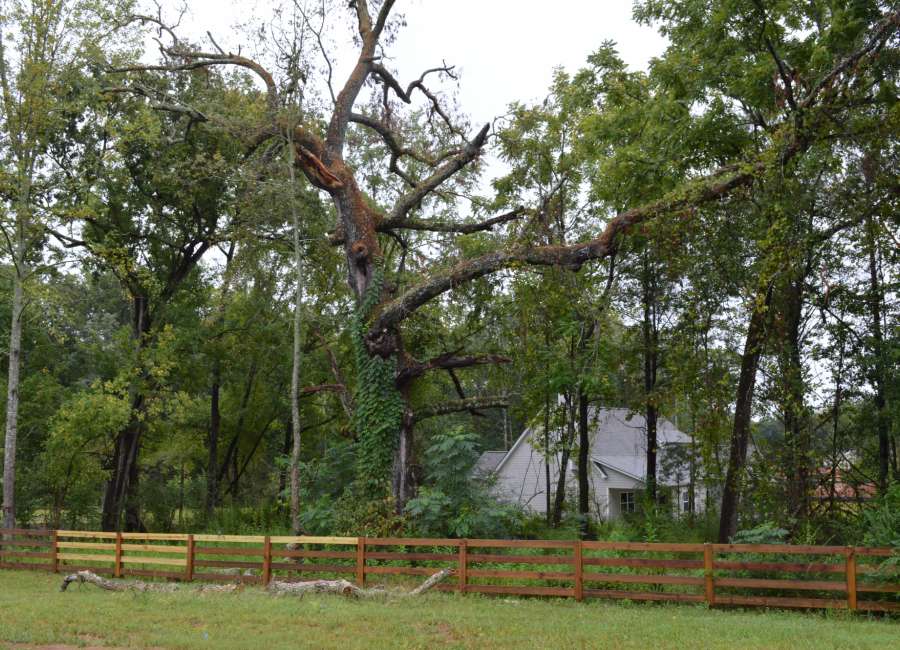 Coweta County officials will move forward with tweaking the county's development regulations in an effort to protect "rural integrity" in areas of the county.

Last week, the Coweta County Board of Commissioners expressed support for the idea of putting protections in place, and a series of meetings will be held to solicit public input. Meeting dates will be discussed at the Jan. 23 commission meeting.
"I would suggest maybe one each month for the next few months, just to have a couple of options for those that would want to attend," said County Administrator Michael Fouts.
At the Nov. 21 commission meeting, several residents of the Bear Creek Road area spoke to the commissioners about their concerns over a subdivision being built on Fincher Road and how it could impact the rural character in the area.
At the Dec. 9 meeting, Commissioner Bob Blackburn said that he gets many phone calls from residents who are worried that Coweta is losing its rural integrity and character, and he asked county staff to come up with recommendations for changes to the zoning regulations that would help preserve those traits.
Since that time, county staff have met and discussed the issue, Fouts said.
"We've talked about a lot of options," he said. "At this point we would seek some further direction from the board in terms of what the board would like to see."
Chairman Al Smith said he'd like to see something in the zoning ordinance that would help keep a certain part of the county rural by having larger lot sizes. There has been discussion of minimum five-acre lots, but those have never been a solid requirement. Perhaps a new zoning category is needed, he said.
In 2005 and 2006, the county's comprehensive plan update included an extensive public input process with public meetings and a public survey, dubbed "Be Something Different." Following that process, zoning ordinances were written specifically to help maintain rural character. Those same ordinances, with few changes, are in place today.
"If we choose to move forward… It depends on what people call maintaining the rural character of the county," said Commissioner Tim Lassetter, who represents the Second District.
Lassetter's district is geographically the largest, and the most rural.
Earlier in the meeting, the commissioners accepted a greenway donation for a subdivision. Donating a greenway strip is one of several ways that developers can get "density bonuses" for rural conservation subdivisions.
Commissioner Paul Poole said he would like to require more usable green space in conservation subdivisions, not just floodplain.
"I think that would help tremendously," Poole said.
One issue is that a lot of the people who own large tracts of land in the county are getting older.
"I'd love to see more horse farms and more cattle farms and goats and stuff like that but… you know, that's hard to do," Poole said. "It really is a great idea and I hope we can do more of it. I think down the road we can make this county unique."
Poole said he has a friend who lives in Forsyth County, north of Atlanta. The county used to be much like Coweta.
"Now it's just traffic jams everywhere," he said. "We've got to address transportation some how or other because cars are just filling up our roads and taking part of our rural integrity down."
With traffic, Poole said it can take 40 minutes to get from his home and cattle farm on Hwy. 154 to the county building in downtown Newnan.
One of the reasons Coweta County is so desirable is its access to Hartsfield-Jackson International Airport without requiring travel through downtown Atlanta, Smith said.
"As people migrate to Coweta County we're going to need more and more land for people to do live on," he said.
"If you do that, you'll lose a lot of your rural integrity," Poole said.
"Absolutely," Smith said. "So it's a two-edged sword."
Commissioner Rodney Brooks said he likes the idea of streamlining the zoning ordinance. Maybe doing away with the base density of 1/2 unit per acre across the board, and doing away with allowing the more-dense 55 and older developments in areas without public sewer, he said.
Several of the 55 and older developments have already been approved.
"I think we have enough lots in the ones that we've passed to take care of any needs for a long time going forward," Brooks said.
He said he expects to hear a lot of different ideas at the public hearings.
Longtime Cowetan Eddie Wilson spoke in favor of considering changes.
"I think this is one of the most important decisions you can make," he said.
Wilson moved to Coweta 34 years ago from Clayton County.
"We don't want to ruin this county," he said, adding that it's a difficult balance between people's property rights and values and maintaining rural character.
Under the current zoning ordinance, there are several different styles of subdivisions that are allowed in the "Rural Conservation" zoning district, which covers most of Coweta County.
A home can be built on a 2.5-acre lot, and subdivisions with 2.5-acre lots can be built without the need for curb and gutter or stormwater management. Subdivisions can be built on two-acre lots with curb and gutter and stormwater management, but no green space requirement.
There are the two "conservation subdivision" styles.
Both have a maximum density of 0.625 units per "net development acreage," and start with a base density of 0.5 units per acre.
Density is determined by taking the total acreage of the tract and subtracting out flood plain, wetlands, cemeteries and large areas of steep slopes. There are density bonuses, including making houses larger than the minimum size of 1,725 square feet, building to "Earthcraft standards," using masonry cladding and architectural shingles, building parks, paths or golf courses, and donating land for fire stations, libraries and the like.
For option A, lot sizes must be one acre and 35 percent of the total – not net – acreage must be designated as open space.
For option B, lot sizes can be a half-acre, with 50 percent of the total acreage as open space. The half-acre lot option requires a decentralized sewer system, not septic tanks.
The conservation subdivisions require a "rural design open space" area at the subdivision entrance. For option A, there must be an average of 125 feet of open space along the right-of-way of the street at the entrance, with no area less than 100 feet. For option B, it's 175/125.
The zoning ordinance also includes two "equestrian community" subdivision options.
Lassetter said that when the people from the Bear Creek area spoke, they talked about requiring five-acre lots in certain areas of the county.
"When I was 25 years old, if I had to go out and buy more property than I was required to do at the time, I couldn't have built a house," Lassetter said, pointing out that there are many sides to the issue. "I think what each of us sees as maintaining rural character might be different."
Lassetter said he thinks the density bonuses might be where things should start.
There are also legal issues, according to County Attorney Jerry Ann Conner.
"There is a balance there," she said. "There are some things we can look at."
That could include an overlay zoning or looking at where growth needs to go, Conner said. There are some regulations that could likely be put in place, but they have to be looked at very carefully, she said.
"I know that once you open this can of worms, it's going to be a lot of discussion," Smith said.