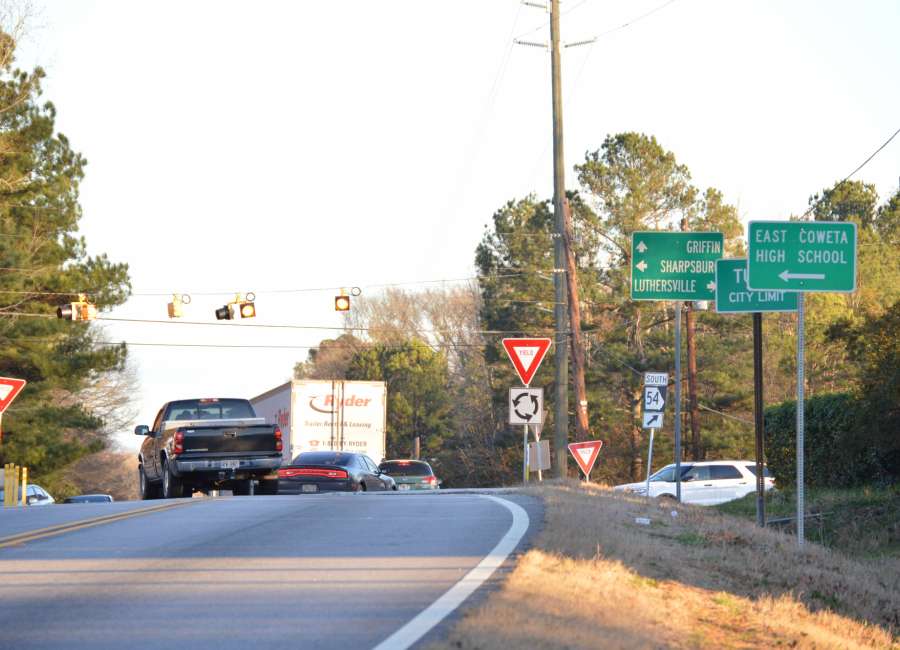 Thanks to a switch in funding, right-of-way acquisition for a new roundabout at Hwys. 16 and 54 is set to begin this summer, and the project should go out to bid in the fall of 2019.

Plans are for a large, two-lane roundabout with dedicated turn lanes to replace the current "mini roundabout" at the location.
Once upon a time, the roundabout was set for construction in fiscal year 2017, with federal money. But things moved a bit more slowly than that. Then, a historic and archeological review found a historic structure – and even historic pecan trees – that would be disturbed by the construction. Additional reviews, and potential changes, threatened to set the roundabout project back by several years.
The best case scenario was for construction in 2021. In the summer of 2016, the Georgia Department of Transportation replaced the existing four-way-stop with the state's first "mini-roundabout."
The "big" roundabout project will now be funded with state and local money, which does away with much of the federal red tape.
Though the state also has requirements for historical and cultural resources, they're less stringent than federal ones.
The current design is set and doesn't have to be changed, according to representatives of the Georgia Department of Transportation who attended Monday's meeting of a new transportation task force.
The Joint Transportation Coordinating Committee is made up of representatives from Coweta County and its municipalities. The committee is meeting quarterly to discuss transportation projects and coordinate as a unified group to the Georgia Department of Transportation.
The construction time frame hasn't been determined, but will likely be approximately 18 months. The biggest part of the project will be a new Hwy. 54 bridge over Norfolk Southern Railroad.
The new bridge will be built on the east side of the existing bridge, and the entire intersection will shift to the east. Bridge construction could take a year, said Tod Handley, Coweta's director of transportation and engineering.
A few months ago, State Sen. Matt Brass, R-Newnan, and Commissioner Paul Poole went to Atlanta to meet with the chief of staff for Gov. Nathan Deal, and later the chief of staff for Lt. Gov. Casey Cagle, about the project.
"Both were very supportive," Poole said at Monday's meeting. "We appreciate Matt and everything he did on that."
"They were very receptive, and I appreciate them taking time to hear our concerns," Brass said. "Traffic issues are rapidly increasing in our area, and it will be important for us as elected officials to express our concerns and, anytime possible, request state funding versus federal funding so we can avoid the federal guidelines and regulations that cost citizens extra time and money."
Poole said he has served on the commission for 14 years and traffic at the four-way intersection "was an issue when I was elected."
If it weren't for the funding change, getting the intersection work done would probably take another five years, he said.