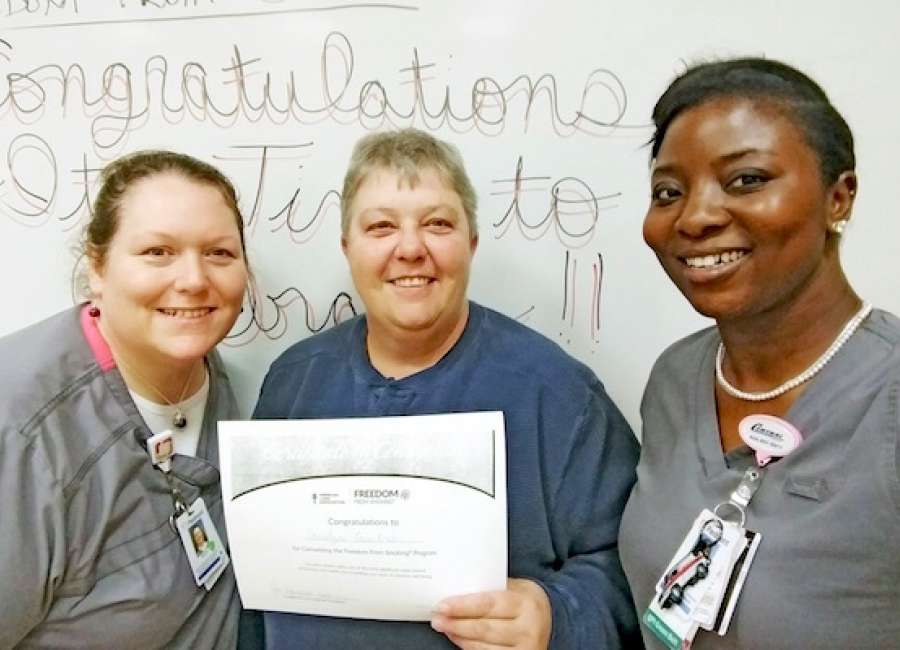 Carolyn Fambro, 50, started smoking cigarettes in high school. 
She said at first she would sneak one or two cigarettes from her parents when they weren't looking. 
As Fambro grew older, her addiction to nicotine increased and soon she was smoking a pack of cigarettes a day – if not more. 
"If I was at a party or drinking, it would be more than pack," she admitted. "Cigarettes was like a 'mental vacation' for me. They were a mental break I would take during stressful times. Or when I was happy, because the cigarettes would enhance the feeling. It was a habit. I was addicted to them."
Fambro tried to quit smoking several times by using over-the-counter products. She was successful in 2009 as she trained for a three-day breast cancer walk in Atlanta. 
But the craving for nicotine proved too much for Fambro. Soon she was back smoking a pack a day.
"I struggled with wanting to stop," she said. "It's something I struggled with all of my life."
When Fambro turned 50 last year, she decided to put an end to her habit once and for all. 
She signed up for the Freedom from Smoking program at Piedmont Newnan Hospital in October and didn't look back. 
The classes are part of an American Lung Association program and are free to the community.  
According to Piedmont Newnan Hospital, the classes focus on smokers who are willing to quit or cut back on smoking. 
"We help participants achieve their goals by following each step in the seven-step program, allow them to pace themselves and also seek medical options," explained Toyin Chigbundu, a respiratory therapist at Piedmont Newnan. 
She is also one of the instructors for the Freedom From Smoking program. 
"The program serves as a support group for the participants and encourages them every step of the way," Chigbundu said. 
The class was eye-opening for Fambro. She quickly discovered what triggered her "need" for a cigarette.  
"For me it was stress or anger. Or when I would get into my pickup truck. When I would get into my truck, I would automatically reach for my cigarettes and smoke while I drove," she explained. "It was a mental issue. Smoking gave me a break for whatever my mind was thinking about."
Fambro said she decided to try an over-the-counter product again to help cut down her craving for nicotine. 
She began writing in a journal and replaced reaching for a cigarette with reading and exercising. Fambro immediately noticed a positive difference in her overall health.
"I don't have 'smokers cough' anymore and I have a lot more energy to do things," she said. 
The 50-year-old woman also utilized the Freedom From Smoking support group and bonded with the instructors and other participants in the program. 
"It's not like you can take a pill and your done smoking forever," Fambro said. "The classes helped me realize I need a lifelong plan … and stopping those triggers that cause you to smoke." 
Fambro said she occasionally smokes when out with friends, but has greatly reduced the number of cigarettes she smoked on a daily basis.  
Her goal still remains the same: To kick her habit for good. 
"I'm on a good path," Fambro said. "My goal is to just stop buying cigarettes. I may go to a few more classes and encourage other participants. That will also help me stay committed. I don't want to disappoint myself or the instructors."
Piedmont Newnan Hospital offers the Freedom From Smoking program four times a year. 
The next session will begin on Jan. 23 and ends on March 13. 
Classes meet in the Bistro Conference Room on the lower level of the hospital each Tuesday from 6-7:30 p.m. 
The Freedom From Smoking program is free and open to the public. For more information, contact Piedmont Newnan Hospital at 770-400-1000. 
•••
Email: melanie@newnan.com
Facebook: @MelanieNTH