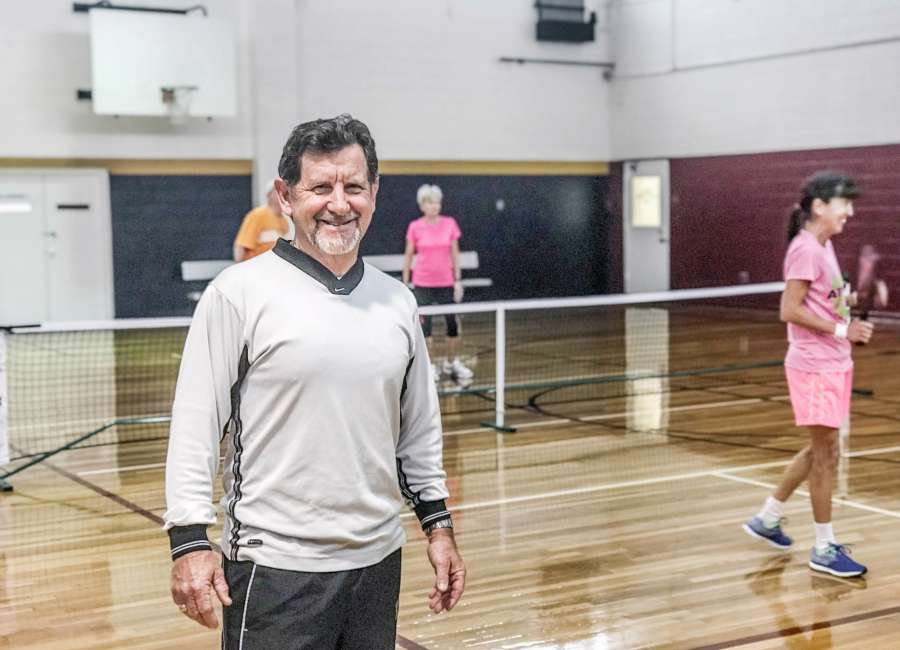 By TAYLOR ROBINS: taylor@newnan.com 
In the world of Coweta County sports, pickleball is one of the newest activities for residents to try.
"It started out as a senior sport," said USA Pickleball Association Local Ambassador Bill Perkins. "But now there are a lot of young people playing. It's being taught in a lot of schools for physical activity. It's a game that is very easy to learn to play and to play, but it's hard to master."
Pickleball, a paddle sport, is an inclusive game that everyone can participate in no matter the age or skill level.
A mix of ping-pong, badminton and tennis, the game can be played for fun or competitively. The sport also includes inexpensive equipment.
"I've read about (pickleball) in other newspapers or on TV," said pickleball player Gary Kolb. "A friend was playing at (Coweta County Recreation Department) and she said I should come. So I just picked up the game."
With origins in Washington, pickleball came to be in the 1960s according to Perkins.
However, the sport is just now migrating to the Southeast area.
Fred Fahy brought pickleball to the Coweta County Recreation Department about four years ago.
Since its introduction, there have been about 75 Coweta County residents who have played the sport. There are about 50 Coweta County residents who play on a regular basis.
"The sport has grown exponentially in just a short period of time here in the county," said Perkins. "But it's pretty much done the same thing nationwide."
Locally, pickleball is mainly played at the Coweta County Recreation Department.
The USAPA website lists locations where you can play the sport in various areas.
"You can go just about anywhere and they're playing pickleball," said Perkins. 
The recreation department has four pickleball courts that can be played indoors during the day. 
Pickleball can also be played on a court outside, on a court that also doubles as a tennis court. Private venues exist as well – Lake Redwine Plantation subdivision in Newnan has a pickleball court.
"We are in desperate need of facilities here in Coweta County to play pickleball," said Perkins. "There's more people playing than there are facilities to play."
Perkins is a regular player, along with his wife, Susan Perkins. They have been playing for two years while also competing in tournaments.
The next tournament the couple will participate in is the Pickled Peach Valentine's Classic in February. The sold-out tournament will be held in Athens, Ga.
Perkins describes himself as an intermediate player. He has been the USAPA local ambassador since November of last year. His role is to help grow the sport and to teach new players. Jill Knight is the president of the local pickleball club.
Coweta Pickleball Club's Facebook page will soon list dates, times and locations for its beginner clinics being held this spring.