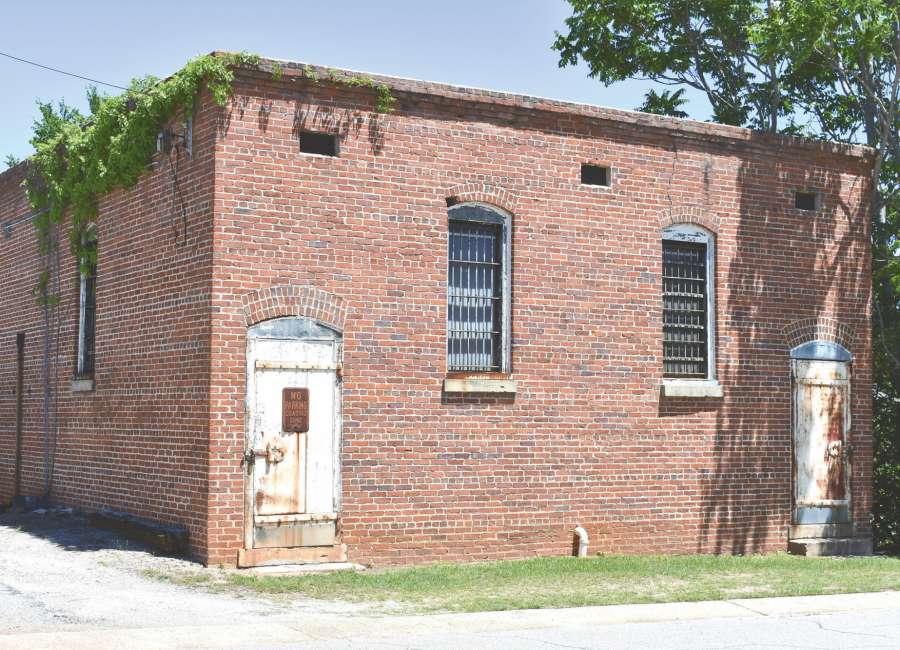 The small brick building on Madison Street where unruly people were once locked up when they imbibed too much may someday be a place to stop by for a drink.
The brick building, used for storage for years, was originally the town's jail. The Newnan Downtown Development Authority has been looking at possibilities for the structure for months.
Several years ago, a landscape architecture student from the University of Georgia took a look at the jail and offered simple designs for the building as a restaurant-bar or as an office.
No decision has been made about what to do with the building – or even how to actively market it.
"There are great opportunities for it," said Assistant City Manager Hasco Craver IV.
"We would love to see something there eventually," Courtney Harcourt, the city's Main Street manager, said Friday. She said city has not had specific proposals regarding use of the building.
Harcourt said she hopes the eventual use is one where the building continues to be identified as the historic old city jail.
A bar or pub is a possible use for the structure.
"There are no regulatory issues as far as the distance from schools, churches and rehabilitation facilities," Harcourt said.
The probation offices are nearby, but they are not classified as a treatment facility.
Harcourt said brew pubs are often at the edge of downtown area. Being in the margin between industrial and commercial is seen as "sort of hip," she said.
The current zoning is light industrial, which would allow someone to actually manufacture beer there.
"We allow for microbreweries in industrial zoning only," Craver said.
Casey Smith, who runs Redneck Gourmet and is chairman of the DDA, said in September that making the area around and behind the jail "a little more presentable" could help market it – and help people see possibilities for the building.
Craver said a water tower at one time stood behind the jail.
"There's actually still a pad," he said. "The property does rest on a slope, as well."
Newnan Mayor Keith Brady shared similar thoughts, saying at at DDA meeting that the land around the jail is "critical to" the project. Thinking about adjacent and nearby parking is also part of the process.
In September, Harcourt told DDA members she had contacted Jailhouse Brewery in Hampton, which is located in a former city jail.
"The door's always open if they want to come check it out," she said.
It seems likely the DDA will take steps to determine what the ideal future for the small brick building is during 2018.
While Craver said the city could simply "let the market decide what the best use is," there also have been discussions "about actually having somebody come here and tell us what the best use is."
"We need to hire somebody to give us some ideas … about what might go on there," Brady said.
"The DDA shouldn't wait on somebody else to take the lead on it," DDA member Ray DuBose, who also serves on the city council, said at DDA meeting last year. "Don't wait on somebody else to do it."]