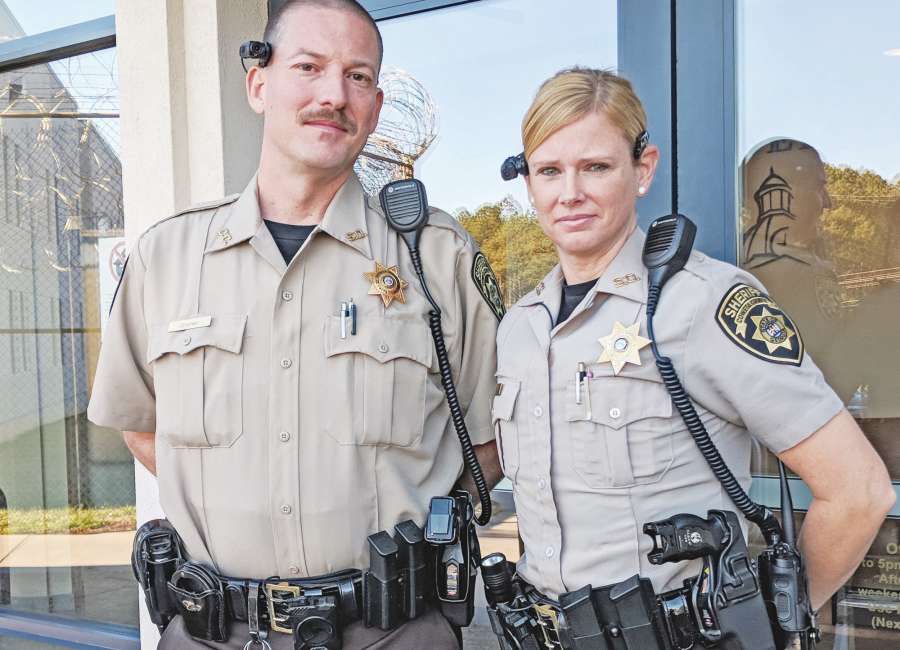 With few alternatives, deputies face hard decisions when dealing with the homeless.

Deputies are not only expected to protect their communities, but also to represent those who live within their patrol.
So when a complex problem like homelessness arose, it was going to take a group effort to resolve. But in the end, the resolution left few happy and raised more questions on a growing issue.
In the past, deputies at the Coweta County Sheriff's Office patrolled a variety of zones across the county. Now, deputies are assigned to permanent zones, quite often in the same areas they return home to, in an initiative called the "ownership program."
Major Mark Fenninger said the program wasn't a revolutionary new method of police work, but simply a return to common-sense community policing.
"When we refer to 'ownership,' it's the belief that when you live and work in the same area, you learn the people and their concerns," he said. "You figure out how to fix problems and stay connected to the community."
Last November, deputies Josh Joyner and Shawna Wade were assigned to Zone 3. It didn't take long for them to notice people walking into the woods behind the Waffle House near Exit 41.
Naturally, the deputies began inquiring about these people, who had taken up residence inside tents on private property.
"We wanted to know who they were and if they were living in the woods by choice," Joyner said. "Are they hiding from warrants, are they fighting addiction?"
When deputies initially made contact with the group living in the woods, Joyner said relations were, at best, civil. The residents seemed skeptical about the presence of law enforcement and wanted little to do with them.
The deputies, however, didn't give up. As the season grew colder and the weather more severe, they would return to check on the residents of the camp to make sure no one was in trouble. Slowly, members of the camp began to come around and talk with deputies, according to Wade.
"A mother and son lost their home and found themselves living in the woods," Wade said. "But after spending time in the camps, drugs became an issue and since he got accustomed to the lifestyle, he didn't want to change."
But as the population of the tent city grew, so did the crime rate. Panhandling, prostitution, shoplifting and entering autos rose 30 percent. One gas station was visited by corporate management after a 28 percent spike in shoplifting over the span of several months, according to Joyner.
"We began working on a task force to figure out how to cut down on the crime," Joyner said. "The call volume was getting so high, we couldn't effectively patrol other areas of our zone."
Foot traffic along U.S. Highway 29 was also an issue. Several residents of the tent city were hit by cars, including one resident who was fatally struck in October.
As the problems continued to increase, deputies grew frustrated by the lack of solutions in the community.
In Coweta, law enforcement often finds itself in the unfortunate position of being the primary responders for issues the community isn't currently equipped to deal with, such as mental health or homelessness.
"We could steer them towards churches or Bridging the Gap, but there's simply no options for a true homeless shelter in our county," Wade said.
When the call ultimately came for the tent city to be closed, deputies were forced to remove those they had befriended. It was a difficult task, they said.
"We have families, too, and we wanted to help them," Wade said. "We weren't in there throwing a badge around and saying, 'get out.' We'd built a rapport with them, so it was a very hard assignment."
Even after the camp was dispersed, deputies were maintaining their "ownership" of the situation by keeping tabs on the residents. According to Wade, eight are now staying in nearby motels, two went to One Roof and the rest are back on the streets.
It wasn't an ideal ending, they said, but was simply the result of no other alternatives.
Social media's reaction to dispersing the tent city was unforgiving. Many complained law enforcement were bullying those with few to no resources.
Fenninger said some of the comments made about deputies dealing with the homeless were simply not fair.
"We're exceptionally proud of their work and their actions, but they felt like they got kicked in the stomach," Fenninger said. "Our deputies are connected to the people no one else wants to deal with. People are quick to say what we're doing wrong, but not willing to help.
"We can't offer anything but the law, and they're on someone else property," Fenninger added. "That's a major issue. Whatever happens, EPA or crime, the landowner is responsible for."
With a county whose population is expected to increase by 100,000 in the next 20 years, Fenninger said the current lack of resources for the homeless is a disgrace.
"The homeless are a part of our community, and they live a life that most people can't imagine," he said. "The public can point fingers all they want, but our homeless need a place to go, and right now we have nothing."