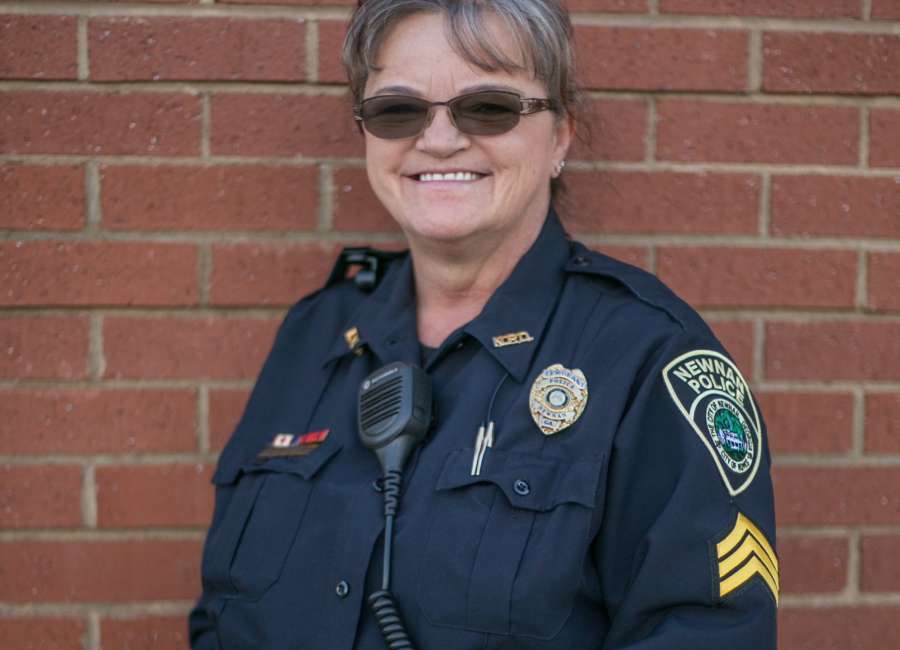 One of Patricia Ayers' lifelong career goals with the Newnan Police Department is now a reality for the seasoned officer.

Ayers, an officer with the patrol division, was officially promoted to lieutenant during a special ceremony Tuesday night surrounded by her family, friends and colleagues.
"To see the gleam in the eyes of my husband and daughter was awesome," Ayers said. "I know my mom is proud of me, too. She passed away some time ago, but she always thought it was 'cool' her daughter was a cop."
Her promotion was also one for the record books.  
During the Tuesday night ceremony, Ayers became the first woman to achieve the rank of lieutenant in the Newnan Police Department's 128-year history.
The historical achievement was announced by Chief  D.L. "Buster" Meadows during a previous staff meeting. Ayers was shocked.
"I thought, 'Oh my God, it happened. It really happened,'" she remembered.  "I think I'm still in shock. It's so awesome I am progressing in my career."  
"She's been a hard worker and always striving to gain more knowledge and move up," said Chief Meadows. "I was proud to promote her."
Tuesday night was not the first time Ayers has made history while working for the Newnan Police Department.
Twenty years ago, she became the first female promoted to the rank of sergeant within the patrol division.
Ayers' career with the Newnan Police Department officially started in September of 1989. But her dream of being a police officer began when she was a young girl living in Sharpsburg.
"I used to watch 'Cagney and Lacey' and 'Starsky and Hutch' and thought being an officer would be cool," Ayers remembered.  
After she graduated from East Coweta High School, Ayers was hired by the city and sent to the Fulton County Police Academy.
Once she successfully completed the academy, Ayers hit the Newnan city streets as a patrol officer.
She's worked for the Newnan Police Department for 28 years; 27 of those years has been with the patrol division.  
"Every day is different," Ayers said. "You get to meet a lot of interesting people. That's why I've stayed in patrol … every day is an adventure."
NPD patrol officers respond to all 911 calls within the city, which include traffic issues, accidents, domestic disturbances and alarms. They are also the first responders to major crime scenes.  
Some calls still stick in Ayers' mind.
"I remember the first fatality I worked … a child was involved," she said somberly. "Another time, a child was shot in neck and I climbed into the van and held a pressure to his neck until Lifeflight could come down."
Ayers received a lifesaving award for her heroic actions that night.
But being a woman in a male-dominated profession had its challenges.
"When you're a female, you stand out like a sore thumb. But they remember you," Ayers said. "In the beginning, some might have tried to stare me down. But it's eased up a lot because I've been here so long … even the younger crowd knows me. It's one of the advantages of growing up in Newnan. I've been blessed."
Ayers will continue to patrol the roads in her new role as a shift supervisor. She will also be responsible for administrative duties.
She said one of her goals will be to help make the city a better place to live and work.  
But maybe just as importantly, Ayers hopes her promotion will inspire more young women to set big goals and achieve their dreams - just as she did years ago as a little girl.
"I want to show them that in a male-dominated profession like law enforcement, there is a place for us," she said. "I'm a firm believer you can do anything you put your mind to."