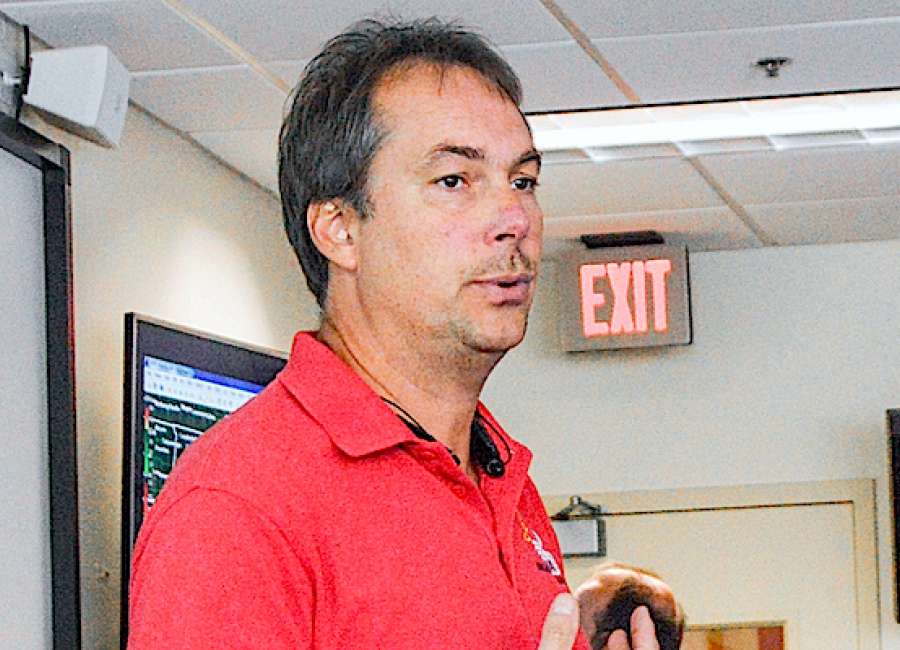 If home is where the heart is, then Jay Jones is in the right spot. 

The Coweta Emergency Management Agency Director was born, raised and started his career in the county. 
Now Jones can add one more title to his resume. 
The 53-year-old man was recently named the Director of Coweta County's E-911 center.
"I'm excited for the opportunity," said Jones. "It's another way for me to provide safety and resources for the community and build up the community in my own little way. I'm humbled that the county thought of me to do it." 
Jones will serve in a dual role as the director of both the county's 911 center and the Emergency Management Agency. 
Both positions will allow Jones to continue assisting the county he holds close to his heart. 
It's the same community that Jones witnessed tremendous growth and change over the past five decades. 
"I remember they were building the interstate coming through the county in the 1960's," he said. "I remember riding the school bus and seeing construction workers building the overpass.
"When I was growing up in county, we did not have fire department in the county," Jones added. "The first official fire department call didn't happen until 1973."
Jones graduated from Newnan High School in 1982 and enrolled in night classes at West Georgia Technical College. 
He worked at the now-defunct Eckerd drug store; then decided to apply at Coweta County Fire and Rescue. 
Jones was hired on as a firefighter in 1987. His love for helping the community soon turned into passion.    
"My first call with the fire department was to a dumpster fire off  Turkey Creek Road. It was just me and a fire truck," he remembered. "I put out the fire. There was people standing there and they thanked for me for coming out. I thought, 'This is what I am supposed to be doing.' I felt called to do it." 
Jones obtained his EMT certification and was promoted up the ladder. He became a Deputy Chief of CCFD in 1996. 
In 2008, Jones was hired as director of the Coweta County Emergency Management Agency. 
He proceeded to work with all local public safety agencies, city and county departments plus community leaders to keep the area safe during a natural or man-made disasters. 
Jones' responsibilities included, planning and preparing for potential catastrophes, plus facilitating and coordinating agency responses and training for each scenario, such as a flu pandemic or a tornado. 
 "We can't stop those things from happening," Jones said. "But we can develop plans, and train on those plans to make our community safe. We can be more resilient when those things do happen. It's about saving lives and saving property. 
"With EMA, I am able to do more things and help more people," he continued. "It was a way to branch out further … and broaden my responsibilities."
However, more responsibilities also meant more challenges for Jones. 
Coweta County experienced an explosion in population and commercial growth, beginning in the mid 1980's. 
City and county leaders, public works departments and public safety agencies, including CEMA rushed to keep up with the progress.
However, while the landscape of the once-rural county quickly changed, it still felt like home to Jones. 
"My parents were raised here, I have family and friends here, I met my wife here and we're raising our kids here. I'm definitely a hometown boy," Jones said.  "I'm not a 'big city' type of person … I live in a log home, in the west side of the county. It's simple living. The simpler, the better.
"Most of the (local) government leaders are trying to keep the small town feel, but manage the growth," he added. "I know at some point, that may not feasible … but you can ride through the county and still see some farms and their animals … Coweta still has a small town rural touch to it." 
Jones' commitment to the community goes beyond the workplace. 
In addition to being a husband and a father to five-year-old twins, he has volunteered with the Special Olympics for the past 25 years, and became chairman of the local chapter four years ago. 
Jones also serves on the board of the Western Area Regional Radio System.
He is humble about his service to the community. 
"I don't think I'm special," Jones said. "There's no way I could do anything by myself. I'm just a cog in the wheel. But I want to help people as much as possible."
It's a goal he will now complete as the head of the county 911 center. 
Jones will oversee the daily operations, build training programs and ensure the center has the latest, state-of-the-art equipment. 
In some ways, Jones believes his career has come full circle. 
"As the 911 director, it brings it all together," he said. "How can we make things better? How can we take it to the next level? A lot of things are coming down the pike. With SPLOST, we're going to make renovations at post, expand the center and work on ways to build the agency … but most importantly, keep people in the community safe."