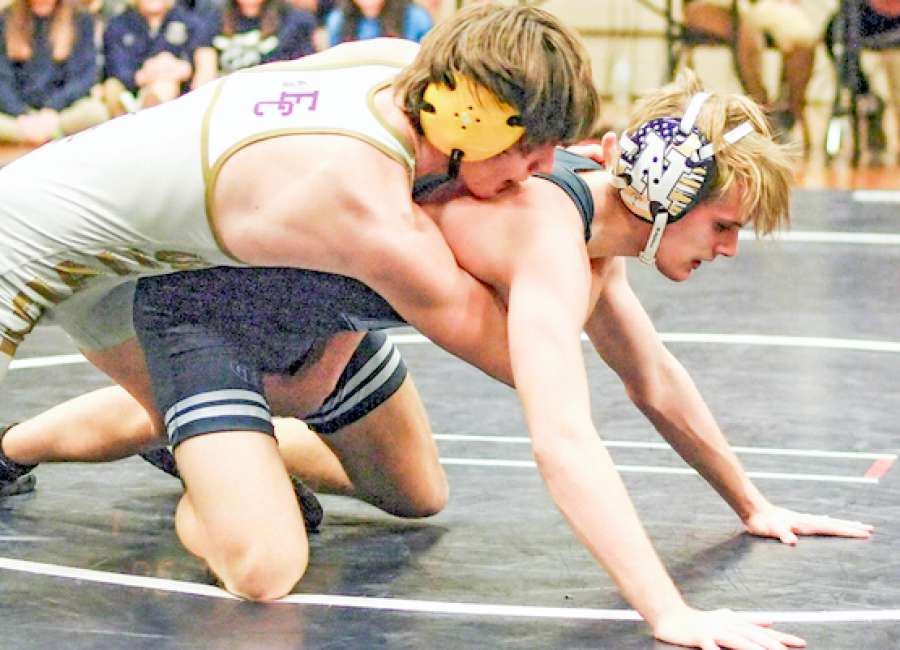 The Newnan and East Coweta wrestling teams showed Friday night that they are definitely the best two teams in Area 2-AAAAAAA.

With only Campbell showing up and deciding to test its wrestling skills against Newnan and East Coweta at this year's area duals, it didn't take long for the Cougars and Indians to stamp their tickets to next week's state duals meet in Macon.
In the first two matches of the night, Newnan rolled past Campbell 78-6, while East Coweta also dominated the Spartans, winning 57-21.
Both contests against Campbell were highlighted by a collection of pins by Newnan and East Coweta.
That set the stage for the rematch between the county rivals. Last month, Newnan prevailed at the Coweta County Championships.
Friday night, Newnan won again, this time in a close 32-30 battle.
Newnan goes into the state duals as the No. 1 seed, while East Coweta is the second seed.
Newnan head coach Sean Hage said he knew his team was in for a battle in the rematch against East Coweta.
"It's like when two football teams meet for the second time, you know teams are going to adjust and that is what EC did tonight. They are a heck of a team, and they are very well coached," Hage said.
 The double-elimination state duals tournament begins Thursday and runs through Saturday.
Newnan jumped out to an early lead against East Coweta, scoring points from the lighter and middleweight wrestlers. 
The Cougars also benefited from East Coweta forfeits at 106 pounds, 120 pounds and 126 pounds to take early control of the match.
East Coweta earned its first victory of the night in the 113-pound division as Jacob Gabriel defeated Tristan Kendzierski 8-6.
In one of the most competitive matches of the night, Newnan's Cale Goss defeated Jasen Higgens 4-2 in overtime in the 138-pound match.
Victories by Maurice Buckhanna (132) and Brennen Johnson (145) helped Newnan pad its lead.
After Johnson defeated Jakob Miller in a close 3-1 decision, Newnan led 27-3.
East Coweta cut the team score to 27-6 after Aryaan Adams defeated Colton Olmstead in a high scoring 17-13 decision in the 152-pound weight class.
Newnan also got victories from Josh Smith (160) when he defeated Dylan Spelious 2-1 in a defensive battle.
East Coweta's Gavin Scott picked up a victory for the Indians in the 170-pound division with his win over Trevor Strickland. 
The Cougars earned their last win of the night when Isaac Barrett defeated Rayshaud Brown 5-4.
The Indians closed the gap with three straight pins from Alex Derico (195) against Carson Knight, Jalen Smith (220) against Cody Harris and Evan Fields (285) against Patrick Henson.
"We had guys wrestle really smart," Hage said. "We didn't get as many pins as we did before against them, but it was a great contest."
At last year's state duals, East Coweta lost to Collins Hill before beating Meadow Creek in the loser's bracket. However, the Indians lost to South Forsyth and were eliminated from the meet.
Last year, Newnan suffered two losses at the state duals, losing to Mountain View and Lassiter.