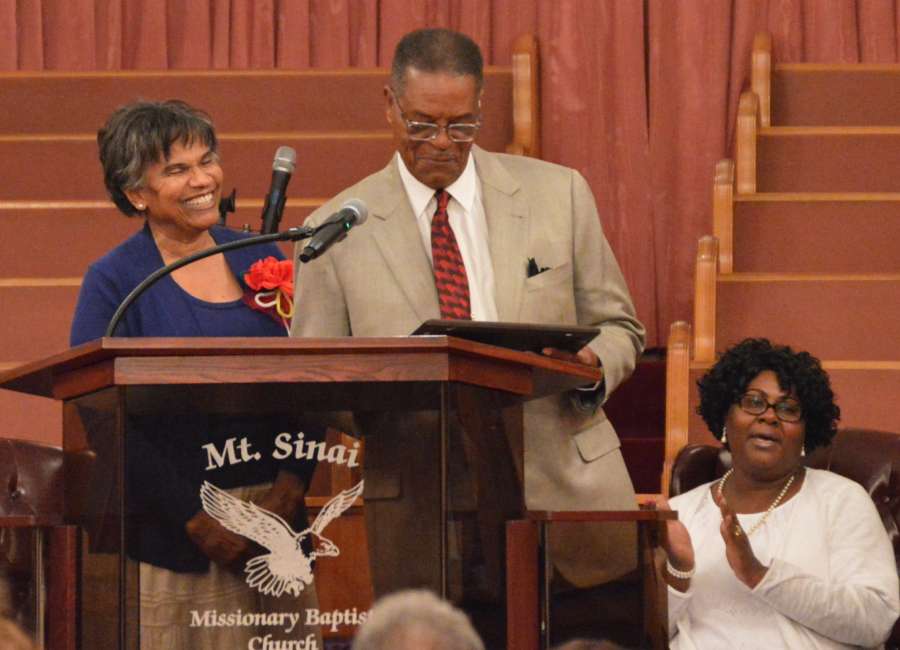 Students from elementary to high school shared their dreams at Friday's Dr. Martin Luther King Jr. commemorative program.
King's "I Have a Dream" speech was also heard, performed by Frank Worsham, a middle-school social studies teacher and Mason from the town of Musella, south of Macon.
The program, held at Mt. Sinai Baptist Church, is held each year the evening before the MLK parade. Both events are put on by Newnan Chapter 483, Order of the Eastern Star.
Parade Grand Marshal Winston Dowdell was honored with a plaque. Dowdell was a teacher, principal and associate superintendent in Coweta County Schools and now serves as a member of the Coweta County Board of Education. The school system's alternative school, Winston Dowdell Academy, was named in his honor in 2001.
The Anointed Brothers/Lifechange Souls Ministries presented praise dances.
This year, organizers solicited short essays from students. Letters were sent to all Coweta schools, said District Worthy Matron Janice Walton. Ten students submitted essays, and several of those are the grandchildren of chapter members.
"I'm a little disappointed, but I'm grateful for the ones that we do have here tonight," Walton said. She said she hopes that in future years, more students will participate.
Each student had the opportunity to read his or her essay, and each was presented with a medallion of appreciation from the chapter.
"Too see these young girls and that young boy get up here today – that made my heart feel good," said Worsham.
Each summer, Worsham takes a group of students to Washington D.C., and they stand on the 32nd step of the Lincoln Memorial, where King stood to give his speech on Aug. 28, 1963.
"On that day, there were over 250,000 Americans who stood there," Worsham said.
And they weren't all black – there were whites, Jews and American Indians. And there were Masons.
"A lot of you don't know, but the Masons and Eastern Stars stood with Dr. King throughout his time," he said.
In his famous speech, Dr. King said that those fighting for Civil Rights are sometimes asked, "When will you be satisfied?"
Today, the U.S. maintains the largest immigration detention infrastructure in the world, said Past Matron Linda Smith. Legal permanent residents, asylum seekers, and victims of human trafficking, "most described as people from 's-hole countries,' are detained for weeks, months and sometimes years," Smith said. "We can never be satisfied as long as our children are stripped of their selfhood and robbed of their dignity. Shall we not mention Colin Kaepernick's peaceful protest against unfair and sometimes fatal treatment of black children and men in the justice system?"
Sean Britt, associate patron, urged young people to hold on to their dreams.
"We need the spirit and the determination of Martin Luther King Jr. of Atlanta more now than ever before," Britt said. "Ignorance, arrogance and stupidity seems like it's winning. But we know that the light of truth and the light of love will cut through all of that. So let's not be discouraged and let's not be weary."
The theme of this year's event is "Honoring the dream through commitment, education and service."
"We are committed – you can tell because we've done this for 31 years, and it's not just the parade," said Worthy Matron Mary Paige. "Through education we honor our children: we bring them before us to teach them and to nourish them and to let them know that they are somebody – always remember that. And don't let anyone deter you from anything you want to be – so long as it's legal."
She thanked everyone involved.
"Let us work together to make it even better," Paige said.