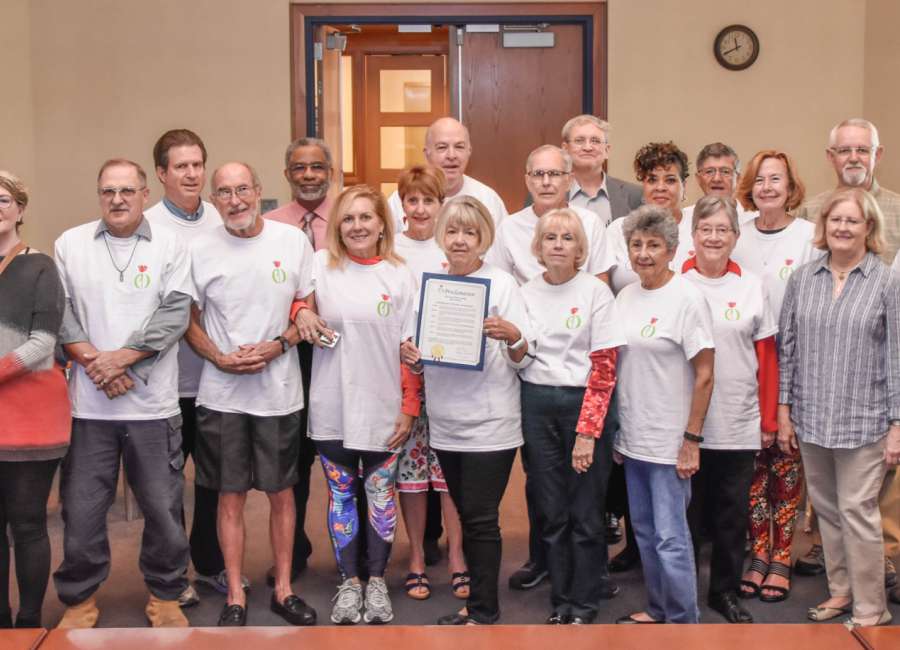 Norman Ferrell is no stranger to battling severe health issues. 

It's a challenge he embraced three times in his life and fought ferociously to overcome. 
In 2001, Ferrell was diagnosed with cancer; seven years later, he had a stroke. 
In 2013, the older gentleman noticed a tremor in one hand. He also observed one foot was dragging behind him. 
In April of that same year, a neurologist diagnosed Ferrell with a form of Parkinson's disease called Vascular Parkinsonism. 
The Coweta County man said he took the news in stride. 
"It didn't bother me that much. I have a strong faith and belief in Jesus Christ," Ferrell explained. "Jesus tells me in the Bible he'll take care of me and I trust him. It really helps."
According to the Parkinson's Foundation website, Parkinson's disease is a neurodegenerative disorder that predominantly affects dopamine-producing neurons in a specific area of the brain.
Around 60,000 Americans are diagnosed with Parkinson's disease each year, according to www.parkinsonassociation.org .
It was estimated between 7-10 million people worldwide are currently living with the disease, the Parkinson's Association added. 
Symptoms generally develop slowly over years. The disease affects everyone differently, but indicators include tremors, slowness of movements, rigid limbs and balance issues, according to the Parkinson's Foundation. 
Unfortunately, researchers do not know what causes Parkinson's disease and there is no cure. 
Treatment options include medications and surgery. Exercise can slow the disease progression and a strong support group can help patients cope and live their lives to the fullest.    
Shortly after Ferrell's diagnosis, he met Herman Fletcher, who was also recently diagnosed with Parkinson's disease. 
Fletcher started a support group for Parkinson's patients, which Ferrell quickly joined and helped organize. 
The Newnan Parkinson's Disease Support Group meets once a month at Newnan First United Methodist Church. Its discussions allows patients to share their experiences, learn about new treatments, alternative medicines or diet and exercise programs. 
The support group also helps patients understand more about the disease and its progression. 
The sessions are open to family members and caregivers.
Ferrell said about 25 people attend their meetings on a regular basis.
Dan Mastenbrook, of Sharpsburg, is one of those people. 
He was diagnosed with Parkinson's disease in November of 2011. 
Mastenbrook joined the support group more than three years ago.
"I like the comradery and the friendliness of the people," he said. "The meetings boost my spirits. It's nice to know there are other people having the same feelings or symptoms and that you are not alone." 
 
"We want people to know there is life after being diagnosed with Parkinson's disease," Ferrell added. "You've got to remain optimistic and find a support group. We want people to know we are out there. There is somewhere they can go for help."
Ferrell keeps the group apprised of new research on Parkinson's disease and any clinical trials at area hospitals for patients. 
 
Members of the support group hold educational luncheons throughout the year. 
The group may hold a walk and fundraiser this spring. April is Parkinson's Disease Awareness Month. 
The walk would be symbolic for Ferrell and fellow group members. They continue to move forward with their lives, despite receiving a devastating diagnosis. 
"It's my prayer that we get a cure for Parkinson's disease. That prayer is what keeps the guys in our group going … believing there will be a cure," said Ferrell. "It's a positive outlook and reminds us that having Parkinson's disease does not mean the end of your life."
The Parkinson's Support Group meets every second Tuesday at the Newnan First United Methodist Church at 33 Greenville Street. 
The meetings begin at 2:30 p.m. 
For more information, contact 770-253-7400.