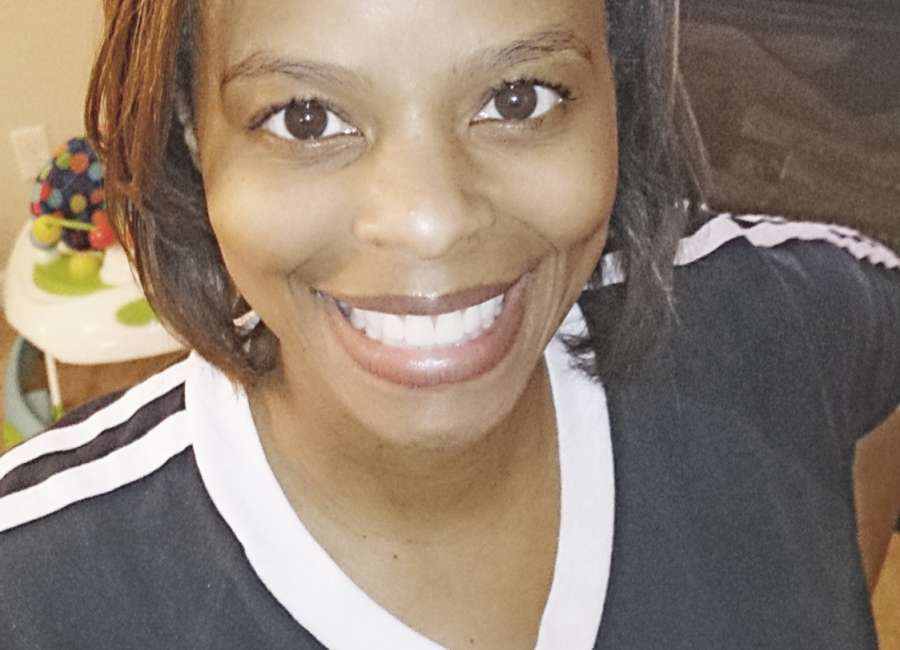 Every third Thursday of the month, Tanya Menefee, 41, of Newnan, educates and encourages a small group of people living with multiple sclerosis.

Some days, she'll bring in guest speakers chock full of pertinent information; other times the meetings become an informal "therapy" session for folks having a rough day.
"I try to give them information on topics they don't know about, like some of the devices people can use to help them walk," Menefee explained. "But we also encourage each other, support each other and lift each other up. I don't want to talk the whole time. I want them to tell me how they're doing each day."
Menefee can sympathize with the group.
In 2011, the then-34-year-old woman began experiencing constant pain and one hand – plus her legs – 'crippled' up, she said.
Menefee was diagnosed with M.S. later that year.
"I was just in shock because I was super healthy," she said. "I was running and exercising all the time. As soon as I started taking medicine, the pain immediately went away. I was told I was going to have to take the medicine every day of my life. I was okay with that."
Multiple sclerosis (MS) is a potentially disabling disease of the brain and central nervous system, according to the Mayo Clinic.
In MS, the immune system attacks the protective sheath (myelin) that covers nerve fibers and causes "communication problems" between your brain and the rest of your body, according to the Mayo Clinic's website.
Symptoms of multiple sclerosis include numbness or weakness in arms and legs, double vision, tingling or pain in various parts of the body, tremors, lack of coordination, slurred speech, fatigue and dizziness, and other problems.
The symptoms of MS vary from patient to patient and may progress over time, according to experts at the Mayo Clinic.
For two years it seemed Menefee's symptoms were under control.
She had a baby in 2013 and started running again.
Her exercise regimen drastically diminished a few months later when she began experiencing weakness in one of her legs. The weakness eventually spread into her hips and ankles.
"I'm not able to raise my leg up high and I now walk with a limp," said Menefee. "It was devastating. It didn't happen right away. I can't run like I used to and I can't go to the gym like I used to. It seems small, but it's a big thing to me."
The progression of her disease may have been a blessing in disguise.
After she was laid off from her job in 2014, Menefee's husband suggested she start a multiple sclerosis support group in Coweta County.
Menefee took classes through the Multiple Sclerosis Society and held her first meeting in January, 2016.
The group has been slow-growing. On average, there are about four people who attend the meetings each month.   
Kimberly Burdette is one of those participants.  
The 51-year-old woman was diagnosed with MS in January 2016, but said she started experiencing symptoms of the disease in her early 20's.  
"In your 20's you think you're invincible, so I just shook it off," said Burdette. "When I was in my 30's I didn't feel well and went to some doctors. They said, 'There's nothing wrong with you. In my 40's I went to neurologists. One wrote on my chart in big letters 'No MS' with five exclamation points after it."
Burdette's symptoms continued to progress. She sought out one of the top multiple sclerosis doctors in Atlanta who finally diagnosed Burdette with the disease.
"I looked at him and said, 'So I'm not crazy?' He said, 'No, you're not crazy,'" Burdette said. "It was weird. I was elated I wasn't crazy but I also was kind of upset. Then it hit me. I got mad. If I had been diagnosed earlier, I could have been on medicine earlier. Then I went into a total depression for a year and half."
Burdette's symptoms of MS are on the more extreme side.
She suffers from vertigo, dizzy spells, double vision, blurred vision and weakness in one leg.
"My left leg drags. It's gotten to the point where I need a cane when I go out," Burdette said. "It oftens feels like I have pins and needles all over my body. I am in constant pain all over my body and I also have migraines. I have trouble holding onto things. A fork and knife are hard for me to use and my fatigue is off the charts."
The medicine prescribed to Burdette is finally starting to work, she said.
The 51-year-old woman is in a "slight remission," a term she used very loosely.
"With MS, a remission means your symptoms don't get any worse, but you still have them," she explained. "Medicines help stop the progression of the disease, but they will never reverse the symptoms of it."
According to the Mayo Clinic, there is no cure for multiple sclerosis.
Burdette learned about the local support group after she received a flyer in the mail.
The 51-year-old woman said she feels better after each meeting.
"I have gotten a lot out of the group," Burdette said. "The guest speakers give you the opportunity to ask questions or voice your opinion. I might bring some new information that others didn't know. It's good to get together and be able to validate our concerns or ask questions.
"I think mentally I'm going in a better direction too," she added. "When you're first diagnosed, you have a lot of emotions to work through and a lot of things to process. You can't do things like you used to, like, walk to the park or on the beach. I can't ride a bike or kayak anymore. It's hard to just go to the mall or go out. I really don't have a social life anymore, but I try to stay positive, meditate and go to physical therapy. Just take it one day at a time."
"We do have MS, but we do still live our lives, be as happy as we can and enjoy life to the fullest," Menefee said.
The group helps newcomers find doctors, learn more about multiple sclerosis, its symptoms and medications to combat it, plus show folks how the disease may affect people in the future.
Maybe most importantly, the group lends a helping hand, a shoulder to cry on and invaluable advice when participants need it the most.
"I've gained some friends and found out things I never knew before," Menefee said. "Sometimes people with MS get sad and depressed. I still have my days, but you have to keep moving forward, keep pushing and living your life. You can't let MS stop you."
The multiple sclerosis support group meets the third Tuesday of each month at the clubhouse inside the Heritage Ridge subdivision at 168 Scenic Hill Drive in Newnan.  
Meetings begin at 5 p.m.
For more information, email Menefee at tanyamenefee22@gmail.com