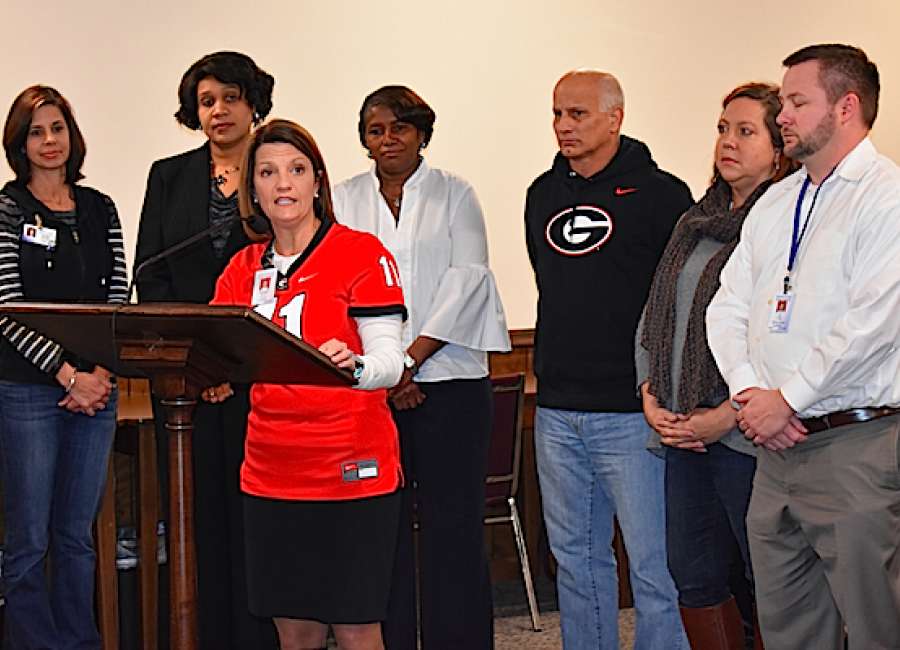 Lee Middle School has been re-designated as a Lighthouse School to Watch by the Georgia Middle School Association, renewing the school's designation from 2014-2017.

Lighthouse schools are considered national model middle school programs, and are chosen on the basis of academic excellence, developmental responsiveness, social equity, and highly successful organizational structures and processes. It is the second redesignation for Lee Middle School, which first earned the honor in 2011.
The school, whose new Lighthouse designation is from 2018-2021, will be honored at the Georgia Middle School Association's winter conference next month.
The Georgia Lighthouse Schools to Watch program is an independent, comprehensive and long-term middle school improvement program. Georgia launched it in 2002 when the National Forum to Accelerate Middle-Grades Reform selected Georgia as one of the first three states to institute the Schools to Watch program.
Many other states have since established comparable programs in the nationally recognized network of high-performing middle schools. The Georgia Lighthouse Schools to Watch is part of the National Forum of Schools to Watch Program.
Lighthouse schools are focused on school improvement, and they assume responsibility to be models and mentors. They host visitors and participate in vari­ous professional development activities and conferences in fulfilling this special outreach responsibility, according to program guidelines.
The Coweta County Board of Education recognized faculty and staff from Lee Middle School at its January meeting, where Principal Cindy Bennett spoke on behalf of the school. She was joined by grade-level chairs Jeff Bouchard, Jennifer Doonan and Lisa Redmon, lead custodian Margaret Hayes and assistant principals John Crosby and Dr. Letitia Crosby, whom Bennett called "the backbone of our school."
"All of these members have played a significant part in the redesignation of our school," Bennett said of the Lee contingency, adding "Thank you for taking the time to recognize the accomplishment that Lee Middle School has made by being redesignated as a Lighthouse School to watch for the second time."
Lee Middle met the program's criteria for high-performing middle schools, according to Schools to Watch officials:
They are academically excellent — these schools challenge all students to use their minds well.
They are developmentally responsive — these schools are sensitive to the unique developmental challenges of early adolescence.
They are socially equitable — these schools are democratic and fair, providing every student with high-quality teachers, resources, and supports.
After visiting LMS in October 2017, the Schools to Watch committee provided a redesignation report that states:
"Lee Middle School is an invitational school where students and staff members are happy. It is well organized and staffed with dedicated professionals who advocate for their students. Strong relationships between students and teachers, teachers and teachers, and teachers and administrators are evident.
"This is a school clearly committed to the education of young adolescents! Teacher's knowledge of and care for individual students are evident in the "famiLEE" school culture. The faculty and staff are focused on continual student growth. They seek to improve their individual and collective knowledge base and skill set in order to help their students achieve. All adults spoken to in the building shared their commitment to do whatever it takes for students to be successful.
"Students trust their teachers and work hard to reach their personal educational goals. Teamwork, positive behavior, and trying one's best are the character traits embraced and expected. Lee Middle School is a model middle school. The team members recommend without reservation that Lee Middle School be redesignated as a Georgia Lighthouse School to Watch."
"Thank you once again, Dr. Barker and board members, for honoring this recognition," Bennett said.